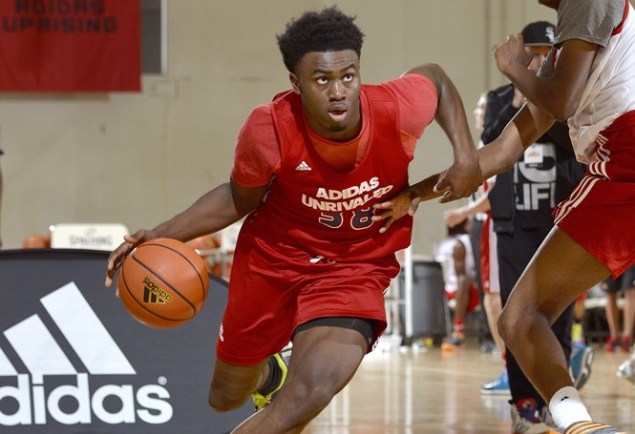 Now that Emmanuel Mudiay has opted to play in the Chinese Basketball Association instead of SMU next season, it's making top 2015 and 2016 prospects in high school basketball think about jumping to the pros instead of being a one-and-done college player.
With Mudiay making good money — more on that below — it's understandable to see why the top high school players would be interested in getting potentially millions of dollars to their families for an extra year of professional basketball.
In a good report from Scout.com's Evan Daniels, the recruiting analyst interviews a number of top prospects in high school basketball to get their take on the matter.
The most interesting response came from 2015 prospect Jaylen Brown. The 6-foot-7 small forward from Georgia is No. 2 in the Rivals 2015 national rankings and said some things that reflected positively on Mudiay's decision to Daniels. In other words, Brown seems open to the idea of going pro if the right offer came along.
"That was huge," Brown told Daniels. "It's starting a new culture."
"A lot of guys are talking about if they could do that, they would," Brown continued in the Scout report. "There are a lot of things coming up that could be on the table for some guys. Everybody is interested and everybody is watching to see how he's going to do and how it's going to work out."
The other prospects that Daniels interviews don't sound as enthusiastic as Brown about it and they include 2015 prospects like Ivan Rabb and Skal Labissiere and 2016 prospects Jayson Tatum and Thon Maker's guardian. More quotes from those players can be read in Daniels' report.
But Daniels brings up the point of how much money high school prospects could potentially make by jumping from high school to the pros and Daniels also gave a ballpark figure of Mudiay's endorsement figure from Under Armour in the report:
With more than $1 million on the table from his future team and a multi-year endorsement deal with Under Armour — one source says it's worth more than $3 million, based on incentives related to his ultimate NBA draft position — Mudiay stands to profit handsomely.
If those numbers are correct, Mudiay is making a reported $1.2 million from the Guangdong Southern Tigers and additional millions from the shoe company.
Let's make an assumption that Mudiay will make the full reported $1.2 million for his time in the CBA this season and let's throw out a figure that seems reasonable and say Mudiay makes $1 million in endorsement dollars from sponsors like Under Armour this season. That would give him a theoretical salary of $2.2 million for his one season in the CBA before opting to enter the NBA Draft.
Based on the 2013-14 NBA rookie pay scale, according to Real GM, that would give Mudiay close to the salary of the No. 8 pick in the 2013-14 NBA Draft.
Can you really blame high school players for passing up that kind of money for an additional pro season instead of going to college?
And what if Mudiay improves his draft stock and sticks a landing in the top three of the NBA Draft?
Players at the high school level would probably be a lot more intrigued by the prospect of going from high school to the pros if they're getting good money and a chance to enhance draft stock.
We'll have to wait and see how Mudiay does in the CBA this season, but we know top high school players will be following closely now.