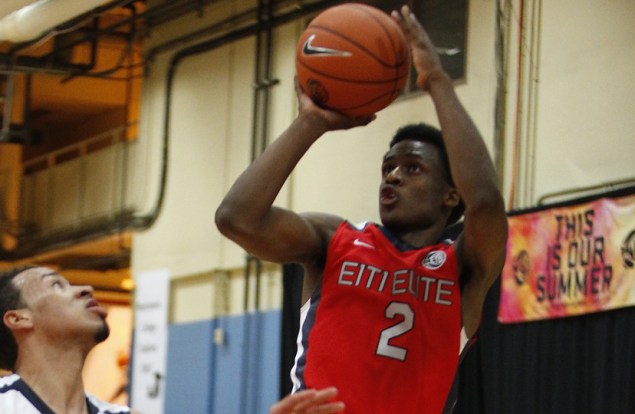 Antonio Blakeney made waves on Monday night when he officially announced that he would be decommitting from Louisville, where he had pledged his allegiance to Rick Pitino only 11 days earlier while on a visit to the school.
The fact that Blakeney changed his mind wasn't all that shocking in and of itself; he's a 17-year old kid trying to make one of the most important decisions of his life, and he made this commitment after using just a single one of his official visits.
What caused the plot to thicken was a tweet from Jerry Meyer of 24/7 Sports, saying that Blakeney's decision was "shoe company related."
MORE: Antonio Blakeney makes the "jump" to the elite level
Blakeney is a "Nike kid." He plays for Each 1 Teach 1, which is Amare Stoudamire's Nike-backed grassroots program, one of the best in the country. The other five schools that he was interested in — Florida State, LSU, Missouri, Oregon and (surprise, surprise) Kentucky — are all Nike schools. Blakeney had played in the Nike Global Challenge and the EYBL. He has his sights set on making it to the Jordan Brand All-American game and the Nike Hoop Summit.
Meyer clarified those comments in a conversation with the Louisville Courier-Journal on Tuesday:
It's not like the CEO of Nike came to Antonio Blakeney and said you have to decommit. It's not like Antonio Blakeney decided all of a sudden that he'd rather wear a different shoe than Adidas. That's a juvenile way of looking at it. It's not that cut and dry or that tangible. Everyone knew from the beginning of his recruitment than Antonio was in love with Louisville and not many of the people around him were.

[…]

He's a 17-year-old kid. He loved Louisville. He was enamored. … So he's enamored with the school and that's all he can see is Louisville. He goes on his visit and he commits, and then he commits, and wow, let's just say he doesn't get the warmest reception. So he's on an island going to Louisville. He's sort of doing it on his own.
There's two ways of looking at this.
On the one hand, it's easy to point a finger at Nike and say that this is an example of everything that is wrong with grassroots hoops. That this multi-billion dollar company operating in an industry that generates millions and millions of dollars on the backs of kids that don't see a penny of profit is now picking and choosing where these athletes get to spend their time in college. I get that perspective, and I feel for Antonio if he truly had his heart set on being a Louisville Cardinal; he would have been a perfect fit for Rick Pitino's system.
But the question you have to ask yourself is this: How much did Blakeney improve as a result of his affiliation with Nike?
In other words, if he isn't practicing with one of the best grassroots programs in the country and he isn't getting trips all around the country paid for to play against the absolute best competition in high school hoops, is he still a top-15 recruit? If his coaches with Each 1 Teach 1, who are funded by Nike, don't bring him into the program, is he still in the midst of a recruiting battle featuring the likes of Kentucky and Louisville?
I think it's inarguable to say that his association with Nike — that the investment that teams, camps and events sponsored by the company made in him as a player — was beneficial to his development.
Brand loyalty is a big deal for people working in shoe company-affiliated grassroots basketball. It shouldn't be hard to understand that the people, many of whom make a living off of Nike's money, who put in the time, effort, money and roster spots to help Blakeney get to where he is would be upset that he went with an Adidas school without visiting anyone else. And if his basketball support system is mad at him, it shouldn't be hard to understand why he changed his mind, either.
Is that fair to the kid?
Maybe. Maybe not. But that's the world we live in.
And I promise you this: if Blakeney takes his four other visits and decides he still likes Louisville enough to anger some people, than Pitino will make sure there is room for him on the roster.
That's the luxury of being a five-star recruit.