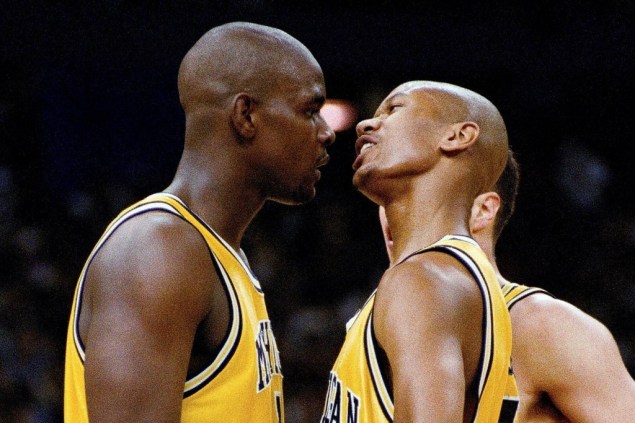 The long and complicated history of Michigan's Fab Five was revived this week as former member Jalen Rose spoke out against teammate Chris Webber.
In an interview with Jorge Sierra of Hoops Hype, Rose was asked about his non-existent relationship with his former teammate while also saying that Webber should apologize to Michigan for his role in what happened.
Webber was charged with lying to a grand jury in 2002 as part of a larger investigation against former Michigan booster Ed Martin. Due to Webber compromising his amateur status by taking money from Martin, the Wolverines subsequently forfeited their 1992 and 1993 Final Four banners and the entire 1992-93 season. Webber was also disassociated from the University of Michigan until 2013 because of an NCAA ruling.
Rose believes Webber should move on from the incident and here is the excerpt from the interview in Hoops Hype:
When was the last time you spoke with Chris Webber?

JR: I heard through mutual friends that he's upset that I said that I feel like he should have come out and apologize for some transgressions that happened at the University of Michigan. But I still stand behind that. Also I'm disappointed how the relationship with [Michigan booster] Ed Martin ended. Ed, unfortunately, in my opinion basically died of a broken heart. So while we're still brothers and I hope that we're going to make amends… One of the great things of being teammates and friends is we should be able to speak openly and honestly. And hopefully he finds a way to realize and apologize about what happened in Michigan. It ain't just about you. It's about the players, it's about the coach. Steve Fisher coached in three finals and won a championship in Michigan. You go in that campus, his name is nowhere. So it's bigger than just him. And the fans deserve it, the history of the University of Michigan deserves it. And all he had to do is say two words. It's not brain surgery. They are 'I'm sorry.'
Rose also spoke about Webber's documentary that he is producing about the Fab Five. Webber, if you recall, chose not to participate in the 30 for 30 The Fab Five documentary that Rose and the other three members of the Fab Five took part in:
How do you feel about the new Fab Five documentary Chris Webber is going to do?

JR: It's not a legitimate documentary if the other four guys don't participate.

Nobody asked you to participate?

JR: I haven't heard anything about it except from the media. And the other four of us, when you look at the national championship game, we're together. When you watch my Fab Five documentary, we're together. So about his project coming, best of love and can't wait to see what happens.
This matter between Webber, the Fab Five and Michigan obviously runs far deeper than any story appearing in print but it would be nice if Webber came back to the Wolverines and made amends. It would be a great opportunity for the Fab Five to come together and Webber's name could finally appear alongside the University of Michigan.