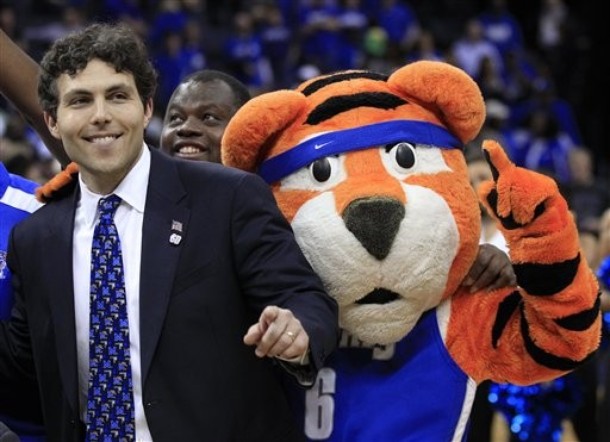 Each Monday and Friday, College Basketball Talk's Scott Phillips goes over some important news and notes in the world of college basketball recruiting. This week, Memphis coach Josh Pastner's local recruiting efforts are paying off, Mickey Mitchell, Ohio State and the rare re-commitment and Jalen Brunson's impact on Big East recruiting.
Josh Pastner moves recruits around to make it work at Memphis
One of the major recruiting moves of the week was the announcement that former Class of 2016 forward Dedric Lawson would be joining his brother Keelon in the 2015 class.
Both Lawsons are committed to Memphis as their father, Keelon Sr., was hired as an assistant coach there this past summer. Moving Dedric to the 2015 class is an interesting move for the Tigers — and probably the right move — because K.J. and Dedric have always played together both on their high school team and with Team Penny in the EYBL.
It gives the brothers, and Memphis, more stability going forward by keeping them together and the duo makes for an enticing and talented pair to put with Tiger target and five-star center Skal Labissiere. Memphis is believed to be a major player for Labissiere, and with the center's potential one-and-done aspirations, it makes the Tigers more attractive if both Lawson brothers could be there to play with him.
But that isn't the only way head coach Josh Pastner is moving pieces around. Notice how Memphis commit Nick Marshall moved from the 2015 class to the 2016 class when he committed last month? As a local center with upside, Memphis obviously wants Marshall in the fold, but Labissiere plays the same position and is also a member of the 2015 class. By getting Marshall to do an extra prep year, now more playing time opens up for Labissiere and there won't be any kind of conflict. Josh Pastner is doing big things with local prospects and Memphis could have one of the best 2015 classes in the country if Labissiere decides to join the Lawson brothers.
Mickey Mitchell, Ohio State and the rare re-commitment
When Mickey Mitchell opted to re-commit to Ohio State on Thursday night it was a rare instance in which a player returned to a school after decommitting.
Although we've seen re-commits the last few recruiting cycles with James Blackmon going back to Indiana and Myck Kabongo re-upping his commitment with Texas, often when a player moves on from a school he committed to, he isn't coming back.
In the case of Mitchell, the Class of 2015 6-foot-7 forward with great passing skills is back on board at Ohio State after a positive official visit last weekend. The No. 91 overall player in the 2015 class opted to open things up once his football-playing brother left the Ohio State football program in favor of Texas Tech, but the Buckeyes did a nice job of getting him back in the fold after in-state forward Esa Ahmad pledged to West Virginia.
Head coach Thad Matta and Ohio State made a hard push for Mitchell and got it done. Decommitments are often just trying to be recruited hard when they decide to open things up and the Buckeye staff made sure they let Mitchell know that he was wanted back in Columbus.
Brunson's commitment a big win for the Big East
Jalen Brunson picked Villanova over Illinois on Wednesday and the major headline seemed to be the Fighting Illini coming close and ultimately losing out on an All-American from their own state.
But Brunson's commitment on Wednesday also meant a huge recruiting victory for the Big East, which now gains a McDonald's All-American candidate and one of the best guards in the country.
The conference now boasts a major five-star player in the class to round out two more  commits currently in Rivals' top 50 in the 2015 class — Jessie Govan to Georgetown and Justin Patton to Creighton.
The conference is still very much behind some other leagues like the ACC and Big Ten in number of top-50 prospects, but the league also has a eight overall commits of top-150 players and should get more before the end of the November signing period.
If the basketball-only league wants to have a shot at sticking with the BCS football leagues on the hardwood Big East schools have to land high-end players and commitments like Brunson's certainly help.