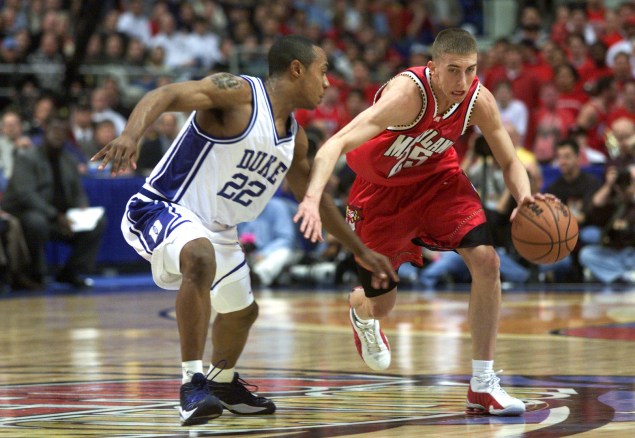 MORE Throwback Thursdays: Jimmer Fredette | Stephen Curry | Wildest college hoops comeback 
Maryland is now officially a member of the Big Ten, meaning that the former ACC powerhouse will now be competing with the likes of Indiana, Michigan State and Wisconsin for Big Ten supremacy.
I know.
I hate it, too.
But before we have to watch the Terps make those lonely trips to Happy Valley and West Lafayette for league games, we can look back on the glory days of Maryland's time in the ACC. Specifically, their battles with the Duke Blue Devils in 2001 and in 2002.
It started with Jay Williams. He sparked a 10-0 run the final minute to force overtime as Duke beat Maryland at Cole Field House, 98-96:
Everyone remembers that game.
What everyone may not realize, however, is that was only the first of four epic battles between the two top ten teams that season.
In Maryland's return trip to Cameron Indoor Stadium, the Terps erased a 60-51 lead in the second half, knocking off then-No. 2 Duke 91-80 while hitting 10 of their final 11 free throws to ice the game. That was, by far, the most boring game of the four-game series during the 2000-2001, and it featured one of the most talented college basketball teams in recent memory — Williams, Shane Battier, Mike Dunleavy, Carlos Boozer and Chris Duhon were all on that team — losing in one of the toughest home court environments in the sport. Think about that.
RELATED: Jacob Pullen vs. Jordan Crawford in 2010 is worth reliving
The two squared off in the ACC tournament semifinals, and it did not disappoint. The Terps came back from 14 points down in the second half, tying the game at 82 on a three-pointer from Steve Blake with 8.1 seconds left and setting up this absolutely thrilling finish (you can watch the entire game here):
And it only got better from there.
The two squared off again in the Final Four, where Duke erased a 39-17 first half deficit, taking the lead on a Jason Williams three with just under seven minutes left in the game (you can watch the entire game here):
Duke would go on to win the national title in 2001 and Maryland would win it in 2002. While Duke has been a mainstay at the top of college basketball since then, the Terps have spent the last decade trying to reclaim that glory.
They may do it still, but it won't be by rolling through Duke, North Carolina and the rest of the ACC.
That's sad.