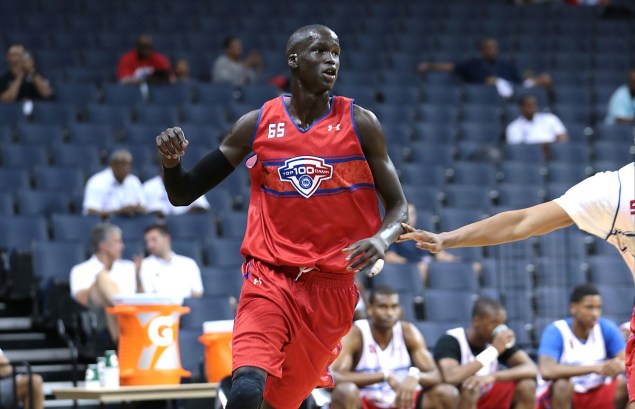 The 2013 recruiting class may not have ended up changing the course of history as we know it during the 2013-2014 college basketball season, but that doesn't change the fact that it was as strong at the top as any class we've seen in recent memory.
Andrew Wiggins, Jabari Parker and Joel Embiid went top three in the 2014 NBA Draft and are now considered the saviors of Minnesota, Milwaukee and Philadelphia, respectively. Julius Randle, Aaron Gordon, James Young and Noah Vonleh went one-and-done, as expected, while Tyler Ennis and Zach LaVine managed to play their way into a guaranteed contract.
MORE: Rivals releases Top 150 for the Class of 2015
That's a loaded class, and here's the scary part — the Class of 2016 has a chance to be better. And on Thursday, Rivals released their new Top 150 for 2016.
Thon Maker, a 7-foot-1 Sudanan by way of Australia, sits as the No. 1 player in the class, and it's a valid pick. He has the length, athleticism and timing to be an elite shot-blocker, but his shooting touch — which extends to the three-point line with time and space and out to 15-feet on his turnaround — and ability to handle the ball is what makes him special. His unique skill-set makes a comparison difficult, but some combination of former Baylor center Isaiah Austin and Kevin Garnett is a good place to start.
RELATED: Thon Maker is NOT the next Kevin Durant | Harry Giles looks to be healthy again
Harry Giles, a strong, 6-foot-10 forward from North Carolina, appears to have recovered fully from what could have been a devastating knee injury last summer and checks in at No. 2 in the class, while a pair of 6-foot-7 wings — former No. 1 Josh Jackson and Jayson Tatum — slide in at third and fourth, respectively.
All four have very legitimate arguments about being the No. 1 player in the class.
Athletic guards Dennis Smith Jr. and Malik Monk round out a clear-cut top six. Smith is the best point guard in the class, deservedly getting the nod over Derryck Thornton because of his vertical explosiveness. There is not a more entertaining player to watch in high school basketball than Monk, but he's still too streaky at this point in his career, mixing 40-point nights with 3-for-20 performances too often.
MORE: Mixtapes: Dennis Smith Jr., Malik Monk | Allure of staying home strong for Jayson Tatum
Big man Bam Adebayo, athletic sharpshooter Terrence Ferguson, Thornton and fellow point guard Lonzo Ball round out the top ten. Ball, who has pledged to UCLA, is the only player in the top ten committed to a school.
The full top 150 can be found here.