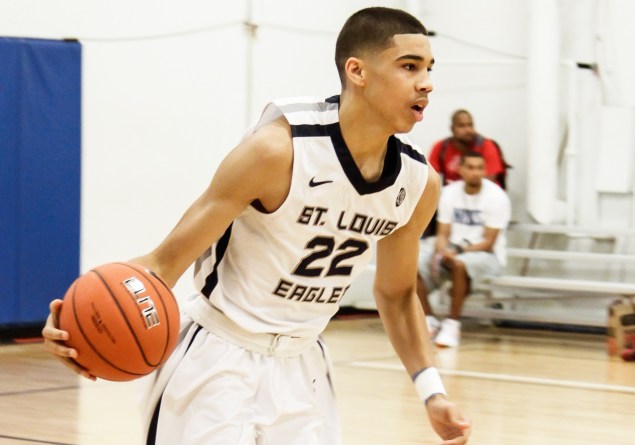 Jayson Tatum is a consensus top five recruit in the Class of 2016, and depending on who you ask, he may actually be the best prospect in all of high school basketball.
RELATED: Jayson Tatum is better than Malik Monk | Jayson Tatum mixtape
A 6-foot-8 wing, Tatum is a silky-smooth scorer with long arms and the kind of glide going to the rim that makes it look like he's barely trying to blow by defenders off the dribble. He needs to add strength to his frame and improve his perimeter jumper, and his lack of elite-level explosiveness is a bit of a concern moving forward, but there's no doubt that Tatum is as good as anyone in a class that may end up being better than the Class of 2013.
On Monday, Tatum announced his final ten schools: Arizona, Duke, Illinois, Kansas, Kentucky, Mizzou, North Carolina, Saint Louis, UConn and Wake Forest.
RELATED: For Tatum, the allure of staying home is strong
Seeing Saint Louis — and, to a point, Missouri — on a list with the likes of Arizona, Kansas, Duke and Kentucky is a little bit confusing unless you know Tatum's back story, as Raphielle Johnson detailed here. Tatum is from Saint Louis. His father, Justin, played there, as did his godfather, Larry Hughes.