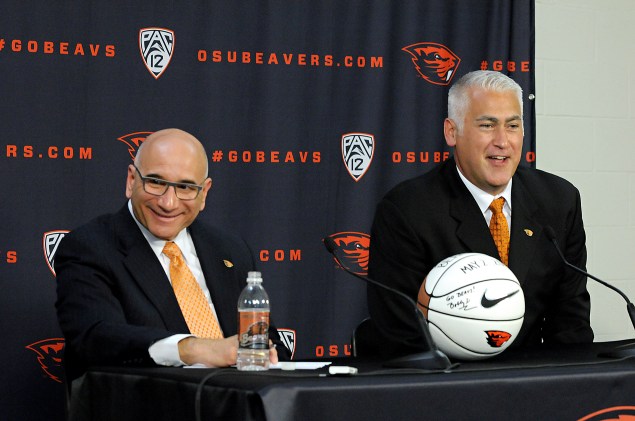 Each Monday and Friday, College Basketball Talk's Scott Phillips goes over some important news and notes in the world of college basketball recruiting. This week, Oregon State's big weekend, three-star Minnesota big man sets two visits and New Jersey big man has a final list of five with some visits.
Can Oregon State keep the momentum going?
The commitment of three-star big man Drew Eubanks to Oregon State might not appear to be a major recruiting breakthrough on paper, but the Beavers and new head coach Wayne Tinkle are hoping to ride Tuesday's commitment into a few more verbals this weekend.
Heading to Corvallis for the weekend is Eubanks, Tinkle's son, Tres, and Stephen Thompson Jr., the son of Oregon State assistant coach Stephen Thompson. Three-star point guard Derrick Bruce is also expected for an official visit also with the aforementioned trio, according to Oregon Live's Andrew Nemac.
While coach's sons will often consider staying home and playing for their fathers, the younger Tinkle and Thompson aren't your average recruits; they're top-100 players in the 2015 class.
The 6-foot-6 Tinkle is Rivals' No. 88 player in the 2015 class while the 6-foot-3 Thompson Jr. is regarded as the No. 74 player. If you piece together those two players with the 6-foot-10 Eubanks and the three-star Bruce at point guard, then the Beavers are looking at a formidable four-man start to the 2015 recruiting class.
Not only would commitments from Bruce, Tinkle and Thompson Jr., have a big affect on Oregon State in the short-term, but it would mean that the staff was able to get talented players to play around the expected commitments from their sons.
It also gives Oregon State a head start on the remainder of the 2015 class or future classes as the new staff can sell the potential quartet of recruits to future prospects.
Of course, Oregon State has to land verbal commitments from Bruce, Tinkle and Thompson Jr., but they look like they're in the driver's seat in all three cases.
Alex Illikainen has two official visits lined up
An intriguing recruitment to follow the next few weeks will be that of three-star Minnesota native and power forward Alex Illikainen. The Class of 2015 product is now attending Brewster Academy for his senior season and the 6-foot-9 forward recently set up some official visits.
According to Rob Howe of Hawkeye Insider, Illikainen will trip to Iowa for an official visit this weekend and follow that up with an official visit to Oregon on September 13th.
Minnesota and Wisconsin are both also involved with Illikainen and he's trying to set up official visits to those schools as well. Cal also got an official from the forward when the old staff was still there and they are no longer recruiting him.
Although Illikainen averaged 9.6 points and 4.6 rebounds per game in the EYBL this spring and summer, he shot 43 percent from the three-point line, which is intriguing because of his good natural size. Stretch fours are coveted in college basketball and Illikainen will only get better playing his senior year at Brewster.
New Jersey forward sets a list and some visits
Isaiah Briscoe is Roselle Catholic High School's most prominent player but 6-foot-8 forward Chris Silva is also a three-star forward and the No. 132 overall player in Rivals' 2015 rankings.
According to Adam Zagoria of SNY.tv, Silva took an official visit to Seton Hall on Wednesday and then he'll visit Rhode Island on September 3rd, South Carolina on September 12th and he'll also likely trip to Kansas State. Villanova, the fifth team on Silva's list, has no visit set so far.
This is an interesting recruitment because the schools involved with official visits come from different conferences, and in many cases, different parts of the country. Silva has a lot of different variables at play here.
Playing with Sports U in the Under Armour Association, Silva averaged 9.9 points, 5.8 rebounds and 1.1 blocks per game in 13 games this spring and summer.