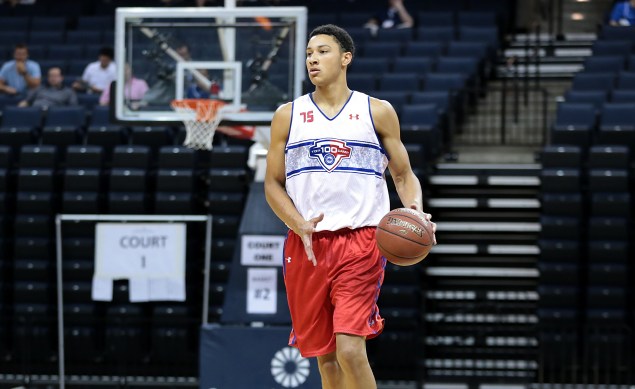 The Class of 2015 just finished their most important recruiting summer, and after spending all spring and summer on the road evaluating these prospects, Rivals has released a brand new top 150.
And as you might expect, if you paid any attention this summer, Ben Simmons is ranked as the No. 1 overall prospect in the class. Simmons is a versatile, 6-foot-8 forward who had a couple of statement performances throughout July. His ability to handle the ball and pass is what sets him apart in a class that lacks some star power.
MORE: Ben Simmons proves he's No. 1 | Simmons does not make Team Australia
Jaylen Brown, a powerful 6-foot-7 wing from Georgia, came in No. 2 in the class, which isn't much of a surprise, either. While Simmons is the consensus No. 1 player in the class, Brown is generally thought of as his biggest challenger to the No. 1 spot. Scout even ranks him as the No. 1 player in the class.
MORE: Jaylen Brown's spring proves he has a professional mindset
Malik Newman, a high-volume scoring guard that can run the point when need be, comes in at No. 3 while 6-foot-11 center Skal Labissiere — Can you guys help me get the nickname 'the Haitian Sensation' going? — comes in at No. 4. Labissiere battled a back injury throughout his junior year which caused him to slide a bit in the rankings, but his size, athleticism and ability to face-up offensively may make him the best NBA prospect in the class.
MORE: Labissiere is considering Europe, but does Europe want him?
Other notables:
Arizona's trio of five-star recruits all found themselves ranked in the top 25, with Justin Simon their "worst" commit at No. 21.
Kentucky's lone commitment in the Class of 2015, Charles Matthews, checks in at No. 56.
Donovan Mitchell, who is committed to Louisville, shot from No. 101 all the way up to No. 30 in the class. Ray Spalding, another Cardinal commit, climbed up to No. 39.
Only two of the top ten and seven of the top 25 players in the class are committed.