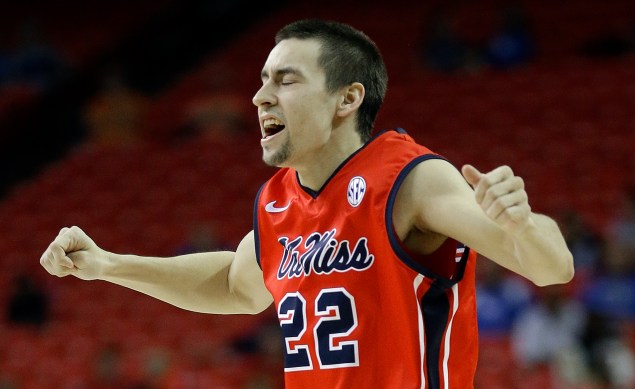 Marshall Henderson is getting a shot at resuming his basketball career. The controversial former Ole Miss guard is receiving a tryout with Fulgor Libertas Forli of the A2 Gold League, according to a report from Italian website Sportando.
Henderson went undrafted in June's NBA Draft after averaging 19 points per game as a senior last season with the Rebels.
Throughout his college career, Henderson often found himself in hot water over his antics on and off the floor. The senior was suspended for three games last season for disciplinary seasons and also had controversial remarks regarding Michael Sam on Twitter that he later claimed was for a friend's school project. Henderson was also suspended indefinitely following a traffic stop when drugs were found and reprimanded by the NCAA for an obscene gesture following a 2013 NCAA Tournament loss to La Salle.
There are also the numerous on-court celebrations that Henderson busts out, including trolling Auburn fans in legendary fashion.
Henderson took to Twitter to confirm the tryout in Italy and he'll have to play well to latch on anywhere, as his shot selection and attitude have always been questionable.