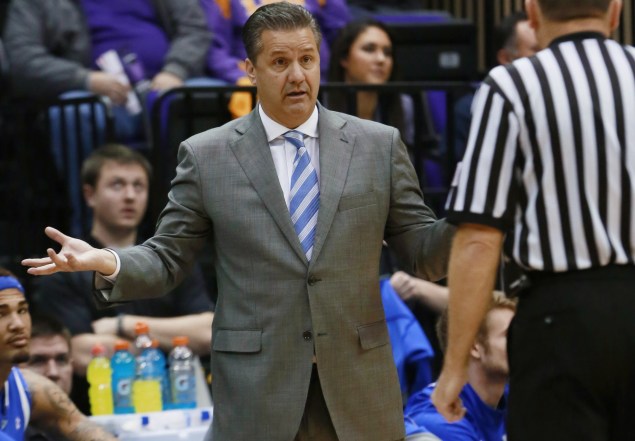 On Wednesday afternoon, John Calipari called into Mike Francesa's radio show as "John from Kentucky" when Francesa began criticizing Calipari's ability as a coach.
Calipari had just finished a segment with Francesa when the New York City radio personality began telling his listeners how Cal is a "great recruiter, master motivator, he's not a classic x's-and-o's guy". This has spawned all kinds of discussion from college basketball media-types and decent helping of outrage from Kentucky fans that have taken to Twitter, comment sections and message boards to defend the leader of Big Blue Nation.
LISTEN: Coach Cal calls into Mike Francesa's radio show as "John From Kentucky"
Me?
In our original post this morning, I called this a "fair critique". And while I probably could have used a word other than critique — fair assessment probably fits better — I actually agree with what Francesa is saying.
But that's not a shot at Cal or his ability to coach. Frankly, it's closer to being a compliment than a diss.
Let me explain.
Cal is the best recruiter in the country. You can argue that Sean Miller and Bill Self have beaten him out for players in recent years or that Mike Krzyzewski has almost as much raw talent on his roster if you'd like, but I think you would have a difficult time finding a consensus that anyone in college basketball is better at luring in elite high school players than Cal. And when it comes to running a successful program at the collegiate level, there are very few things that are more important than amassing talent amongst your ranks.
Cal is also the best coach in the country when it comes to getting the players on his team to buy into their roles, which is not an easy thing to do. He's getting McDonald's All-Americans, kids that have been superstars and commodities since before they could drive a car and are expecting college to be a seven-month hiccup on their path to the NBA, to accept that they aren't going to be the first option offensively; to accept that they may end up being nothing more than a screener, a rebounder, a presence defensively. Remember, Michael Kidd-Gilchrist and Anthony Davis were fourth and fifth on the team in shots the years they went No. 1 and No. 2 in the NBA Draft. Marcus Lee was a top 30 recruit that essentially played walk-on minutes last season.
Do you have any idea how difficult that is?
And do you understand just how much a part of "coaching" that is? It's why Phil Jackson has two fistfuls of NBA Championship rings. "Coaching" isn't strictly about being able to diagram the best sideline out-of-bounds play or developing the best game-plan or creating the most intricate offense. That's part of it, but it's all meaningless if you cannot get your players to do what you want them — need them — to do to win.
Here's the other part of it: the most talented team is going to win the majority of the time. Cal understands this. He doesn't need to install a complicated offensive system or overload the already cluttered minds of the 18, 19 and 20-year old kids on his roster. He doesn't need to reinvent the wheel when his guys are better.
He doesn't have to run the Princeton offense when his team can get a good look off of a ball-screen or a down-screen. He doesn't need a playbook with 40 different plays and three counters on each play when his team rebounds 41.9 percent of their own misses.
John Calipari is never going to be considered a great x's-and-o's coach. He's not Pete Carril and he's not Dick Bennett. He's not John Beilein or Brad Stevens or Rick Majerus.
But he doesn't need to be.
And it doesn't mean he's not a great coach.