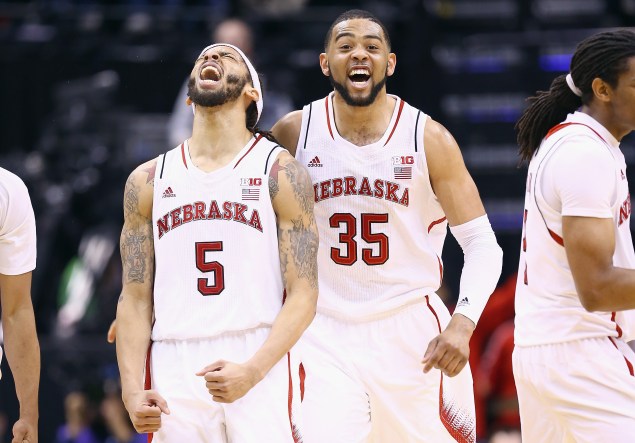 LONG BEACH, California — In each of Tim Miles' first two seasons at Nebraska the program has shown signs of progress, with their biggest strides being made from year one to year two. Buoyed by the opening of a sparkling new arena and the addition of transfers Terran Petteway and Walter Pitchford, Nebraska won 19 games, finished fourth in the Big Ten and earned the program's first NCAA tournament bid since 1998.
Among the 11 games won in conference play by Miles' Huskers were victories over Michigan State — in East Lansing — and Wisconsin, and while an 11-7 mark may not look like much to some it was a notable achievement for the Nebraska program when considering their recent history. Since that last NCAA tournament appearance Nebraska has finished above .500 in conference play just once, when they went 10-6 during the 1998-99 season as a member of the Big 12.
If there was one game last season that convinced Nebraska that not only could they make a run at an NCAA tournament bid but also make a run at earning a first round bye in the Big Ten tournament, according to both Petteway and rising junior guard Shavon Shields, it was their win at Michigan State. That game fell in the middle of a five-game win streak for the Huskers, but, more importantly, it was their first significant win on the road.
"The win at Michigan State was when we started to think, 'we can do this,'" Shields told NBCSports.com at the adidas Nations camp earlier this month. "
RELATED: How does Wichita State build on the best two-year run in program history?
"Most definitely the Michigan State win," Petteway added. "And when we started our 11-3 run [11 wins in 14 games], we definitely felt that we would be an NCAA [tournament] team."
Petteway and Shields led the way offensively for the Huskers last season, with the former taking full advantage of the year he was forced to sit out after transferring in from Texas Tech. Listed at 185 during his lone season at Texas Tech, Petteway entered the 2013-14 season weighing 209, the hard work done in the weight room and in practices translated onto the floor.
"I put on about 20 pounds in the weight room, and that got me quicker, stronger, faster and more explosive," Petteway said. "That was the area where I [made the greatest strides], and it changed my game."
Petteway finished the season averaging 18.1 points and 4.8 rebounds per contest, shooting 42.6% from the field and reaching double figures in 30 of the Huskers' 32 games. For his efforts Petteway was a first team All-Big Ten selection, and the question now is what he can do to follow up on his sparkling debut season.
As for Shields he improved his production in his sophomore season by just over four points per game, going from scoring 8.6 points per game as a freshman to 12.8 per contest in 2013-14. Shields shot better than 44 percent from the field last season, and his ability to get to the foul line resulted in Shields being ranked fourth in the Big Ten in free throw rate. For Shields and his teammates who played on Miles' first team in 2012-13, the lessons learned during that season proved beneficial in 2013-14.
"My freshman year we really didn't have the players [needed] to do what Coach Miles really wanted to do," Shields noted. "But last year we had Walt [Pitchford], Terran and Tai coming in and me, Dave [Rivers] and Benny returning, and that really helped us get over the hump talent-wise.
"We learned from [the losses]," Shield added. "Me, Dave and Benny gained experience and we had a better idea of what it took to play in the Big Ten, and Terran and Walt were able to see what it took to play in the Big Ten. That year really helped us [last season]."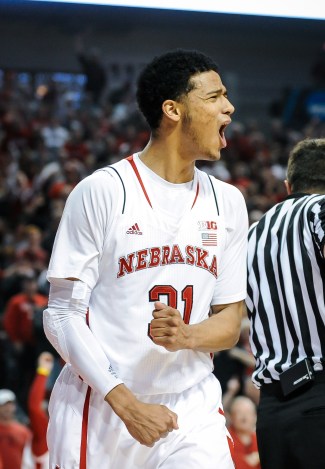 While Petteway and Shields were Nebraska's most productive offensive players last season and will be expected to fill similar roles in 2014-15, it took more than just two players to end the Huskers' NCAA tournament dry spell. Pitchford accounted for 9.2 points and 4.7 rebounds, and players such as Ray Gallegos, Benny Parker, Leslee Smith and Tai Webster were also solid members of the rotation. With Gallegos out of eligibility and Smith expected to miss the entire season after suffering a torn ACL, others will need to step forward if Nebraska is to return to the NCAA tournament.
"Leslee was a big piece to what we did defensively, and he's a good voice in the locker room," Shields said. "The injury hurts us because he can do a lot of things, especially defensively. Losing him really hurts, and I hope he has a speedy recovery."
Georgetown graduate transfer Moses Abraham is expected to help Nebraska in the front court and the same can be said for junior David Rivers and freshman Jacob Hammond, who became an even more important figure once Smith was lost. Last season Nebraska was one of the best teams in the Big Ten when it came to protecting the defensive glass, as their defensive rebounding percentage (72.8%) ranked second in the conference in league games.
That occurred as a result of Nebraska getting the job done collectively, with Shields (5.8 rpg) being the team's best rebounder and four players averaging at least 4.7 caroms per contest. With Smith (4.8 rpg) possibly out of the equation, that will once again need to be the case.
RELATED: K-State's Marcus Foster hasn't forgotten or forgiven teams that pulled offers
With the goal heading into the 2014-15 season being to not only return to the NCAA tournament but also make sure their stay in the 68-team event is longer that it was last season, Nebraska will also have to deal with increased expectations. Prior to last season, Big Ten media members who participated in a poll put together by Bob Baptist of the Columbus Dispatch picked the Huskers to finish last in the conference, only for Nebraska to prove everyone wrong and finish in fourth place.
And making sure a program is strong enough to deal with increased expectations is part of the process in building a program. After making improvements in each of Miles' first two seasons in Lincoln, Nebraska will look to take another step forward against competition that will show them a greater amount of respect. That can be a difficult situation for some programs to deal with, and remaining consistent will be a key for Nebraska if they're build on last year's success according to Shields.
"Just staying consistent and staying together," Shields said. "Those are probably the most important things, and if we can do that we'll be alright."
Nebraska hasn't made back-to-back NCAA tournament appearances since the early 1990's, when they made four straight trips under then-head coach Danny Nee with Eric Piatkowski and Erick Strickland among the standouts on those teams. If this current group of Huskers has their way, the group that's also responsible for the program's lone conference tournament title (1994) could have some company at the end of the 2014-15 season.