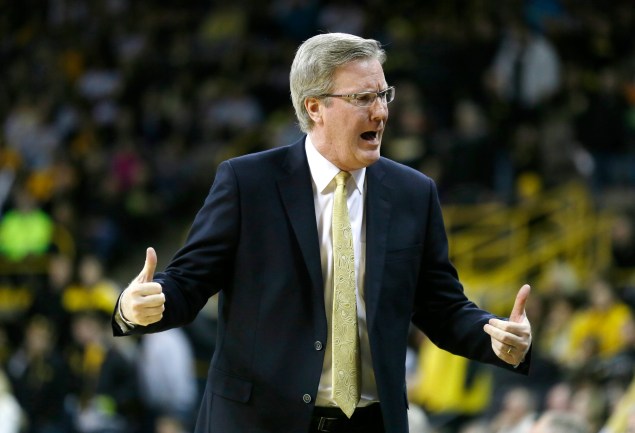 Iowa has had several arrests involving three different players this offseason and head coach Fran McCaffery gave his first extended interview about the four total arrests of his players.
Graduating senior forward Zach McCabe was charged with assault after an altercation in an Iowa City bar on May 16 and the charges were later dropped on July 16th. Sophomore wing Peter Jok has been arrested twice this offseason. Once for operating a motor vehicle while intoxicated, which he pleaded guilty to on May 2nd, and for driving on a suspended license on July 14th. Both incidents took place on a moped.
Over the weekend, junior wing Josh Oglesby was arrested for public intoxication.
McCaffery spoke with the Des Moines Register on Monday at a charity golf outing as he defended his players.
Asked if he was worried about the public perception of his program following the four arrests, McCaffery told to paper, "Not at all. Not in the least. We have great kids. We don't have thugs."
McCaffery also went on to say that all of the evidence needs to be gathered before judgements are passed on his players.
"I just think everyone, like me, needs to get all the facts before you rush to judgment," McCaffery said. "Especially on a guy who has had such an incredibly good track record. I'll tell you what. I wish I had a lot of Josh Oglesbys. Put it that way."
Jok also received some defense from McCaffery in the interview.
"I haven't really talked to him too much since we suspended him," McCaffery said of Jok. "He's got to work through it. He's got to do better. Basically, I'm not worried about him. But he has to change his behavior."
While I agree with McCaffery that his players aren't "thugs" — many people have alcohol-related arrests while in college — four arrests in one offseason is a pretty troubling sign for the Iowa basketball program.
It's especially troubling that McCaffery seems to believe that Peter Jok is going to be okay, even though he's been arrested twice and the second arrest could have been prevented if Jok had someone to turn to within the Iowa basketball program for a ride. Now, maybe Jok just made a mistake on his own accord, and that's entirely possible, but for McCaffery to say that he hasn't really spoken with Jok much since his suspension points to Jok not having many places to turn to for help.
Clearly something needs to change because four arrests is a lot for one basketball program in an offseason.