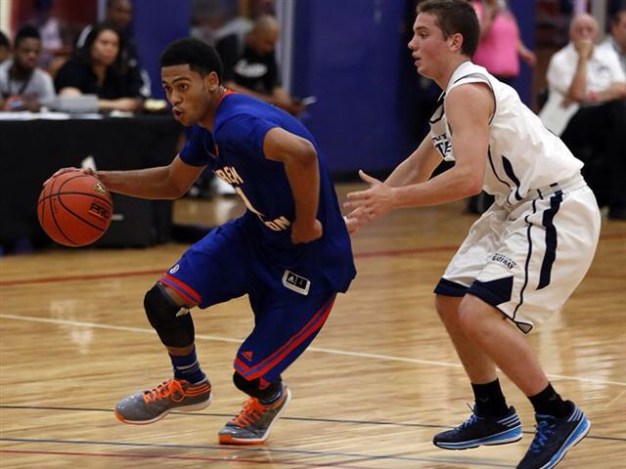 Each Monday and Friday, College Basketball Talk's Scott Phillips goes over some important news and notes in the world of college basketball recruiting. This week, Noah Dickerson changes his mind, Tyler Dorsey sets two official visits and cuts his list and Landry Shamet is down to four.
Noah Dickerson to Florida shows how timetables can change
Georgia native and Class of 2015 big man Noah Dickerson was originally committed to Georgetown, but backed off of his commitment in late June. When the No. 56 overall prospect in Rivals' 2015 rankings spoke with CBT in late July at AAU Nationals in Louisville, he mentioned that he would make a spring decision. After previously being committed, it was understandable that Dickerson wanted to wait and make a decision since he was probably behind on the recruiting process and wanted to make sure he made the right choice the second time around.
Which made the 6-foot-8 Dickerson's commitment to Florida last week so surprising. Not only were the Gators able to convince Dickerson to pledge before his initial timeframe, they weren't even on Dickerson's core list as of a month ago. Dickerson mentioned to NBCSports.com in July that Georgetown, Louisville, Michigan and Virginia were the four schools involved with him the most and Florida made quick work to nab a big man that happened to be playing his high school ball in their state at Montverde Academy.
It goes to show how one school jumping in the mix and making a hard push can really change things in the recruiting process, even if a prospect seems set on abiding by a certain timeframe.
Tyler Dorsey sets two official visits while cutting his list to 10
As one of the better guards in the 2015 class, California native Tyler Dorsey has been a coveted prospect since decommitting from Arizona in June. According to his grassroots coach, Dinos Trigonis, Dorsey has a new list of 10 schools while also setting two official visits.
Trigonis told NBCSports.com that the 6-foot-4 Dorsey, a five-star prospect according to Rivals, will visit Oregon from September 5th through the 7th while he trips to Kansas from the 10th through the 12th of October.
Besides the Ducks and Jayhawks, Arizona State, Cal, Colorado, Georgetown, Louisville, St. John's, UConn and UNLV are also involved.
Although Dorsey transferred high schools and will finish out his career at Maranatha, he played in the same backcourt as UConn incoming freshman wing Daniel Hamilton last season at St. John Bosco, so that's something to keep tabs on as Dorsey sets further visits and potentially cuts his list again.
Under-the-radar shooter sets his final four
It's been mentioned many times on CBT that the 2015 class is greatly lacking guards and shooters. It's part of the reason why three-star prospect Landry Shamet has become a coveted prospect.
The Kansas City native took to Twitter on Monday to announce that he's down to Colorado, Illinois, Kansas State and Wichita State.
At 6-foot-4, Shamet has good size to play the two-guard and flew a bit under-the-radar nationally on the grassroots circuit, so it will be interesting to see where he ends up after his four official visits.