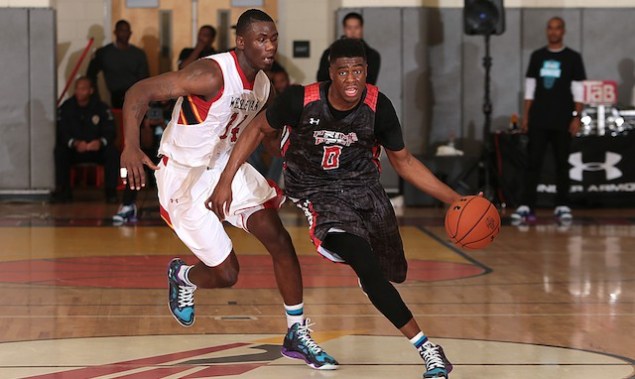 The biggest story line of this college basketball offseason has been Emmanuel Mudiay and his decision to turn pro.
Mudiay would have been a preseason all-american with a shot at being the National Player of the Year if everything broke the right way for him. He was the key piece on an SMU team that would have hit their peak this season, an uber-talented lead guard on a veteran, defensive-minded team.
MORE: Emmanuel Mudiay now nation's most influential recruit
The Mustangs were going to be a top ten team entering the year, a Final Four contender and the favorite to win the American.
But Mudiay, the No. 2 player is Rivals' Class of 2014 rankings, decided to turn pro, signing a deal reportedly worth $1.2 million to head to China where he will play for the Guangdong Dragons.We've written plenty about the decision, but what we haven't heard much from is SMU head coach Larry Brown, who spoke to CBSSports.com's Jon Rothstein about Mudiay's decision:
I'm the best coach for that guy. I believe that and I don't mean it in a bad way. I'm still close with the kid and the family. I thought it was a bad decision but I'm going to support him because he decided to come with us because he trusted us and thought we could help him. I was aware of some of the obstacles he faced but you can't tell somebody that has nothing and is struggling for everything to pass up a chance like that. My theory is Emmanuel is going to make it. He's that good and he's a great kid. But it's not going to be good for everybody. And I'm afraid that there's a lot of people out there that are going to push people in that direction. Unfortunately, there's agents and so-called agents pushing them that way and I worry about that.
RELATED: Is there even a market for high school players overseas?
To be frank, I agree with Brown in that this move probably isn't the best for Mudiay's future as a basketball player. Spending a year — maybe more — playing for a coach like Brown will allow him to develop much more than he will playing in the Chinese pro league.
That said, I still believe that this was a decision that was forced upon Mudiay due to the potential that he would not be able to play for an extended period of time this season.
Regardless, Mudiay is headed to China and the chance for us to see SMU turn into a legitimate basketball powerhouse, even if just for one season, has gone out the window.