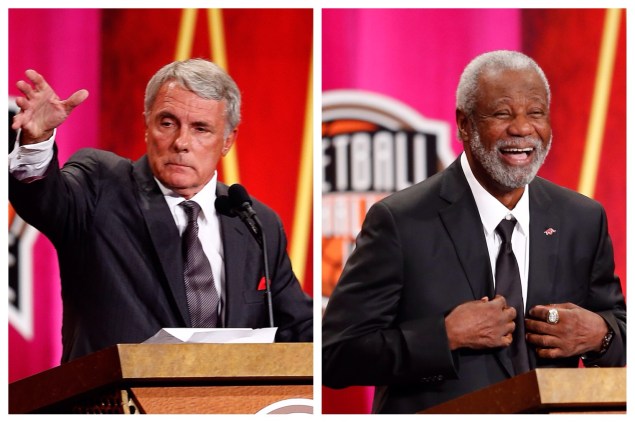 Two legendary college basketball head coaches were enshrined in the Naismith Memorial Basketball Hall of Fame last night as former Arkansas coach Nolan Richardson and former Maryland coach Gary Williams were among the Class of 2014 inductees.
Both head coaches won national championships as Richardson took Arkansas to the title in 1994 and three Final Fours overall (1990, 1994, 1995) in a career that led to a 509-207 overall record. Williams led Maryland to a national title of its own in 2002 and compiled a career record of 668-380 during his college coaching career.
The coaches were inducted in Springfield, Massachusetts last night and each coach had a chance to give a speech.
Richardson touched on the team that helped get him to where he was in his coaching career while also speaking about the death of his 15-year-old daughter, Yvonne.
"I almost threw away basketball because of that," Richardson said in his Hall of Fame speech. "And I'm trying to coach a team the first time at Arkansas. There was unbelievable pressure. I could care less if I ever win. Then I asked the good man upstairs what should I do. I knew she [daughter Yvonne] wouldn't want me to quit."
"So I rededicated myself again," Richardson said. "When I think of winning, sometimes I think we do so for the ones we loved so much. I was happy, but it was different. Things went in the right perspective at that time. What's more important a life or a game? That's what I was faced with. I will pick life every time."
Williams spoke a lot about his former coaches and players as he told stories to the crowd and reflected on his long career, including some entertaining stories from his playing days.
It's nice to see two really good coaches from the college game get their time in the spotlight by getting inducted into the Hall of Fame. With Richardson's distinctive and memorable "40 Minutes of Hell" uptempo style and Williams taking a team to a national championship without a McDonald's All-American, both were very good at what they did in unique ways.