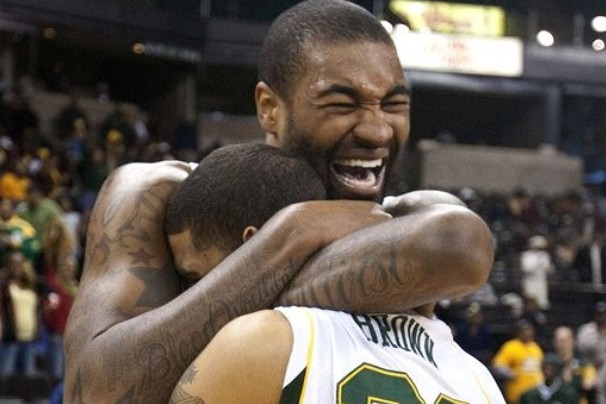 The NCAA's Board of Directors on Thursday voted to change the way that Division I legislation is structured. Put simply, the Power 5 conferences — the ACC, Big 12, Big Ten, Pac-12 and SEC — now have autonomy; they can make and change rules that will apply to them as they see fit.
The biggest reason for this change is to allow the schools that can afford to provide their student athletes with more compensation, things like a stipend that will provide these players with a full cost-of-attendance scholarship, loosening the rules regarding contact between athletes and agents, and allowing for the schools to pay for travel for athletes' families to attend games.
At a time when the movement regarding the rights of student-athletes and the wrongs of the NCAA's antiquated concept of amateurism has never been stronger, this is a step in the right direction. It will allow the schools that can give their players more the ability to do so.
It means the rich will get richer, so to speak. If schools outside the Power 5 conferences didn't already have enough trouble recruiting against the best programs in the country, some of the changes that will come as a result of this change will make it even harder. All else equal, if a recruit is picking between two schools he likes equally and one of them can (legally) give him a couple of thousand dollars extra to cover expenses, will fly his parents to and from games, and will let him get advice from an agent while he's still in college, where do you think he's going to go?
Will this end up changing college basketball all that much?
Frankly, no. I don't think it will for a few reasons:
1. The best programs in the country are already going to be landing the best players in the country. Kentucky, Arizona, Kansas and Duke are annually hauling in the nation's best recruiting classes. McDonalds All-Americans are almost always going to end up at a power conference school because, frankly, that's where the best basketball gets played.
2. There are a limited number of spots at programs in the Power 5 conferences. Arizona can only have 13 scholarship players, and only five of them can be on the court at once. Not many kids are going to want to sit on the bench just so they have their books paid for.
3. Along those same lines, how many recruits will choose to go to, say, Rutgers over UConn or Mississippi State over Memphis because of a full cost-of-attendance scholarship or some advice from an agent? You don't think those power programs outside the power conferences have ways of making sure their athletes can get the money they need? You don't think there are already agents working with a lot of those kids? The real difference is that these rule changes allows them to do those things without having to cover their tracks.
4. How many programs outside the Power 5 conferences legitimately compete with the Power 5 conferences for recruits? How many can consistently land top 50 and top 100 caliber talent? The top half of the American, the top half of the Big East, the top half of the Mountain West, for starters. Toss in VCU, Wichita State, Gonzaga, and BYU as well. That's, what, 20 schools, max? In other words, Davidson is still going to be getting the same kids. Saint Mary's is still going to be getting the same kids. Saint Louis, George Washington, Central Florida, Colorado State. Those programs are still going to be looking for the right fit that falls throughs the cracks.
5. If those 20 or so schools that compete for top 100 kids really feel they're at a disadvantage, they can adopt the rules that the Power 5 conferences put into place. The only thing that San Diego State or UNLV is excluded from is the voting process. They don't have a say in the matter, but they can pay those stipends if they feel they need to in order to compete.
But here is the most important point: What makes college basketball so popular and so special is the NCAA tournament, the way that a cinderella can appear out of nowhere. Butler and VCU became elite programs because of their tournament success. Florida-Gulf Coast, and to a lesser extent schools like Lehigh and Mercer, were put on the map nationally because they went out and won games as low seeds in the tournament despite the fact that they don't have a roster stocked with top 100 players.
There's nothing that we love more than seeing a group of kids destined to be doctors and lawyers and teachers, kids that are too slow or too small or not athletic enough to shoot their way past a handful of first-round picks. And as long as the NCAA tournament remains a single-elimination tournament, those upsets are still going to happen. A stipend wasn't going to stop George Mason back in 2006. A full cost-of-attendance scholarship wouldn't have saved Missouri from Norfolk State.
The Magic of March isn't going anywhere, and as long as it doesn't, college basketball is going to be just as entertaining and popular as ever.