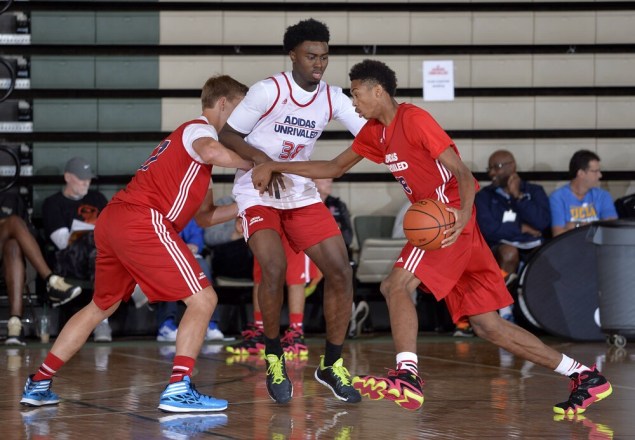 Each Monday and Friday, College Basketball Talk's Scott Phillips goes over some important news and notes in the world of college basketball recruiting. This week, UCLA's big unofficial visits, Brandon Ingram sets an official visit, Josh Sharma has three schools in mind and Donovan Mitchell is down to five.
A big week for UCLA 
While UCLA has been in the news recently for the flooding at Pauley Pavilion, they still have some very good news on the recruiting front this week as they will have unofficial visits from two of the best small forwards in the country in Georgia native Jaylen Brown and North Carolina native Brandon Ingram.
Both Class of 2015 wings are five-star prospects and both the 6-foot-7 Brown and 6-foot-8 Ingram confirmed with NBCSports.com that they will visit UCLA's campus after the completion of adidas Nations on Monday night.
Despite the flooding, neither elite prospect seems to mind that some of the facilities won't be apart of their campus tours.
"I think it's going to be pretty good. I talked with [UCLA assistant coach] David Grace and they said it wasn't going to hurt my visit," Ingram said of the flooding. "So we're going up there August the 5th and I'm just looking forward to meeting with the coaches, meeting with the players there already and seeing how they like it."
Brown also joked about the response he's received on Twitter about his visit to UCLA, saying to NBCSports.com, "[The UCLA coaches] said that Pauley is down, but it's alright. Everybody is tweeting me like it's going to have some type of effect on my decision or something. It's not. It's fine. Kentucky fans have been using that to their advantage. It's hilarious. They're like, 'Come to Kentucky, we have clean locker rooms,' and stuff like that, but the UCLA fans go back at them like, 'We'll have brand-new locker rooms by the time you get there,' so it's funny to see stuff like that."
With three first-round draft picks in the 2014 NBA Draft, it appears that elite recruits are taking notice of Steve Alford's uptempo style at UCLA and how they can use it for their advantage. The recruiting process is still early for both Brown and Ingram, but UCLA getting them on campus is a good start to what is sure to be a busy fall.
Ingram, meanwhile, has an official visit set up to Duke from August 7th through August 9th and Brown would like to make an unofficial visit to Kentucky in September.
Josh Sharma is targeting three
As a legitimate seven-footer and top-100 prospect in the 2015 class, Josh Sharma has plenty of suitors in his recruitment.
Three schools have currently set themselves apart from the pack, however, as Sharma broke down his top three to NBCSports.com, including an upcoming unofficial visit.
"I have offers from a bunch of places but right now I'm focusing on Stanford, Wisconsin and Boston College and a couple others. But those are my main three right now," Sharma said. "I'm visiting Stanford, August 6th. Me and my Mom are going up there after [adidas Nations] on an unofficial visit. But besides that, I haven't planned any officials yet."
The No. 75 overall prospect in Rivals' 2015 rankings, Sharma had a really good spring on the adidas Gauntlet with Mass Rivals and is looking to make a fall decision.
After a strong July, Donovan Mitchell down to five
One of the best players during the July live evaluation period was point guard Donovan Mitchell. The 6-foot-2 Mitchell showed off tremendous athleticism and skill from the point guard position during the month and it led to offers from all over the country.
But now, Mitchell is focused on five schools as he took to Twitter to announce his list:
All five of Mitchell's finalists were all over him during July and Villanova already received an unofficial visit from the Brewster Academy product over the weekend.
Currently checking in at No. 101 in Rivals' 2015 rankings, Mitchell is due for a push up the rankings thanks to a lack of really good guard prospects and his great play during July.