Indiana Pacers star Paul George suffered a gruesome leg injury last night while defending a fast break during USA Basketball's televised scrimmage in Las Vegas.
The injury to George — which you can read about at Pro Basketball Talk, without any photos or videos of the horrific injury — instantly drew comparisons to the leg injury suffered by former Louisville guard Kevin Ware during the 2013 Elite Eight against Duke.
While both leg injuries occurred in different ways — George hit the basket stanchion and Ware was closing out and challenging on a jumper — the gruesome nature of the leg injuries in high-profile, televised games made for instant comparisons on Twitter.
Ware, now at Georgia State after an offseason transfer, also instantly took to Twitter to support George's recovery.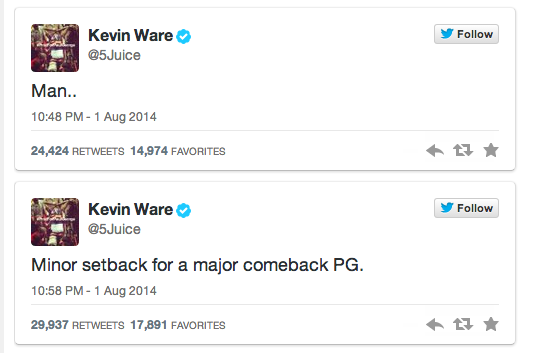 It's nice to see Ware show support for George, since he's probably one of the few people who could really place himself in his shoes at the moment.
It's hard to say how similar the injuries to the two players actually are since news on George's injury is still trickling in, but Ware had a very positive recovery from his March 31st leg injury. Ware had a rod inserted into his right tibia to help fix the compound fracture.
On June 20th, Ware was shooting jumpers, by September 16th, Ware was dunking, and on October 4th, Ware was cleared to return to basketball workouts.
Ware eventually returned to the court less than eight months after his injury in a November 6th exhibition win over Pikeville, as he knocked down a three-pointer in his limited minutes, and Ware also played in Louisville's regular season opener against Cornell on November 15th, scoring five points in 13 minutes of action.
The junior guard eventually redshirted the 2013-14 season, but it was encouraging to see Ware back and contributing in competitive basketball games so quickly.
Hopefully Paul George can have some positive news regarding his leg injury and make a full and healthy return to playing high-level basketball.