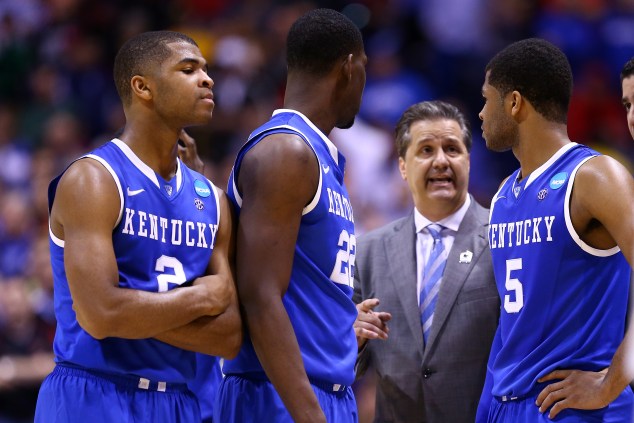 One of this offseason's most intriguing story lines was that of Kentucky head coach John Calipari.
After leading a team that was completely written off in early March all the way to the national title game, he got great news when four of the six guys that were expected to head to the NBA made the decision to return to school for at least one more season.
The amount of talent on his roster immediately propelled his team to the top of any preseason top 25 poll worth considering.
And all this was happening while NBA teams were calling him and inquiring about whether or not he would like to coach their team. The most notable offer he received? From Cleveland, where he would have the chance to coach LeBron, Kyrie Irving and either Andrew Wiggins or Kevin Love, depending on who ends up getting traded.
Talk about a win-win situation.
On Monday, Mike DeCourcey of The Sporting News traveled down to Lexington and had a chance to chat up Coach Cal, who opened up about why he made the decision to turn down the NBA and return to school as well:
Current NCAA rules force college players to make their final decision about the draft in April. Calipari's opportunities arrived subsequent to that date.

"Four kids said they need us and me to help them get more prepared for the rest of their lives," Calipari said Monday. "If I came back after the date and left … tough move. If it was your son, how would you feel? 'That rat, we could have left, why didn't he tell us?' "

Calipari said that was the reason he declined the NBA jobs. "Solely," as he put it.
Cal is a master when it comes to spin, so I understand why you would be skeptical, but I think this is something that is rooted in truth. This is a guy that has been reported to be chasing NBA jobs in just about every offseason since he landed at Kentucky that turned down a massive offer from a team that had, at the time, Kyrie Irving, Anthony Bennett, the No. 1 pick in the 2014 draft and a real shot to bring back the best basketball player in the world.
Something kept him there.
"Around Calipari, there is a strong belief that he would've landed in Cleveland had those key players decided to turn professional this year," Yahoo Sports reported back in June when they broke the news that he turned down a 10-year, $80-million offer from Cleveland.