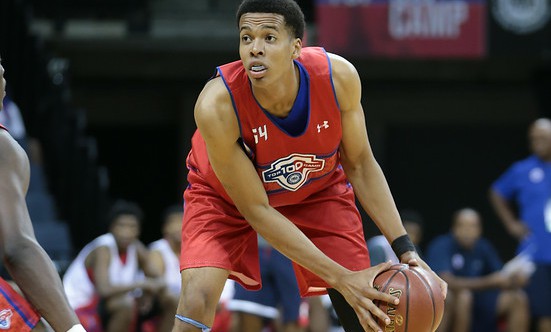 The most recent topic of discussion in the college hoops world to make the rounds on the #hotsportstake bandwagon is that of Emmanuel Mudiay.
You surely know the story by now. The No. 2 prospect in the Class of 2014 and an athletic, 6-foot-5, season-altering lead guard, Mudiay was scheduled to play for SMU this season. But two weeks ago, he announced that he would be forgoing college, forced to head overseas because he either wanted to help support his family (the Mudiay party line) or he was too worried about his academic eligibility and his status as an amateur to risk a season in college (what everyone else believes to be true).
Mudiay eventually signed with the Guangdong Dragons in China.
His contract? It's reportedly worth $1.2 million.
The talking point here is whether or not Mudiay will be a trendsetter, a trailblazer leading a new breed of elite recruit overseas where they will make a seven-figure salary for seven months before entering the NBA draft.
And it's certainty a conversation worth having. As I mentioned when the news first broke, the reason that Mudiay — and Brandon Jennings before him — went overseas was because NCAA rules more than likely were going to forbid him from playing college basketball. When ineligibility and the mountains of negative publicity that come with it are staring you in the face, you take that million-dollar contract every single time. With initial eligibility standards increasing, and thus making it more likely that a recruit will be ruled ineligible, there's a real chance that this could become a more common occurrence.
And that's saying nothing of the possibility that Adam Silver implements a two-and-done rule for entering the draft. High school kids these days have grown up knowing nothing other than college basketball with the one and done rule. Having to spend an extra 12 months on campus and sans paycheck may not be the easiest sell.
All that brings me to the latest development in this story: On Thursday, Skal Labissiere — a five-star, Class of 2015 center being pursued by the likes of Kentucky, North Carolina, Memphis and Georgetown — told CBSSports.com on the record that following in Mudiay's footsteps is a route he's looking into.
"Overseas is an option," Labissiere said, which is notable. There have been rumblings that a number of players in Labissiere's class are looking into that option, but the native-Haitian is the first to acknowledge, on record, that the money that Mudiay got will be a factor in his decision-making process. "I don't know yet for sure. We'll see. But that is a lot of money."
When giving a million-dollar contract to an 18 or 19 year old American player, one of the biggest concerns for a professional team in a different country is how that player will acclimate. Living abroad, dealing with the massive cultural changes that come with international travel, is not an easy thing for a high school grad to deal with.
Labissiere, in theory, would be able to adapt as well as anyone because he's already made that change. Labissiere grew up in Haiti and left after he survived the devastating 2010 earthquake that killed as many as 300,000 of his countrymen. He's lived in a different country with a different culture for the last four years, and, by all accounts, he's thrived. He's one of the sweetest, most gregarious kids in this class, polite when dealing with the media and perpetually grinning from ear to ear, and he's been through more than I can imagine. Heading to Italy or China or wherever to play pro ball for a year shouldn't be all that much of an issue for him.
But that's assuming that someone wants him.
Because the point that hasn't been made nearly enough when discussing the potential for American teenagers to spend their year in NBA purgatory abroad is that there simply isn't all that much of a market for these guys abroad, particularly in Europe.
Let's start with the obvious: When we're talking about guys who can go pro overseas and make seven-figures, we're talking about the elite of the elite. Andrew Wiggins, Jabari Parker, Jahlil Okafor, Mudiay. In a strong class, you're looking at maybe five to seven guys who are worth consideration. In a weak class like 2015, you're looking at just Ben Simmons, and I'm not convinced he's good enough to garner that kind of a salary.
The bigger problem?
Teams in Europe do not want to sign an 18-year old kid for just one season. What do they get out of it? A prospect who's not ready to contribute major minutes at the highest level of European basketball for one season before they head back stateside to play in the NBA? As good as Labissiere is now and as promising as he is as a prospect, the fact of the matter is that he gets pushed around by stronger guys at the high school level here. He would routinely be overpowered in the paint in a good European league. If the team cannot develop him, it's not worth a million dollars to them.
"If you don't want to sign a four or five year deal than you don't get paid as an 18 or 19 year old," one NBA scout told NBCSports.com. "European guys are looking and saying, 'Would I rather be Mario Hezonja, stuck in Barcelona not playing and not able to get to the NBA, or would I rather be in the league like Alex Len?
"If you want to play in the NBA, which is what a lot of the Europeans and all of the Americans do, than signing a long-term deal with a big European club, which is the only way to get paid over there, is not a good option."
It's part of the reason that Mudiay was forced to head to China, a league that pays well, but A) demands major performances out of their American players, B) is quick to cut players that struggle, and C) will not be a productive step, and could be a hindrance, in his individual development.
A smart European team could start to flip American players for profit, signing them to $200,000-$300,000 contracts with $600,000 buyouts, the max an NBA team is allowed to pay.
In theory, that makes sense.
In practice, it doesn't.
If we're going to be honest here, we need to acknowledge that any incoming freshman talented enough to garner that kind of deal from a European team has the avenues to get paid just as much, if not more, while he's in college, and I say that without a shred of sarcasm. Whether it be boosters paying to bring him to their school, agents paying to ensure that he will be a future client or shoes companies paying to keep him loyal, there are avenues for elite recruits to generate a substantial income. It may not be savory, but they are there.
Which brings me back to Skal Labissiere.
He may be looking at overseas as an option. He may be quite intrigued by the contract that was given to Mudiay. He may like the idea of skipping college and getting $1.2 million put into his bank account.
That doesn't mean that there is anyone who would be willing to pay him that much for one season, and even if there is, it doesn't guarantee that the quick payout will be better for his long-term development — and, thus, career-earnings — than going to college.
Assuming that he'll be able to get his academics in order and that he hasn't compromised his amateur status, Labissiere, as well as the other recruits thinking about following in the steps of Mudiay, may simply be better off going to college, playing on national television and collecting those Ricky Roe duffel bags.
It's the American way.