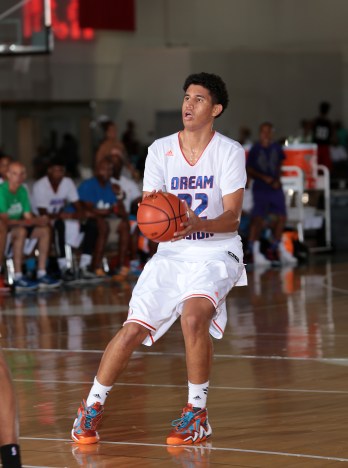 LAS VEGAS — One of the better matchups on Saturday was the adidas Super 64 quarterfinal between Dream Vision and the Atlanta Celtics, with both teams possessing a high number of Division I prospects. Chase Jeter was the headliner for Dream Vision but he struggled mightily against Abdul Hakim Ado, who is considered to be one of the best defensive big men in the Class of 2016. Ado finished the game with seven points, 15 rebounds and three blocked shots, and he altered numerous attempts around the basket as well in a performance that backs up the praise of his defensive prowess.
With Jeter struggling others needed to step up, and Bennie Boatwright and Arizona commit Justin Simon did just that to lead Dream Vision to the 66-63 victory. Boatwright had it rolling offensively, as he scored 27 points with a considerable amount of his damage being done from the perimeter. And as the points increased so did his confidence, with Boatwright even looking to mix it up with some touches in the post. If he can play with the offensive aggression he displayed Saturday on a consistent basis, look out.
As for Simon much has been made about what position he's best suited for, with some wondering if he's a good enough setup guy to serve primarily as a point guard. But if his showing in Las Vegas is any indication of what he'll be able to give Arizona in 2015, it's best to give him the label of "playmaker" instead of trying to fit him into a strict role. Simon made plays off the dribble, attacking the defense to either put himself in position to score or set up his teammates. And it was his lob to Jeter with 20 seconds remaining that gave Dream Vision a 64-63 lead that it would not relinquish. While there's still room for Simon to improve as a distributor, there's plenty to like about his game as he enters his senior year of high school.
For the Celtics, 2016 guard Kobi Simmons scored 18 points but he had to work awfully hard in order to do so as he made just six of his 24 attempts from the field. This is the area where Simmons will need to work hard to improve upon. He can put points on the board, but that can't come at the expense of making sure his teammates are taken care of as well. Braxton Blackwell played just as much of a role in initiating the offense for the Celtics, dishing out five assists in a "point forward" role to go along with 13 points.
MORE: Quotables Part I | Part II | Part III | All content from the 2014 July Live Period
Junior college showcase attracts solid number of quality prospects: JucoRecruiting.com once again held a showcase event in Las Vegas, with more than 100 players looking to land an opportunity to play at a four-year school on display. And while former DePaul forward Dejuan Marrero was one of the players involved he wasn't the player both Herb Sendek (Arizona State) and Pat Chambers (Penn State) showed up to see. That distinction goes to South Plains JC guard Andre Spight, who continues to work towards being a factor as a point guard. Last season Spight, who began his career at UTEP, spent a considerable amount of time playing off the basketball. That will change this coming season, and Spight's goal is to be a point guard for a four-year program when the time comes to make a decision.
According to Spight, who will visit Arizona State on September 5 per Jeff Borzello of CBS Sports, he'd like to make his decision during the early signing period. Another guard to consider from the event was Desmond Medder, who will play at New Mexico JC after averaging 20 points and just over six rebounds per game at Scottsdale (Arizona) CC last season. Per Medder he's yet to receive any calls from Division I programs, but if he can continue to score as he did last year that should change.
RELATED: Las Vegas Wednesday | Thursday | Friday
Hot week in Vegas leads to added recruiting interest for Justin Foreman: One of the best offensive performances of the week was put together by NY Rens guard Justin Foreman, who on Wednesday night dropped 48 points in a thrilling 96-94 win over the Ohio Basketball Club. Foreman was unconscious that night, hitting 14 of his 16 shots from the field (15-for-17 FT) and making all five of his three point attempts. Foreman continued on that scoring streak throughout the weekend, and Foreman's hope is that  his recent run of play results in increased recruiting interest.
Currently the majority of his offers come from MAAC programs including Iona, Canisius, Niagara and Saint Peter's, and he has also heard from Hofstra, St. Francis-Brooklyn, LIU Brooklyn, Rhode Island and Kent State. Foreman also stated that next month he'll be taking unofficial visits to "Fairfield, Canisius, Marist and Sacred Heart."
Curtis Jones will move to the point this high school season: While the 7-footer receives much of the attention nationally, the fact of the matter is that Team Loaded has a number of quality prospects with 2016 guard Curtis Jones being one. Jones played well in Las Vegas, providing his team with the perimeter scoring needed to balance what they get inside from Maker. What's interesting about Jones' game is that he'll be making a position switch of sorts, as he expects to play the point for his high school team. "A lot of ball-handing, watching film of other point guards and trying to improve my decision-making so I can get my teammates involved," Jones told NBCSports.com when asked how he's preparing for the change in roles.
According to Jones he holds offers from Cincinnati, Virginia, Virginia Tech, NC State, Wake Forest, West Virginia, Maryland, and VCU. And among the schools who have recently been in contact, Jones mentioned Louisville, Indiana, Ohio State, Missouri, Xavier and Texas. Those programs will be watching intently to see how Jones' transition to the point guard spot goes, and with his ability to break down defenses off the dribble he's a tough matchup for many teams.