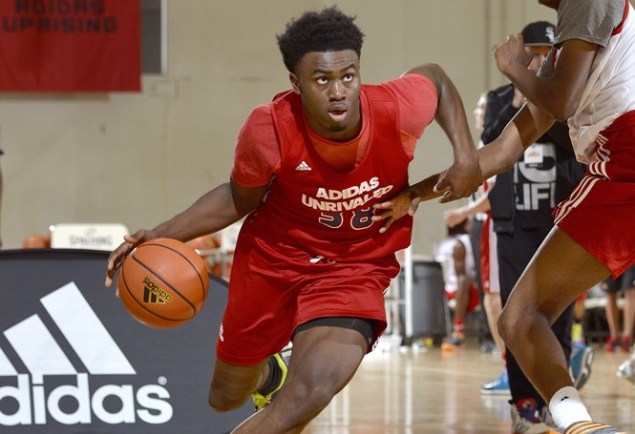 LAS VEGAS — Over the last year or so guard Jaylen Brown has gone from merely being a talented member of the 2015 class to becoming one of its best players. With a maturity that's rarely seen in most teenagers, Brown has managed to balance his high-level athleticism with a good understanding of the game and what his team needs him to do at any point in time. Brown's full skill set was on display Saturday, as he was able to not only get the basket at will but also knock down perimeter shots when open. And according to Brown, there are a number of things he's working to improve upon this summer.
RELATED: Jaylen Brown's professional approach paying dividends
"There's a long list of things I have to improve upon," Brown said. "Making sure my jump shot is consistent, and I have to improve on by ball-handling. Defensively I have to be more active, [and I have to] get myself to a high level of conditioning so I can play at a high level for a long time."
Another important factor for Brown has been the hard work he's put in to transform his body, which is obviously the case when considering his stated goal to become an even better-conditioned athlete. And that effort has resulted in Brown becoming a dominant perimeter presence.
"Definitely the weight room and conditioning," Brown said when asked where he's made the greatest strides over the last year. "The weight room really helped." According to Brown he weighed 200 pounds last summer, and now he's up to around 220. The added weight (good weight, mind you) has helped him become a more explosive threat on the wing, and once in the lane Brown has no problem finishing above the rim with authority.
As for his recruitment, Brown stated that he'll take an unofficial visit to UCLA after participating in adidas Nations next weekend in Long Beach, California. Among the reasons for his considering UCLA was the presence of Georgia natives on the roster, with Tony Parker entering his junior year and Jordan Adams putting together two highly successful seasons before being picked in the first round of the 2014 NBA Draft (Memphis Grizzlies).
Other schools that have been most active in his recruitment according to Brown are Kentucky, Ohio State, Kansas, Georgia, Georgia Tech, Florida and Texas A&M.
MORE: Quotables Part I | Part II | Part III | All content from the 2014 July Live Period
Kobi Simmons continues to improve: The Celtics don't lack for talent, and one of the standouts in Las Vegas has been 2016 point guard Kobi Simmons. Simmons has run the show for the Celtics, and his importance was on full display in their win over Team Rose during Friday's afternoon session. When Simmons was the one initiating the offense the Celtics ran like a well-oiled machine, but they struggled when he wasn't the one being asked to make a play. Simmons displayed the ability to finish at the rim with either hand, and for the most part he remained under control in running the show.
Simmons described himself as a "scoring guard" following the game, but he also has the ability to set up his teammates for quality looks. Among the schools Simmons mentioned when asked who all is recruiting him are "Kentucky, Duke, Kansas, Ohio State [offered about two weeks ago], Missouri, Memphis and Texas."
Vanderbilt goes four deep for local prospect Braxton Blackwell: Playing alongside Simmons was 6-foot-8 forward Braxton Blackwell, who like Simmons is a member of the Class of 2016. And based upon who all attended from the Vanderbilt coaching staff it's clear that the Nashville native is of high priority. Head coach Kevin Stallings was there with all three assistants (one left during the second half to get to another game), and the reasons why they hold Blackwell in such high regard were easy to see. Blackwell rarely gets rushed on the offensive end of the floor, and defensively he had no issue with doing the little things a team needs in order to be successful.
"Just being versatile," Simmons said when asked what he believes his strengths to be. "I can get a rebound and go, [and play] kind of a point forward position right now."
When asked what areas he's looking to improve upon this summer, Blackwell mentioned perimeter shooting and being a more aggressive player on the offensive end. Vanderbilt wasn't the only school mentioned by Blackwell when asked about his recruitment, either. "Providence, Florida, Indiana, Tennessee, Memphis, Vanderbilt and a lot of other schools," Blackwell noted. Blackwell also stated that last year he took unofficial visits to Indiana, Memphis, Vanderbilt and Auburn, and he'll look to take more unofficial trips in August.
A possible fourth visit for Bennie Boatwright: The 6-foot-9 forward is more of a perimeter threat, an attribute that meshes well with Dream Vision teammate Chase Jeter, who has emerged as one of the best big men in the Class of 2015. Boatwright has a good perimeter stroke, and with his tendency to be out on the wing the areas Boatwright mentioned when asked what areas of his game he's working to improve upon (being more efficient and strengthening his ball-handling), fit in well with what he'll need to do in order to be successful.
As for his recruitment, it's been known for quite some time that three schools that will definitely host Boatwright on official visits are Arizona State, Gonzaga and Washington. Head coaches Herb Sendek (Arizona State) and Mark Few (Gonzaga) were among the coaches in attendance, with Washington having an assistant keeping tabs on their target. And in speaking with Boatwright following the game, there's also a possible candidate for one of his other two available official visits.
"I might go to UConn's 'Midnight Madness,'" Boatwright told NBCSports.com. Obviously the key word there is "might," and Boatwright also noted that he was unsure as to whether or not he'll use all five official visits.