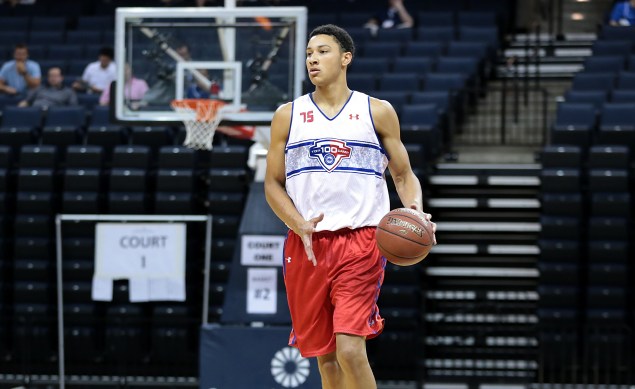 When it comes to discussions of drafts in relation to college basketball, the focus is the NBA with mock drafts projecting where college players could possibly go. But what if there were a draft for the nation's best recruiting prospects? The staff at CBT entertained this idea, with each of us having eight selections in the "snake" draft to put together our own teams.
A couple things to be considered: only players in the Class of 2015 are eligible to be selected, so names like Josh Jackson and Jayson Tatum (2016) won't be seen here. Also, the player has to be healthy at present time, with the idea of this being to put together a group that would be able to play immediately. Unfortunately that means no Ray Smith due to the torn ACL he suffered earlier this month.
Below is the result, with each full team available for viewing after you go through the pick-by-pick results. We'll revisit this early next week, taking a look at each team's strengths and weaknesses. Feel free to leave your thoughts on the draft below.
1. Ben Simmons: In a class filled with big men and forwards, Simmons has proven to be the best of the bunch. (Terrence Payne)
2. Malik Newman: The best scoring guard in a class that lacks elite backcourt options. (Scott Phillips)
3. Ivan Rabb: Give me the big man who can take care of business in the paint on both ends of the floor. (Raphielle Johnson)
4. Jaylen Brown: Brown's the 2nd-best player in 2015. The 6-foot-7 power wing is a steal at No. 4. (Rob Dauster)
5. Diamond Stone: Stone is the best low-post scorer out of the elite bigs in the class. (RD)
6. Skal Labissiere: Going with the "Twin Towers" idea here. Good luck scoring in the paint against he and Rabb. (RJ)
7. Henry Ellenson: Long and skilled big man can shoot from the perimeter, get post touches and rebound. (SP)
8. Chase Jeter: The youngest player in Rivals top-10 has shown promise on the grassroots circuit, gaining experience through adidas Gauntlet and USA Basketball. (TP)
9. Isaiah Briscoe: Good size for the combo guard, who stuffed the stat sheet for Peach Jam champions, New Jersey Playaz last week. (TP)
10. Cheick Diallo: A steal at 10 as a rim protector, rebounder and emerging low post scorer. (SP)
11. Antonio Blakeney: He's lit it up offensively this spring/summer. And with Skal and Ivan on the block things could open up for him on the perimeter. (RJ)
12. Jawun Evans: For my money, Evans is the best pure point guard in 2015, a pure-bred winner. He can run any team, he doesn't make bad decisions and he's a flat out winner. (RD)
13. Luke Kennard: The 6-foot-5 lefty is one of the best shooters in a class that doesn't feature many of them. There's a reason he committed to Duke. (RD)
14. Allonzo Trier: I'll take another high-level scorer on the wing. It makes the PG position even more important though. (RJ)
15. Jalen Brunson: He can knock down perimeter shots and get open looks for other players at the point. (SP)
16. Brandon Ingram: For the 3-spot I'll go with Ingram, a five-star forward who battled with consensus top-5 recruit Jaylen Brown twice in Chicago at the adidas Unrivaled. (TP)
MORE: Quotables Part I | Part II | Part III | All content from the 2014 July Live Period
17. Malachi Richardson: Adding a 6-foot-5 shooter to my back court, paired with the physical play of lead guard Isaiah Briscoe. (TP)
18. Deng Adel: The Louisville commit is explosive, skilled and fills the lanes on breaks incredibly well. (SP)
19. Stephen Zimmerman: Too many bigs? Not in my view, and given the spot this is undoubtedly a value pick. (RJ)
20. Dwayne Bacon: You can never have too much scoring pop on the wing, and Bacon can fill it up as well as anyone. (RD)
21. Justin Simon: A playmaker on both ends of the floor, Simon will fit in well with Team Dauster Elite's run-and-gun style. (RD)
22. Jalen Coleman: My team needs a point guard, so we'll go with Coleman as a player who can also create for himself. (RJ)
23. Carlton Bragg: A top ten talent falling this far is well worth it as Bragg can score inside, rebound and has skill. (SP)
24. Elijah Thomas: Not a known as a big-time athlete but will be tough to stop on the block. (TP)
25. Jalen Adams: Another playmaking guard, who can help run the point while putting up big scoring numbers. (TP)
26. Tyler Dorsey: Can play both guard spots for me off the bench and can provide another perimeter scoring option. (SP)
27. Kevaughn Allen: The Florida commit has the ability to handle the ball, and as we've seen this month scoring and defending won't be an issue. (RJ)
28. Deyonta Davis: He has all the talent in the world, his issue is effort and motivation. It's a good thing my pregame speeches are Eric Taylor-esque. (RD)
29. Tyler Davis: A monster on the block, Davis will allow me versatility in my lineups. (RD)
30. Danjel Purifoy: A wing who can also initiate the offense. That will help with this group. (RJ)
31. Caleb Swanigan: Swanigan gives me a big body in the post and the EYBL's leading rebounder — and three of the top five rebounders overall. (SP)
32. Montaque Gill-Ceasar: Will do more on the wing than just score, he'll add some defensive pressure as well. (TP)
Terrence's Team
G Isaiah Briscoe
G Malachi Richardson
G Jalen Adams
G Montaque Gill-Caesar
F Ben Simmons
F Brandon Ingram
F Chase Jeter
F Elijah Thomas
Scott's Team
G Malik Newman
G Tyler Dorsey
G Jalen Brunson
F Deng Adel
F Henry Ellenson
F Carlton Bragg
C Caleb Swanigan
C Cheick Diallo
Raphielle's Team
G Jalen Coleman
G Antonio Blakeney
G Allonzo Trier
G Kevaughn Allen
F Danjel Purifoy
F Ivan Rabb
C Stephen Zimmerman
C Skal Labissiere
Rob's Team
G Jawun Evans
G Luke Kennard
G Dwayne Bacon
G Justin Simon
F Jaylen Brown
F Deyonta Davis
F Tyler Davis
C Diamond Stone