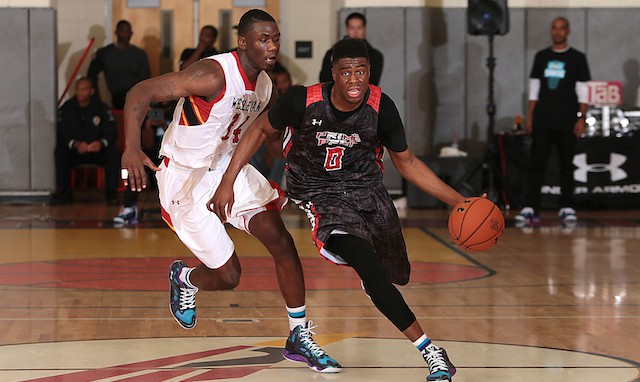 We now know where Emmanuel Mudiay is headed to spend his one season in NBA purgatory: China.
The No. 2 recruit in the Class of 2014 signed a contract with the Guangdong Southern Tigers of the Chinese Basketball Association. The deal he signed is worth $1.2 million, according to Adrian Wojnarowski, and Mudiay has taken out significant insurance policies to protect himself against injury while he is abroad.
And now all eyes will be on Mudiay, with plenty of high school prospects watching to see how the former SMU signee will fare in the Far East.
From a basketball perspective, China is actually a pretty good landing spot for him. His athleticism is enough that it can overwhelm those players, and since the level of play is lower than that of a place like Italy or Spain, he should have a little more initial success than Brandon Jennings did during his one season with Virtus Roma. That said, moving to China is not going to be an easy thing to do. The cultural change will be massive. It won't be an easy thing to adjust to for a 19 year old that wanted to stay home to play his college ball.
RELATED: Emmanuel Mudiay is now the most influential recruit in 2014
Regardless, Mudiay is now to new test case that will be used by elite prospects across the country to evaluate whether or not heading abroad is a viable alternative to spending a year playing college ball. Part of the reason that he ended up in China is that there isn't exactly a market for one-year rentals of high school stars in Europe. Those clubs want to sign a four or five year deal with a kid that age, not operate as a way for him to cash seven-figure checks before heading back stateside.
"If you don't want to sign a four or five year deal than you don't get paid as an 18 or 19 year old," one NBA scout told NBCSports. "European guys are looking and saying, 'Would I rather be Mario Hezonja, stuck in Barcelona not playing and not able to get to the NBA, or would I rather be in the league like Alex Len?'"
There simply isn't a market for that kind of contract.
"If you want to play in the NBA," the scout continued, "which is what a lot of the Europeans and all of the Americans do, than signing a long-term deal with a big European club, which is the only way to get paid over there, is not a good option."
After the announcement was made that Mudiay would be turning pro instead of heading to college, I said that he will have a lot of elite prospects from the younger high school classes keeping an eye on what he's able to accomplish abroad. Because of the increased initial eligibility standards that the NCAA imposed, and due to the potential that Adam Silver institutes a two-and-done rule in the NBA, turning pro may be a more attractive option in the future.
Mudiay's family said that this decision was made with financial stability in mind, and while there may be some truth to that statement, the bottom line is that Mudiay was probably never going to make it through the NCAA's Clearinghouse after spending two years at Prime Prep. Even if he did, the NCAA was barreling down on him, putting him in a situation where he could end up facing a suspension. With more kids getting ruled ineligible and with the possibility of have to wait two seasons to get to the draft making the allure of a pro contract that much bigger, the pull from abroad will get stronger.
And if there is no market for this kind of contract to be signed in Europe, a successful season from Mudiay in China could end up making that where the elite recruits go to get their seven-figure payday.