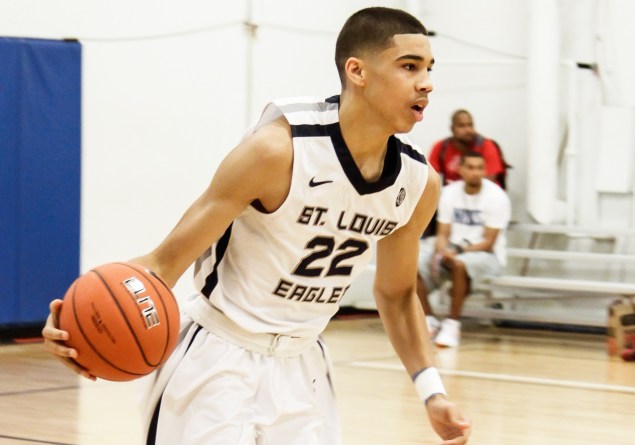 The second July Live Period came to an end on Sunday. Scott Phillips and I were in Georgia for the Under Armour Finals and the Nike Peach Jam. Here are our awards from the week:
MORE: Week one superlatives
PLAYER OF THE WEEK:
Ben Simmons: With his performance at Peach Jam, Simmons proved he's the No. 1 player in the 2015 class. He passes well with both hands, attacks the rim with either hand and has great handles. He also defends laterally pretty well and rebounds and pushes tempo. If his perimeter jumper improves, look out. (SP)
Isaiah Briscoe: Simmons is the best prospect in the Class of 2015, but Briscoe was the best player this week. He averaged 22.4 points — second best at Peach Jam only to Allonzo Trier — and 3.8 assists while leading the Playaz to a title. (RD)
BEST PROSPECT:
Jayson Tatum: This is currently a tough category to fill, since I saw so many elite 2015 and 2016 prospects this week, but with Tatum's skill level and size, it's easy to see why some have him at No. 1 in 2016. While Josh Jackson and Malik Monk were up-and-down this week and Harry Giles is still recovering from his knee injury, Tatum kept on chugging along and putting up great numbers. (SP)
Ben Simmons: I think I actually agree with Scott here, but in the interest of differing opinions I'll go with Simmons. The 6-foot-8 forward certified himself as the best player in the class in North Augusta. (RD)
MORE: Quotables Part I | Part II | Part III | All content from the 2014 July Live Period
MOST UNDERRATED RECRUIT:
Quinndary Weatherspoon: A borderline top 100 recruit, the 6-foot-5 Weatherspoon put on a pair of scoring displays at Peach Jam. He can be a bit inconsistent, but any high-major program that needs perimeter firepower should be tracking this kid.
Levan Alston: The 2015 guard from Team Final is tough on both ends of the floor and a fiery competitor. Coming in just outside of Rivals top 100, I've seen a lot of guards ranked ahead of him that I wouldn't take over him.
NON-TOP 150 SLEEPER:
Braxton Beverly: A 2016 point guard from Hazard, Ky., Beverly was terrific at Peach Jam. He finished third in the tournament in assists while protecting the ball and showing he could his a three-pointer with time and space. He's tough, too. I saw him fight through a sprained ankle to beat Mac Irvin Fire with three driving buckets in the final five minutes. (RD)
Jalen Poyser: The CIA Bounce 6-foot-4 Class of 2015 guard surpassed his EYBL high scoring mark twice at Peach Jam and had multiple productive outings in the event. Multiple college coaches were intrigued by Poyser's ability to attack and he has a natural smoothness about him. (SP)
RELATED: Peach Jam takeaways: Scott | Rob | UAA Finals takeaways
LEFT ME WANTING MORE:
Josh Jackson: It's not that I wanted more out of Jackson's talent, of which he has plenty, but I wanted to see the elite 2016 wing take better shots and use his passing more to set up teammates. The 6-foot-6 Jackson was benched during one game at the UAA Finals with five minutes left in a one-point game and that should never happen to an elite player. (SP)
DeAndre Ayton: Ayton is believed by some to be the best prospect is all of high school basketball, but the 6-foot-11 big man from the Class of 2017 is nothing more than a prospect at this point. He's got terrific physical tools but the rest of his game still needs polishing. The good news? He's got plenty of time. (RD)
BEST LEAD GUARD:
Jawun Evans: Since I already went with Briscoe as the Player of the Week, I'm going to mix it up at the lead guard spot, so it should come as no surprise to anyone that follows this site that I am picking Evans as the best lead guard from this week. The 5-foot-11 Texas native is, for my money, the best pure point guard in the Class of 2015, and he played that was in Atlanta for the UAA Finals. (RD)
Donovan Mitchell: There are better point guard prospects in the 2015 class, but nobody had a better week than Donovan Mitchell. Whether it was the elementary school day campers at Suwanee Sports Academy or national championship-winning head coaches, they all went nuts over Mitchell's play this week. (SP)
BEST OFF-GUARD:
Malik Monk: The 40-point performance at Peach Jam was epic and once Monk gets more strength, he'll be able to put up performances like this with more consistency. Sometimes Monk hunts highlights too often, and while the 2016 class is talented, I don't see how Monk isn't a top-5 player at this current juncture. (SP)
Allonzo Trier: Trier was the leading scorer at Peach Jam, averaging more than 30 points in the give games that he played, including the 42 that he put up while handing Briscoe and the Playaz their only loss of the event. Trier's had a great spring and summer while shooting up the national rankings. (RD)
BEST WING FORWARD:
Jayson Tatum: The game just comes easy to Tatum. Although the 6-foot-8 wing was a man among boys playing in the 16U ranks at Peach Jam, you can still see he has all the necessary tools to be a star. (SP)
Ben Simmons: I see Simmons playing a role similar to that of Royce White at the collegiate level, which would make him more of a point forward than a wing forward. (RD)
BEST SHOOTER:
D.J. Hogg: There aren't many great shooters in this class but Hogg can fill it up when he gets hot and he has a shooter's mentality with good size at 6-foot-7. Once he gets in better shape, Hogg's shot will be more consistent because right now. (SP)
Camron Justice: Vanderbilt head coach Kevin Stallings was front and center while tracking his his commitment. The No. 136 recruit in the Class of 2015 shot very well throughout Peach Jam. (RD)
BEST LOW POST BIG:
Tyler Davis: Again, not the best prospect I saw as a low post player, but Davis was the most productive big man I saw last week. The 6-foot-10 Davis is impossible to move off the block, owns a good set of hands and has improving footwork and counter moves in the post. He's right on the cusp of elite status. (SP)
Diamond Stone: Davis was easily the best low-post big man at Peach Jam, and Stone was just as impressive at the UAA Finals. He's getting into a habit where he is settling too much for perimeter shots, but some of that is a result of Stone trying to prove that he has expanded his game. He's known for his ability to score on the block already. (RD)
BEST DEFENDER:
KeVaughn Allen: Allen was one of the biggest stock-risers in Georgia this week, averaging 19.0 points in eight Peach Jam games. The Florida-commit showed off an improved three-point stroke, but where he was most impressive was on the defensive side of the ball. He will thrive in Gainesville. (RD)
Chris Clarke: I would take Chris Clarke on my team in any game. The Class of 2015 wing plays hard, defends on the perimeter, hustles after every loose ball and generally lifts the energy of the teammates on the floor with him. He's just the kind of player that makes winning plays. (SP)
ONE MORE GUY DESERVING OF ATTENTION:
Franklin Howard: Franklin Howard is already ranked and committed to Syracuse, but I was impressed by his recovery from a major knee injury that forced him to miss the high school season. Howard doubled his minutes during the Peach Jam from the EYBL and looked pretty good despite shooting the ball poorly. (SP)
Alterique Gilbert: A 5-foot-9 PG, Gilbert is No. 92 in the Class of 2016 on Rivals. He's a quick, shifty point guard that can get to the rim and finish in traffic. He also doesn't appear to get rattled by big moments or big plays. He averaged 18.2 points in the event. (RD)