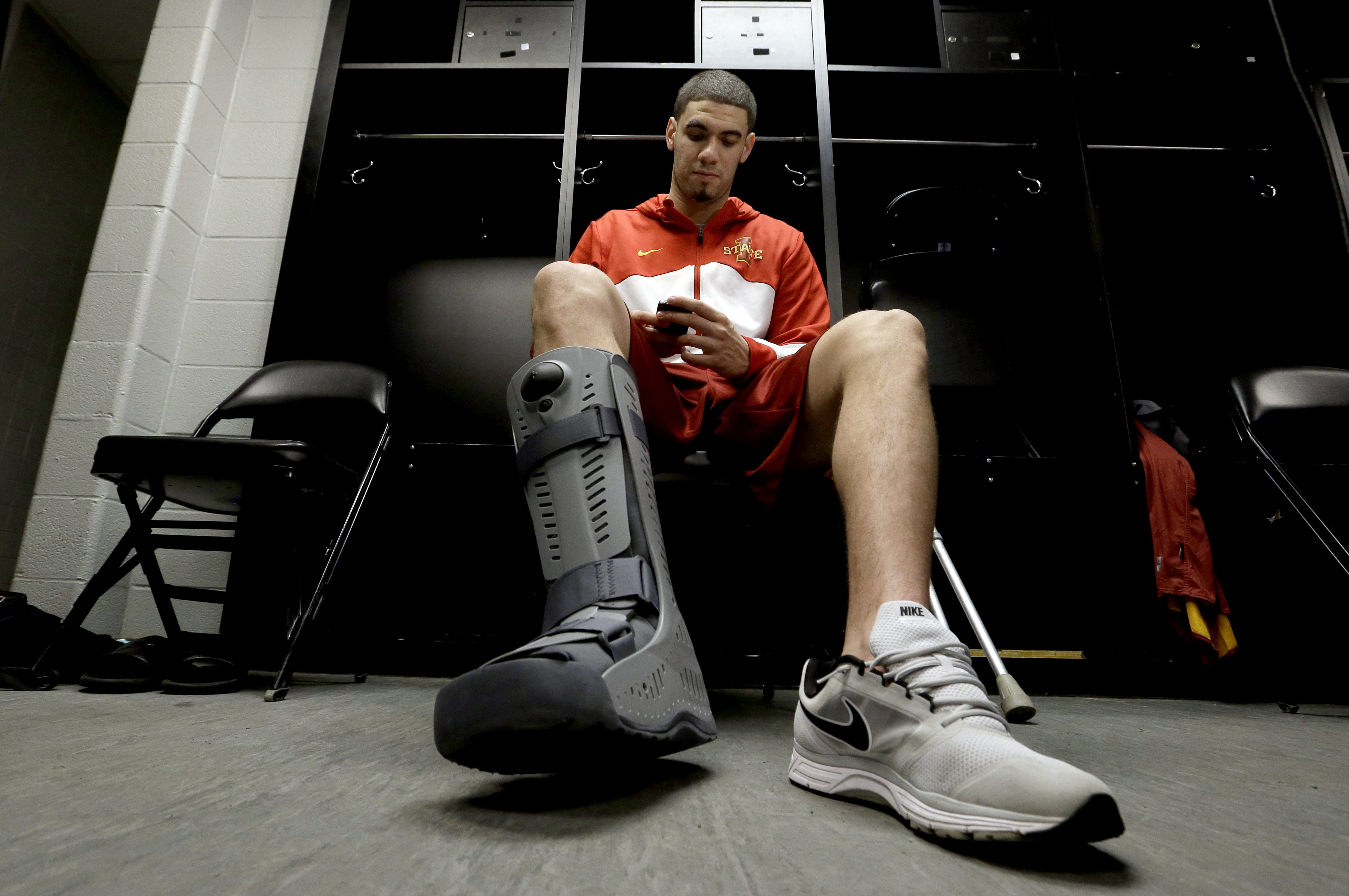 LAS VEGAS — The 2013-14 season was a very good one for the Iowa State Cyclones. Fred Hoiberg's program won 28 games, winning its first Big 12 tournament title since 2000 and reaching the Sweet 16 for the first time since that same season. With the triumvirate of guard DeAndre Kane and forwards Melvin Ejim and Georges Niang leading the way Iowa State was one of the nation's most efficient offensive teams, ranking sixth nationally in adjusted offensive efficiency according to Ken Pomeroy's numbers.
But for as promising as Iowa State's NCAA tournament prospects seemed to be entering the 68-team event, one awkward step late in their comfortable Round of 64 win over North Carolina Central changed the equation.
Niang broke the fifth metatarsal in his right foot, and while Iowa State outlasted North Carolina thanks in large part to Kane's near triple double and game-winning basket with 1.6 seconds remaining, things weren't the same for the Cyclones. In the following round eventual national champion UConn was able to neutralize Ejim and make things difficult on Kane, resulting in an 81-76 loss for Iowa State despite a career-high 34 points from Dustin Hogue.
Even with the individual achievements, as he was a third team All-Big 12 selection, and the team's successful campaign the ending to the 2013-14 season left Niang with a feeling of frustration.
"I try not to think about it a lot," Niang said at the LeBron James Skills Academy when asked about the way in which last season ended. "It was real frustrating. Whenever you have to just sit there and watch and know that you really can't do anything; it's not your choice.
"I try to take the positive out of everything. I felt that at that point in my career I was taking things for granted. I took basketball for granted, and I wouldn't be as apt to work out as much. After breaking my foot I [understood] that this can be taken away in the blink of an eye, so you need to put your [best] foot forward and make the best of this situation. I feel like now I love the game; I found a newfound love for the game and I'll just keep working on my craft and getting better."
The offseason has been about getting healthier and expanding his skill set for Niang, who estimated in Las Vegas that it took about ten weeks for him to get back to full strength. Since the end of the season Niang, who played between 250 and 255 pounds last season, has lost some 25 pounds and in the short time he's had on the court the differences in his game have been noticeable. One goal of Niang's at the camp was to become a more versatile offensive player while also improving his ability to defend smaller players.
"Being able to guard smaller guys and keep them in front of me, I noticed I couldn't do that last year when I was heavier," Niang noted when discussing the impact his weight loss has had on his game. "Getting up and down the court is easier. I rarely feel tired now, so I feel that with my stamina I can keep on going and keep pushing guys to a higher level."
The question to be asked now is how that will fit into what the Cyclones will look to do in 2014-15 now that Ejim (Big 12 Player of the Year) and Kane (Big 12 Newcomer of the Year) are out of eligibility. They were also two of Iowa State's three best rebounders, with Hogue averaging 8.4 rebounds per contest. The rebounding is just one area in which Ejim and Kane were impactful players for the Cyclones last season, and given their production those two aren't players you simply plug in a replacement for. To properly address those two key personnel losses all hands will need to be on deck, with Niang leading the way.
"I feel like I'm going to have to be a better leader," Niang said. "I know DeAndre handled a lot of those reins and so did Melvin. I feel like I was a leader but with those two gone I need to step up and show these guys that this is the way we do things around here and this is how we're going to win games. I think improving my leadership and getting my teammates involved [will be key]. We have great spacing and we have a lot of shooters, so we're in a good situation every game."
Another factor in Iowa State's success under Hoiberg has been the ability to integrate transfers into the program, and that will be no different in 2014-15. Northern Illinois transfer Abdel Nader (13.1 ppg, 5.6 rpg in 2012-13) and former Marquette signee Jameel McKay (he won't be eligible to play until Iowa State's game against Drake on December 20) were both part of the program last season, and guard Bryce Dejean-Jones arrives as a graduate transfer from UNLV, and each will have a role to play as the Cyclones look to account for what Ejim and Kane provided.
And while skeptics may prefer to judge those additions solely on what may have occurred at their last stops, such an approach has proven to be lazy when it comes to gauging the potential impact of transfers at Iowa State under Hoiberg.
So where does Iowa State fit into the Big 12 race next season? Kansas will be pegged as the favorites by many due to the fact that they've won at least a share of the last ten regular season titles, and programs such as Texas and Oklahoma are very optimistic about their chances as well. Iowa State shouldn't be overlooked, and doing so will only provide Niang and his teammates with an extra bit of motivation as they prepare to build on last season's success.
"There's no difference between this and any other year," Niang said. "We lose guys and [people] say we're not going to be as good but we keep coming back. It's just going to be a process of us just keep coming back and throwing the first punch and saying that we're here to stay.
"I feel like I've been a winner everywhere I go, and I play with a chip on my shoulder. Niang continued. "So for [people] to say 'we're not sure how good you're going to be' or not give us as much pub as Texas or Kansas is fine by me. Because when it comes down to it, who's winning at the end of the day [is what matters]."