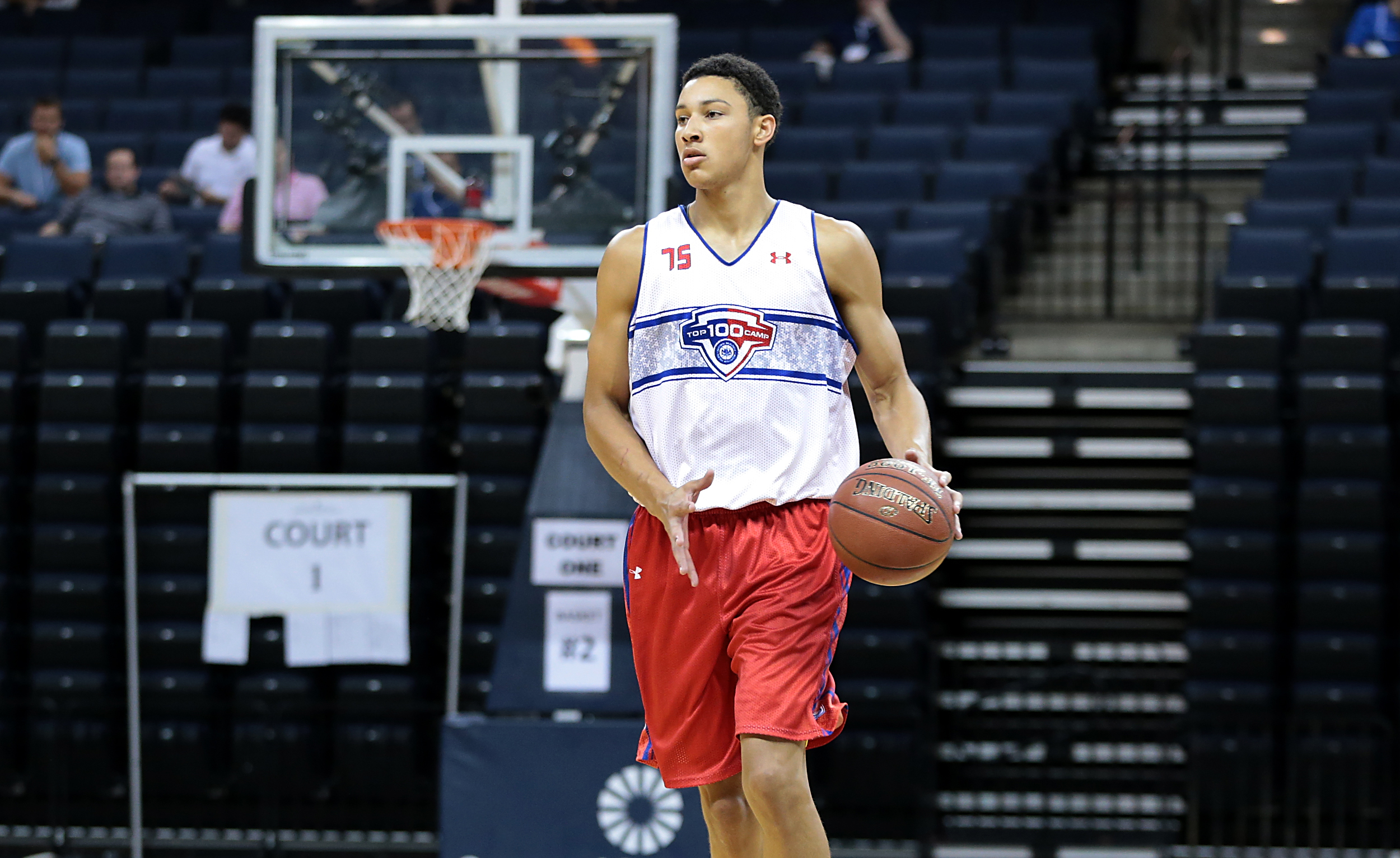 The second of July's three live periods ended at 5:00 p.m. Sunday. We had writers traversing the southeast, going to and from the Under Armour Association Finals and Nike's Peach Jam. Here are seven takeaways from Peach Jam:
MORE: Quotables Part I | Part II | Part III | All content from the 2014 July Live Period
NURTH AUGUSTA, S.C. — Peach Jam is the premiere event of July, as Nike's EYBL circuit holds their finals in a South Carolina gym that has been the home to the event for close to two decades. Every high major head coach in the country makes their way through Riverview Park Activities Center, the best games have fans surrounding the court on the floor as well as the track above and the semifinals and title game are broadcast on ESPNU.
There are 24 teams that participate in the event, and if you're good enough to start for one of those 24 teams, odds are pretty good that you'll be, at the very least, a scholarship player at the mid-major level. It's high level basketball, and here are seven takeaways from my three days there:
1. Ben Simmons is No. 1 in 2015, and it's not all that close: 2015 is considered by many to be a relatively weak class when compared to the kind of talent that was produced in 2013 and 2014 and the amount of elite prospects there are in 2016. Simmons is the one guy in the class that stands out from the rest, proving that fact to just about every scout and evaluator that was present in North Augusta this week. He's a 6-foot-8 forward with a strong frame and above-average athleticism, but what sets him apart is his ability to handle and pass the ball. He can rebound the ball and play in the post, but he's at his best when he's put in the role of point forward, particularly in transition, where he is simply a phenomenal passer.
If you want a good comparison, think about former Iowa State forward Royce White. Their physical tools aren't the same, but Simmons, like White, is an ambidextrous forward that could one day end up leading a team in points, rebounds, assists, blocks and steals.
RELATED: Ben Simmons proves he's tops in the class
2. Jayson Tatum is the best prospect in 2016: I've now had a chance to see, in person, each member of the top ten in the Class of 2016, per Rivals, and for my money, the 6-foot-8 Missouri-native in the best talent in the class. But where Simmons is clearly the best player in his class, it's not quite as simple in 2016. Josh Jackson, Thon Maker, Dennis Smith Jr. and Malik Monk are truly impressive talents, and Harry Giles was considered by some to be the best prospect in high school basketball before his knee injury last summer.
He still may be, but as of right now, it's Tatum that is top of the class. He's a smooth scorer with long arms and an ability to seemingly glide to the rim through traffic. He needs to add strength and a perimeter shot, and I have questions about just how athletic he is, but he still has two years left in the high school ranks.
RELATED: Will Tatum stay home for college?
3. Isaiah Briscoe isn't a point guard, but I'd take him over Allonzo Trier: One of the most interesting debates in the Class of 2015 centers around the five combo-guards at the top of the class: Malik Newman, Antonio Blakeney, Tyler Dorsey, Briscoe and Trier. Perhaps no team has more on the line in that debate than Arizona, who has already parted ways with Dorsey, is heavily involved with Briscoe and Trier and who has already taken Justin Simon.
The way I see it, if I'm in Arizona's position, I'm taking Briscoe. While some have labeled him as a point guard at the next level, I don't see it. He's a playmaker — a good one, at that — but I don't see him as a guy that runs an offense. And while Trier is a very talented scorer, he's old for his grade, he's bounced around high schools and he's a gunner at heart.
For what it's worth, if I went to rank those five guys, it would be in this order: Newman, Blakeney, Briscoe, Trier, Dorsey.
4. None of 2015's big men are overly impressive: In the last month, I've seen everyone one of the big men in Rivals' top 40 in the Class of 2015 play in person, and none of them have been all that impressive. (I'm not counting Simmons as a big man as I think he will be a perimeter player down the road.) There are a lot of guys in the class with lots of potential that simply haven't developed, a number of kids that have fallen in love with trying to play on the perimeter, or and some simply have a massive hole in their game that will be difficult to fix.
Here are my top five bigs in the class, in order: Diamond Stone, Henry Ellenson, Chase Jeter, Stephen Zimmerman, Ivan Raab.
5. How will Jalen Brunson handle everything going on in his life right now?: I feel for Jalen Brunson. It's the most important summer of his high school basketball career and he's playing it with his father's arrest hanging over his head. A month ago, it seemed certain that Rick Brunson was going to be hired at Temple and Jalen was going to be following him there, and according to those that watch Brunson the most — including our Scott Phillips — Jalen just hasn't looked like himself since then. He's still probably the most sought-after point guard in the country, but it will be interesting to see if this is the kind of thing that hangs over his head for a long period of time.
6. Deyonta Davis needs to learn how to be tougher: When it comes to raw talent, there are many players in the class with the skillset that Davis has. He's long and athletic and he's got three-point range. The problem is that he rarely plays hard enough to have an impact on a game. When you're that skilled and you can disappear as quickly as Davis can, it's a major red flag. Hopefully, when Tom Izzo gets his hands on Davis, he can bring out more of that aggressiveness.
7. Four names that need more attention after their play at Peach Jam:
Quinndary Weatherspoon: I watched the 6-foot-5 wing from the Jackson Tigers put up 32 points against the Southern Stampede. He also dropped 27 on Peach Jam finalist Team Penny.
Braxton Beverly: The Class of 2016 point guard from Hazard, Ky., played very well in both of the games that I watched him. He's tough as nails, he doesn't turn the ball over and he can get to the rim and finish amongst the trees despite being 5-foot-11.
Alterique Gilbert: Another Class of 2016 point guard that shined during the event. The Miller Grove, Ga., native is a nightmare to try to stay in front of and has a steady demeanor on the floor that is ideal for a lead guard.
Temple Gibbs: Gibbs was really impressive in helping the Playaz to the Peach Jam title. The Class of 2016 guard is a combo of his brothers, former Pitt guard Ashton and current Seton Hall guard Sterling. He may be the best of the three.