SUWANEE, Ga. — The highlight of Thursday's action at the Under Armour Association's final summer tournament, The Finals, was a matchup between Jaylen Brown, the No. 3 recruit in the Class of 2015, and Josh Jackson, the No. 1 recruit in the Class of 2016.
The gym was packed with coaches to see a battle between arguably the two best wings in high school basketball regardless of age group, and the pair did not fail to disappoint.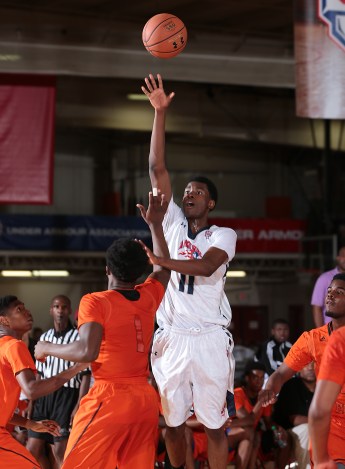 Brown was on fire early, hitting four catch-and-shoot threes from four different spots on the floor in the first half, finishing with 18 points as his Game Elite team jumped out to a big lead over Jackson's 1 Nation squad. It was clear early on that Jackson was pressing — his team did not have as much talent on the roster as Brown's — and it manifested himself as tough shots, quick threes and an early benching.
Late in the first half, Jackson began to assert his will on the game. He made a handful of beautiful passes in transition, he started making his presence felt on the glass and he even had a LeBron-esque chasedown block. In the end, Brown won the scoring battle — he finished with 26 points while Jackson had 14 — but Jackson's team got the win in the end as Jackson played a better overall game in the second half.
It was an odd way for things to end. Jackson is generally known as the better perimeter scorer, a smooth athlete that can get buckets at all three levels while finding assists and contributing on the glass. He did most of his damage in the paint on Thursday, while Brown — whose reputation is of that as a more physical, interior player developing his perimeter game — did most of his damage from beyond the arc.
At the end of the day, both Brown and Jackson did exactly what the AAU trail is designed for: they both played well in front of coaches like Roy Williams, John Calipari, Bill Self, Mark Fox and Steve Alford.
Keep an eye on Darius Perry: While the stars of the show were Brown and Jackson — and to a lesser extent Stanford commit Marcus Sheffield and Pitt commit Damon Wilson — 2017 shooting guard Darius Perry proved himself to be a name to be watched. He knocked down a trio of catch-and-shoot threes, two from well-beyond the three-point line, and also hit a mid-range pull-up jumper from the foul line.
Diamond Stone also plays well: I caught Stone's final game of the day, as he squared off with Penn State-commit Mike Watkins and put together the most impressive performance that I have seen from the big man to date. He knocked down a couple of trail-threes from the top of the key, make a couple of plays around the rim and had one startling crossover that led to a dunk over Watkins in a half-court possession.
Stone, who is ranked No. 6 in the Class of 2015 by Rivals, did not have an overly impressive performance in Philly last week for the Breakout Classic, but certainly made his presence known on Thursday. The Wisconsin-native has made a point to try and show off his perimeter ability this July, which is frustrating and promising at the same time: he does appear to be getting better with his ability to shoot the ball and face opponents up, but his biggest strength still lies in his back-to-the-basket game.
But hey, that's really what AAU basketball is for, a chance for kids to try out moves they have been working on in games that, in all reality, don't matter.
Chance Comanche vs. Doral Moore fizzles: The other elite big man matchup of Thursday came between Doral Moore, No. 38 in the Class of 2015, and Chance Comanche, No. 21 in the same class. Moore is the more physically imposing center of the two, but he has limited post moves and a motor that leaves much to be desired. He did show off his overwhelming ceiling with a massive dunk over Comanche in the second half.
To be fair, Comanche did not play all that well himself. He's got a decent ability to finish in the post, a solid 15-footer and the length and athleticism to finish above the rim, particularly in transition, but he needs to add strength. He was a bit overwhelmed by the size of Moore and his front court mate, Tim Rowe.