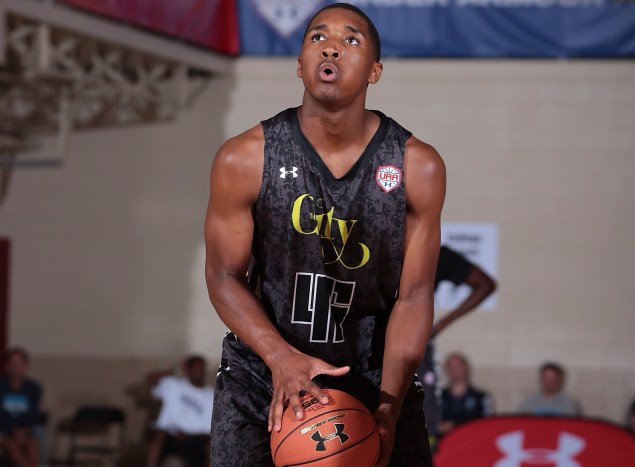 SUWANEE, Ga. — Donovan Mitchell has been one of the biggest revelations through the first two days of basketball at the Suwanee Sports Academy, home of Under Armour's The Finals tournament.
On Wednesday, he put together what one veteran recruiting analyst said was the most impressive performance that he has seen this summer as he put up 27 points in a win for his team, The City. While Mitchell did not shoot the ball as well on Thursday, he did show off a well-rounded floor game, adding yet another plus mark in what has been an impressive spring and summer.
Mitchell has been a borderline top 100 recruit for a while and played his high school ball at Brewster Academy (New Hampshire) this past season, so saying that he broke out over the last couple of months probably isn't accurate. Mitchell wasn't some unknown kid, he just finally, as he put it, is "playing hard and I'm playing my game, it just happens to be in front of the right people at the right time."
"That's what it's about," he continued. "Eventually, you will get recognized for your game, and that's what's happening with me."
Part of the problem was that Mitchell missed all of last summer with a broken wrist, but, he says, the injury made him better.
"Being out, I realized I wasn't giving my all as much as I am now," Mitchell said. "Seeing everyone playing, feeling like, 'oh, man, I should be out there'. Getting that hunger back inside me, it's coming out now."
His play has had its benefits. Mitchell said that he has added offers from Georgetown, Villanova, FSU, Indiana, Memphis, USF and Louisville in recent weeks, to go along with the offers he already had from Providence, BC, Creighton, Iowa and Cincinnati. He's already planning on making official visits to Indiana and Louisville, and has played every game at the UAA Finals in front of a who's-who of college coaches.The recent success does have some drawbacks, however. Mitchell's plans to start whittling down his recruitment have gone by the way side.
"I thought I was going to cut my list sooner, but now that my stock is rising I think I'll wait it out a bit," he said with a laugh.
Mitchell is a bright kid, easy to converse with and thoughtful when answering questions. It's not hard for a recruit of his stature to get chewed up and spit out by the machine that is grassroots basketball, and up to this point, Mitchell has remained grounded enough to truly appreciate his final run through the circuit.
"Broke my wrist last summer and I was out all summer," he said. "[This summer]'s my last time in AAU. I'm treasuring everything, every moment that I have. Once I get to college it's a new beginning, I start all over again."
"In the end, I'm playing AAU to have fun, to enjoy the last few months with these teammates. After that, I'll assess colleges."