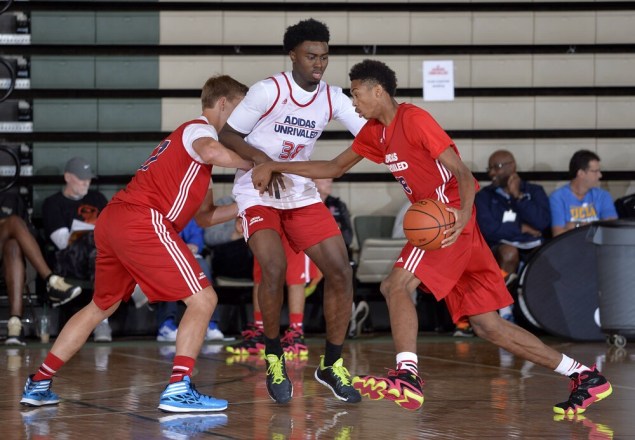 CHICAGO — The adidas Unrivaled Camp chugged along on Saturday as some of the nation's best players continued to perform well in front of a lot of college coaches. Although Chase Jeter continued to play at a high level, other high-end prospects have also had strong performances throughout the week as the camp gets more into the thick of things.
But the matchup that dominated the headlines on Saturday night was a rematch of the camp's opening game when five-star small forwards Jaylen Brown and Brandon Ingram battled in an incredible display of high-level scoring.
Jaylen Brown and Brandon Ingram II turns into an instant classic: As two of the best players in the adidas Unrivaled Camp, it made for headlines when No. 3 overall prospect Jaylen Brown battled No. 25 overall prospect Brandon Ingram in the opening game at the Unrivaled Camp on Thursday afternoon.
Even more surprising was the way Ingram came out and outplayed Brown, as the wiry 6-foot-8 Ingram went 8-for-9 from the field while Brown was only 2-for-10.
But the rematch of the Class of 2015 wings Saturday night was special.
In Thursday's game, the two five-star wings rarely defended each other, but this time around, you could tell Brown had a chip on his shoulder and wanted to go directly at Ingram.
And with his brute strength on the wing and general overall intensity, you don't want to mess with an angry Jaylen Brown.
But to Ingram's credit, he never backed down from Brown in the second matchup either.
It made for a fun back-and-forth battle of different types of players: Brown's strength and physicality against Ingram's slithery skill-based game.
The rest of their respective teams seemingly took a backseat to what was a tremendous one-on-one battle on the wing, which was physical and featured a number of high-level moves. Brown and Ingram went at each other hard each and every possession.
Some other players at the camp might have rested the final game to nurse injuries or fatigue, but that wasn't going to happen with these two elite players.
Both of them finished 10-for-16 from the field, as Ingram finished with 26 points and three blocks and Brown tallied 21 points and five rebounds. But Brown's team got revenge by picking up the win. His intensity lifted the rest of his team and they avenged a borderline embarrassing loss on the first day to Ingram's team.
It was a fun game to cap off a week full of camp games before Sunday's all-star games. Brown showed why he's a consensus top-5 player in the 2015 class while Ingram continued a very strong week.
Kobi Simmons takes control: Kobi Simmons is one of the most fun-to-watch prospects in all of high school basketball. A 6-foot-5 point guard from Georgia, Simmons is jet quick and athletic enough to do a tremendous amount of damage in the open floor. It's why he's the No. 15 player in Rivals' Class of 2016 rankings and among the top point guards in the country.
During the spring, Simmons was prone to some wild moments with the Atlanta Celtics, but at the Unrivaled Camp, he's taken the reins as a steady lead guard. While Simmons can still take some wild shots in traffic, he also has a propensity to make them while drawing a lot of fouls. He's just the classic case of a bad-shot taker being a bad-shot maker.
But as a point guard, Simmons has really shown well this week. Gone are the highlight-hunting alley-oop attempts and Simmons instead is moving the ball and making the easy pass. He's good enough off-the-bounce where he can rack up assists and limit turnovers just by getting into the paint and making an easy pass to a big man for a layup or a wing shooter when the defense collapses. He's had a solid week of play at adidas.
Deng Adel has a strong afternoon: In only his first year of American basketball, four-star Class of 2015 wing Deng Adel has quickly acclimated to the American style of play. A native of South Sudan, Adel moved to Australia in 2004 and coveted the chance to play college basketball in the United States and get an education, so he made the move to Florida to play at Victory Rock Prep under head coach Loren Jackson.
On the basketball court at adidas camp, Adel has shown some flashes of great play this week as his versatility really shows through in a major way. The No. 47 overall prospect in Rivals' 2015 rankings, Adel can knock in shots, put the ball on the floor and he's also a skilled passer. As an athlete, Adel can impress with his leaping ability and his end-to-end speed is also very good. It'll be interesting to watch Adel develop as he gets more adjusted to being in the United States and playing American competition.