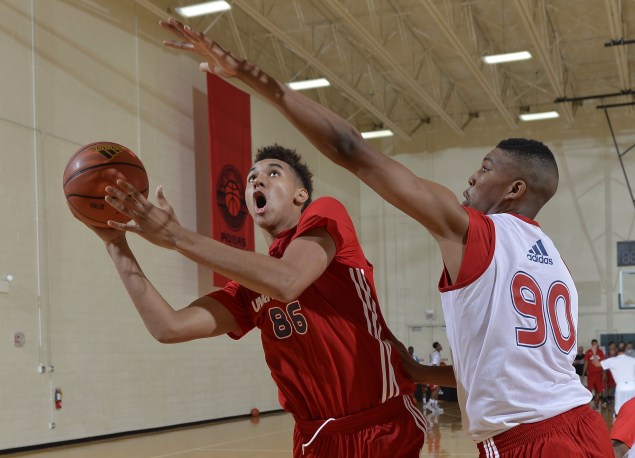 MORE: All our content from the 2014 July Live Recruiting Period
CHICAGO — Chase Jeter has been playing very good basketball this summer and the Class of 2015 big man had some added motivation back in June.
The 6-foot-10 native of Las Vegas was trying out for the USA U18 team to play in FIBA Americas in Colorado Springs, but he was the last person cut from the team.
Dejected, but determined, Jeter flew from Colorado Springs to Charlottesville, Virginia for the NBPA Top 100 Camp and focused on continuing his strong summer. After playing in only one game at the camp, Jeter received a phone call from USA Basketball. Incoming UNLV freshman wing Dwayne Morgan could no longer play with the team due to a family illness and Jeter was back on board with the team.
A gold medal later, Jeter is just happy the experience worked out with USA Basketball and the No. 8 player in Rivals' Class of 2015 rankings is now a marked man during the July evaluation period.
"It was tough [being cut], but I handled it really well and that's one of the main reasons I got asked back to USA because of how well I handled it," Jeter told NBCSports.com. "They said I was the first person they called and that was just an honor in itself. I think that's a testament to my character. I felt really good about that."
The USA Basketball experience of being cut and re-joining the team to help them earn the gold has made Jeter a mentally tougher player going into July. Jeter could have handled being cut in a number of different ways, but he just tried to focus on his play.
"When I got cut, I mean, there's different emotions going through my head," Jeter said. "But me handling it well is what separated me from many other players that got cut. Motivation-wise, I didn't let it hold me back. I went the next night to Top 100 and got 20 points and got called back and had to go back to Colorado Springs."
Jeter has made huge strides in his game since last season. Although earlier in his high school career he was a bit overshadowed by Bishop Gorman High School teammate and fellow big man Stephen Zimmerman, Jeter has put in a lot of work not only on his skill set but staying mentally sharp before each game. Now, Jeter and Zimmerman are both ranked in the top 10 nationally and Jeter might have one of the best upsides in the Class of 2015.
Whichever school lands Jeter will also getting one of the youngest players in the class. The big man doesn't turn 17 until September and he was the youngest member of the USA U18 team by over 10 months.
"I've definitely done a great job this spring in terms of applying different things and skill sets in my game," Jeter said. "Mainly motor and mindset is the main thing I'm going after. The skill set is there, and it's going to continue to develop, but my mindset and how I play and doing all of the right things when I take the floor is what's separating me this summer."
The skill set for Jeter includes a devastating hook shot with his right hand. Jeter has used that hook as his go-to move this spring and summer and he keeps progressing in making the move more-and-more unstoppable.
"It's definitely efficient; that's the main thing is efficiency," Jeter said of the right hook. "It's an easy go-to move and if I do everything right it's pretty much unblockable."
There's been a great deal of speculation with Jeter when it comes to his recruitment. He formed a final list of six schools, but many around basketball believe Jeter is leaning towards committing to Duke. Coach K took in Jeter's games at the adidas Unrivaled Camp on Friday with assistants Jeff Capel and Jon Scheyer in tow, but Jeter maintained that he's still figuring things out in the process.
Kansas head coach Bill Self and Oregon head coach Dana Altman have both checked in to see Jeter this week and assistants from Arizona, UNLV and UCLA have been tracking Jeter as well.
"I already formed my final six schools in Oregon, Kansas, UNLV, Duke, Arizona and UCLA. I don't think I'll cut down anymore. I'll probably make my decision at the end of the summer," Jeter said.