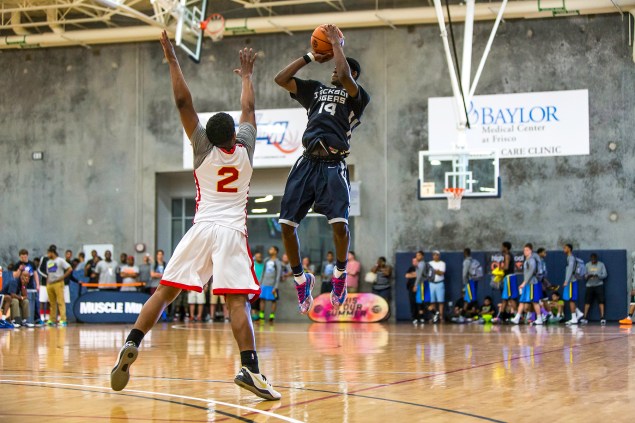 The July evaluation period will kick off at 5:00 p.m. today. We've already told you what the live period is and why it's important. We've given you a list of 15 players to keep an eye on this month and 12 programs that need to make noise this July. And we've given you a full breakdown of what grassroots basketball is.
Here are the three events that you'll want to make note of in each of July's three live periods:
FIRST PERIOD (July 9-13)
LeBron James Skills Academy (Las Vegas): LeBron camp is the best of the best when it comes to summer development camps, not only featuring 80 of the nation's best high school players but also bringing in 30 of the top collegians from around the country. This is the camp that the kids associated with Nike teams end up at. Raphielle Johnson will be covering this event.
Reebok Breakout Classic (Philly): Reebok also hosts a top 100 camp during this live period, featuring some of the best players from the eastern and southern US as well as a handful of some of the nation's elite recruits. Rob Dauster will be at the Breakout Classic on Wednesday and Thursday.
Adidas Unrivaled (Chicago): Adidas' answer to the Breakout Classic and LeBron camp. It takes place in Chicago and will feature 100 of the best hoopers from the midwest. Scott Phillips will be in Chicago for Adidas camp.
SECOND PERIOD (July 16-20)
Nike Peach Jam (North Augusta, S.C.): The finals of the EYBL, which is the spring-and-summer long league featuring the best of the Nike-sponsored AAU teams. There are four EYBL events and the top 24 teams make it to Peach Jam. This is the best event in July. Rob and Scott will both be at Peach Jam.
The UAA Finals (Atlanta): Under Armour's answer to Peach Jam. The UA Association is the spring-and-summer long series featuring UA's AAU teams. The UAA Finals will feature showcase games on Wednesday night and Thursday morning and afternoon before getting into bracket play. Plenty of high-level, top 100-caliber talent will be making their way to Suwanee Sports Academy. Rob and Scott will be at the UAA Finals as well.
NY2LA Summer Jam (Milwaukee, Wi.): The best Nike and Under Armour teams will be in Georgia and South Carolina, meaning that the nation's best Adidas teams and the rest of the unsponsored talent from the Midwest will be at Summer Jam.
THIRD PERIOD (July 23-27)
Adidas Super 64, Las Vegas Classic, and Fab 48 (Las Vegas): Vegas has become the epicenter of all things summertime hoops, with LeBron camp, USA basketball, an NBA summer league and three of the summer's biggest AAU tournaments all taking place during basketball's offseason. The three tournaments listed here will take place in gyms all over the city and will mean that a late night trip to the casino could mean a chance run-in with a famous coach … or future college all-american. Raphielle will be out in Vegas for all of these events.
AAU Nationals (Louisville): AAU moved their National Championship — as well as their Super Showcase event — from Orlando to Louisville this summer. The best option for people that don't make their way to the Sin City. Scott will be in Louisville for both tournaments.
Live in AC (Atlantic City) and Summer Final (Philly): Most of the nation's elite players will end up in Vegas or at Nationals, but Live in AC and Summer Final do a pretty good job of bringing in talented players and teams from the east coast and the south. Rob will be back in Philly for the final weekend.