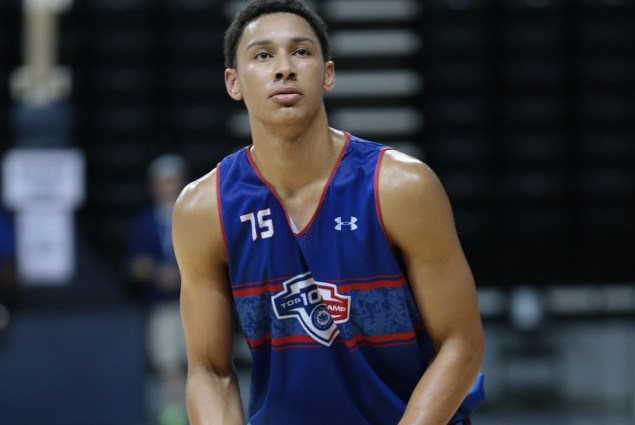 Wednesday, July 9th, at 5:00 p.m. will mark the start of July's live recruiting period, a series of three five-day stretches where coaches are allowed to be on the road evaluating and scouting some of the nation's top prospects. Over the course of the next three days, we will be getting you prepped with everything that you need to know heading into these 15 days.
First up, 15 names that you'll want to keep an eye on this month:
CLASS OF 2015:
Jaylen Brown: "No one would blame you if you confused Jaylen Brown with Stanley Johnson: Same size, same build, some power wing style of play, they even have the same haircut. I'm not sure if Brown is the best prospect in this class, but there isn't a player that works harder or has a more professional mindset and attitude when it comes to preparing. Oh, and he just so happens to be filthy." – Rob Dauster
Jalen Brunson: "Brunson is the best point guard in the class and the only player in the top 25 that can truly be considered a pure point guard instead of being a scoring guard that wants the ball in his hands. And it doesn't hurt that Brunson's recruitment is one of the most intriguing: most had him pegged as following his dad to Temple … before his dad was arrested." – RD
RELATED: What is the July live period, and why is it important?
Henry Ellenson: "Although the 2015 class is loaded with five-star big men, Ellenson is one of the few that can stretch the floor with consistency. With a brother who recently landed at Marquette via transfer, does the big man stay in his home state, or does his recruitment go national, with recent offers from Duke, North Carolina and UCLA?" – Scott Phillips
Malik Newman: "The top guard in a long list of forwards atop the class, the 6-foot-3 Newman is arguably the most gifted scorer on the grassroots circuit. He lost his top spot in the Rivals Top 150 to Ben Simmons, but can he regain it with a big July? Oh, and what about that package deal with Diamond Stone?" – Terrence Payne
Ivan Rabb: "The native of Oakland is the No. 1 player in the 2015 class, according to some, and the big man could separate himself from the pack with a strong month. Athletically gifted, Rabb needs to be a bit more assertive in July to be a potential No. 1 player." – SP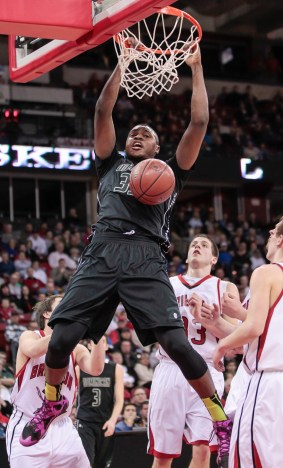 Ben Simmons: "The Australian native is a versatile 6-foot-8 forward that has already committed to LSU and has claimed the top spot in a front court-heavy Class of 2015. He led Montverde Academy to an undefeated season, and was the MVP of the NBPA Top 100 Camp." – TP
Ray Smith: "The five-star wing from Las Vegas has vaulted up the Class of 2015 rankings in the last year and he's one of the few elite small forwards in his class. He's now ranked in the top ten by Rivals.com. Does his recruitment go national with a big July?" – SP
Diamond Stone: "Stone is a big-bodied center that is supremely skilled offensively, which makes him an elite recruit … and a coach's dream alongside Malik Newman. I think many tend to take the "package deal" talk with a grain of salt given how fluid of a situation recruiting can be. Will Newman and Stone wind up on the same campus when it's time to attend college? Who knows, but that won't stop prominent programs from attempting to make that happen." – Raphielle Johnson
Allonzo Trier: "Trier started all five games for Billy Donovan and USA Basketball at the FIBA Americas U18 Championships. He's also the leading scorer in the Nike EYBL at 29.4 points per game. Trier, who was a New York Times magazine coverboy at 13, is one of the fastest-rising guards in 2015." – TP
Stephen Zimmerman: "Zimmerman, the No. 7 recruit in the Class of 2015, according to Rivals.com, is one of the most unique players in the Class. He's 6-foot-11, he's left-handed, he's got 15-foot range, he's lanky and athletic, and he's an excellent passer. Zimmerman has cut his list down to eight schools." – RD
CLASS OF 2016:
Josh Jackson: "The No. 1 player in the 2016 class, Jackson deserves more national media attention because he's a complete wing that can really get rolling as a scorer. Jackson also defends and rebounds and has some natural passing ability as well." – SP
Thon Maker: "No wild player comparisons here, but the 7-foot-1 Maker is clearly a player to watch this month. Sure there's the skill level, which makes him one of the most sought-after players regardless of class, but there's also the question of which class he'll be a part of. Will he stay in the 2016 class, or will he reclassify into the 2015 class?" – RJ
Dennis Smith, Jr.: "Smith has been on the receiving end of a lot of praise this spring and summer, and his skill level has made him one of the top players in his class. And given the fact that he's from North Carolina, ACC programs will make sure to be in attendance for many (if not all) of his games this month." – RJ
Jayson Tatum: "Tatum's got all kinds of potential. A smooth and skilled 6-foot-7 wing, Tatum can play and defend multiple positions. He needs to add strength to his frame, but the top five recruit and St. Louis-native will have his pick of colleges." – RD
Derryck Thornton: "Thornton's had a very good spring and summer to date, emerging as one of the best distributors regardless of class and winning MVP at the Stephen Curry Point Guard Camp. With the nation's coaches out and about this month, July could be a big month for a player already held in high regard." – RJ