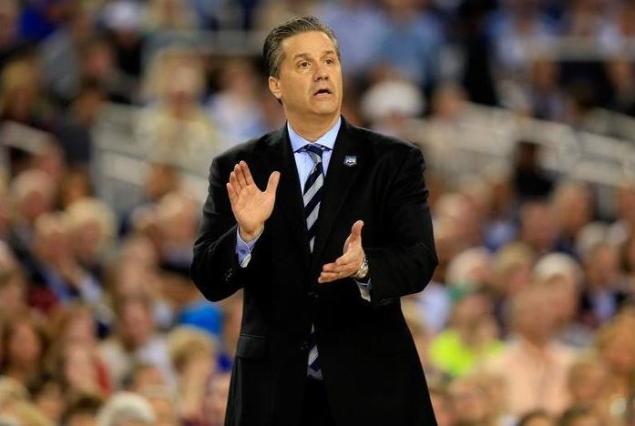 John Calipari is not the best basketball coach in the collegiate ranks. I think that he'd even be willing to admit as much.
He is, however, the best coach when it comes to running a college program. He knows how to recruit, he knows how to get players to buy into his program, he knows how to get a fan base motivated and he is one of the best when it comes to dealing with media. The marriage of Coach Cal, Big Blue Nation and Kentucky basketball is perfect.
Perhaps what Cal does better than anything else is create spin. If there's something that he wants to say, a message that he wants to get across, he's going to make that point regardless of what question he's asked or what topic he's discussing. He's a master at it, and his latest post over at CoachCal.com is the perfect example.
In that post, Cal creates a list of 20 questions that every recruit should be asking of a potential college coach, calling their choice on where to go to college "a business decision, not an emotional one". And it should come as no surprise to you that Kentucky comes up looking quite favorable when compared to any other program.
Now to be fair, there's a reason for that. Kentucky has sent 19 players (if you include Enes Kanter) to the NBA in Cal's five seasons while winning one national title, making another national title game and a third Final Four. When one of college basketball's best programs is teamed up with college basketball's best CEO, you are going to get results.
But if you think that these 20 questions were anything other than a promotional post for Kentucky, I've got a bridge in Brooklyn to sell you. The title might as well be "20 Questions That Prove You Should Go To Kentucky".
Anyway, here are the 20 questions:
1. Does your program offer multi-year (four-year) scholarships?
2. How many players have graduated from your program over the last four to five years?
3. How many players have graduated from your school and gone on to the NBA?
4. How many players have come back to finish school after they have left to pursue other dreams? Who pays for it?
5. How many of your players were insured through the disability program last season? If none were, why not?
6. What is your team grade-point average?
7. Where does your Academic Progress Rate retention rank among other schools?
8. What type of media training do you offer?
9. What kind of social media training program do you have in place? What are your social media policies?
10. How many double-figure scorers have you averaged in the last four to five years? If you only have one or two a year, what does that mean for me?
11. Have you ever coached anyone like me? If so, who?
12. How many McDonald's All-Americans have you coached? How many of them went on to the NBA?
13. How have your teams fared with three or four McDonald's All-Americans on the same team?
14. How many freshmen have you started within the last four to five years?
15. How many draft picks have you had over the last five years? How many drafted were not McDonald's All-Americans? How many of the total were first-rounders and were any of them No. 1 draft picks during that time?
16. How many of those players have gone on to make the NBA All-Rookie team?
17. How many games will my family be able to watch on national television?
18. How many of your home games are sold out? How many of your road games are sold out?
19. How have you done in postseason play? Any Final Fours?
20. What is your core philosophy?