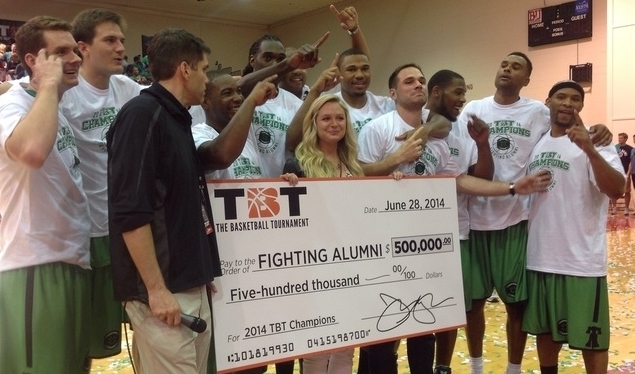 BOSTON — The night before a group of Notre Dame alumni played for a $500,000 prize in the inaugural Basketball Tournament, they had a team dinner in Boston. Head coach included.
Mike Brey, who is entering his 15th season at Notre Dame, made the trip from South Bend to Boston this weekend to be with his former players, reminiscing on old stories and catching up on the latest events in each other's lives.
The good times from Friday night spilled over into Saturday, as the Notre Dame Fighting Alumni defeated tournament favorite Team Barstool, 72-68, to win The Basketball Tournament at Case Gymnasium on the Boston University campus.
"This is a special group to me. A lot of them played together, some of them are from different eras, but it's been neat," Brey said.
"What are great representation of our program. They truly are an alumni team. They're all graduates. It's really the mark of a program when you have guys like that that are together. Even some of my guys who didn't play have come to support them, so I couldn't miss it."
Supporters for both sides, nearly filled the 1,800-seat arena on Saturday night. Team Barstool, named after the popular Boston-based website, drew plenty of college-aged fans to championship game. When its sea of purple Barstool T-shirts shouted one of three "I Believe" chants — made popular by Utah State — the floor began to shake.
"We felt like we were back in college," Fighting Alumni forward Ryan Ayers said. 
The crowd wasn't the only reminder of their college days. Neither team led by more than nine, and as the tightly-contested championship game wore on, Brey, who sat opposite the Notre Dame bench, couldn't resist the urge to coach his players just one more time.
"Get in the post," he yelled to Tyrone Nash, who led the team with 19 points.
"No threes! Rebound!" he shouted with under a minute to play as the Fighting Alumni held off a Team Barstool comeback.
"It was awesome," Chris Thomas said. "I heard him say 'Get the ball to T. Nash' and 'Move!' He was into it just as much as we were. Coach Brey is a big part of who we are as players and people ."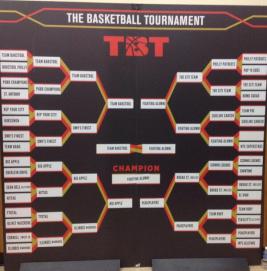 The Fighting Alumni played with traits of Notre Dame teams that have helped the program win 300 games in Brey's tenure. Throughout the tournament, it was ball movement, balanced scoring and quality 3-point shooting that guided the Fighting Alumni through the 32-team tournament field and to a big paid day. The Fighting Alumni had a different leading scorer in each of the five games in the first-ever, single-elimination, winner-takes-all Basketball Tournament while shooting 46 percent from three during the entire event.
"[We] even had guys just contributing with steals or loose balls," Ayers added. "We played out like a team."
The style of play and the familiarity with one another is what helped the Fighting Alumni overcome a team that boasted four former NBA players in Dahntay Jones, Josh Boone, Andre Barrett and Matt Walsh.
On Saturday night, the Fighting Alumni assisted on 14 of their 26 field goals, while cutting down the turnovers to just eight, something that had plagued the team in Philadelphia during the previous four games. Despite shooting 37 percent from three, its lowest of the tournament, the Fighting Alumni held Team Barstool to its worst 3-point shooting as well, at 27 percent from behind the arc, including 1-for-13 shooting in the second half.
In a tournament that is looking to expand, the Fighting Alumni have already made plans for a repeat. Luke Harangody and Tim Abromaitis, like Brey, were both in attendance, and names like Kyle McAlarney were being tossed around in the post game press conference.
"We're gonna have to have a shoot off or a play-in or something [for next year]," Thomas said.