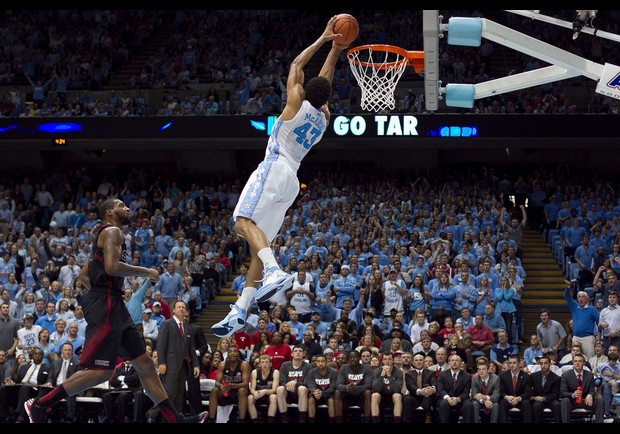 James Michael McAdoo could have been a lottery pick had he left college after a promising finish to his freshman campaign.
He left school after the 2013-2014 season, producing two more years of very good, but far from dominant, basketball. With a year of eligibility left on the table, McAdoo sat through the entire 2014 NBA Draft … and didn't hear his name called.
He wasn't alone, either.
But before I get to the complete list of players that left school early without getting picked, keep in mind that this doesn't mean their basketball careers are over. They can earn a contract in the NBA's Summer League, and if that doesn't work, there are plenty of guys that have banked a lot of NBA money after playing their way through the D-League and a trip overseas. That's to say nothing of the amount of money that can be made playing basketball in places like Italy and Spain.
Back to the point, here are the 11 players that declared for the draft with eligiblity remaining and did not get selected:
James Michael McAdoo, North Carolina: McAdoo just ended up being too much of a 'tweener'. He didn't have enough of a post game or a perimeter game to be worth a draft pick.
Jahii Carson, Arizona State: Carson made it clear before the season began that he would be leaving for the NBA after three years in Tempe with two seasons of eligibility remaining. He's a thrilling point guard to watch, but issues with his jump shot and an inability to go left made him a risky pick.
Jabari Brown, Missouri: Brown is known as a sharpshooter, but he's not big enough or near good enough defensively to find himself drafted in that Danny Green role. Brown used three seasons of eligibility at Missouri and Oregon.
JaKarr Sampson, St. John's: Sampson is a freak athlete, but beyond that, he just isn't a good enough basketball player. I can't even remember him taking a jump shot, let alone making one, in two years with the Johnnies.
Sim Bhullar, New Mexico State: Bhullar is 7-foot-5 and over 350 pounds. He only played two years for NMSU, and while he's not ready for the league, that massive body can only hold up for so long. Maximize his earning potential while he can. He made the right move.
Khem Birch, UNLV: Birch is a crazy athlete, but he literally cannot do anything offensively beyond dunk.
LaQuinton Ross, Ohio State: Not good enough offensively to overcome issues with his athleticism and his ability to defend.
Chane Behanan, Louisville/Colorado State: Did you really expect him to get picked? He's a 6-foot-6 power forward.
Alex Kirk, New Mexico: To be fair, Kirk spent four years at New Mexico, redshirting his first season on campus. He's got the size and shooting ability to latch onto a roster at some point. He's a good free agent target.
Eric Moreland, Oregon State: He's versatile and athletic with solid physical tools, but he was an offensive liability at Oregon State.
Roscoe Smith, UNLV: He turned into an excellent rebounder this past season at UNLV after two relatively unimpressive years with UConn. But he's a small forward known for rebounding, and he's not close to being Kenneth Faried.