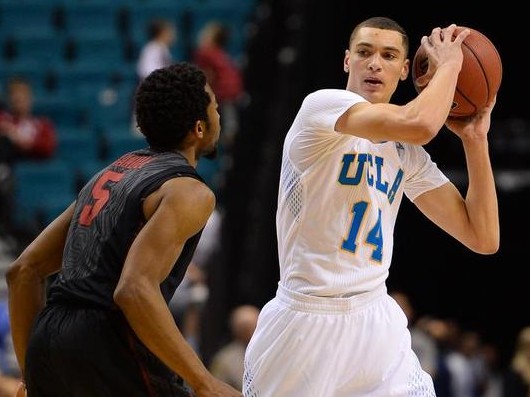 The NBA Draft process is one where questions remain even after teams make their selections, because even in the case of the best players available there's no such thing as a sure thing. One dilemma franchises have to address during the pre-draft process is how much they value "upside" as opposed to actual production at the college level. Optimally a player will have both aspects working to his advantage, having been a productive player at his position while also displaying the traits needed to become an even better player once in the NBA.
However that isn't always the case, and as a result the process of projecting what a player could potentially be as a pro gets tougher. One issue that can lead to this struggle is the player not seeing as much time at the position in question as a collegian, and one example of this could be former UCLA guard Zach LaVine.
The 6-foot-6 LaVine had plenty of chances to serve as his team's primary ball-handler at the high school level, but that wasn't the case in his lone season at UCLA. The Bruins had one of the 2014 NBA Draft's most intriguing prospects in 6-foot-9 Kyle Anderson to rely on for that job, with fellow freshman Bryce Alford joining LaVine as a valuable perimeter reserve. LaVine put together a solid freshman campaign, posting averages of 9.4 points, 2.5 rebounds and 1.8 assists per game, but the question of where he'll best fit as a professional remains.
While LaVine has the size and athleticism needed to be a factor at shooting guard, there's also the desire to spend time as primary ball-handler. When it was first reported by the LA Daily News that LaVine would be leaving school, one reason cited was the lack of time spent at the point. So with that being the case, the question to be asked is how NBA teams go about evaluating a player looking to play a position different from the one he played at the college level.
MORE: Underrated Prospects | Overrated Prospects | Top Ten Players in Five Years | Busts?
"I guess it's something we had to do with Victor Oladipo last year. It's not as much taking the position away as it is taking whatever skills he has at one [position] and seeing how they translate at another," Ed Isaacson of NBA Draft Blog told NBC Sports. "For just about every player you can end up with multiple possibilities, so you try to include as much [information] as possible when evaluating the player."
While it can be difficult to evaluate a player at one position when he played another in college, it isn't an "impossible" thing to do. With film study and individual/group pre-draft workouts, teams have the tools needed to get a better feel (by their standards) of where a prospect can be most successful. However the intangibles are just as important as the tangible, especially for a point guard, and getting an accurate read on those can be tougher when dealing with a prospect who hasn't spent a lot of time at the position.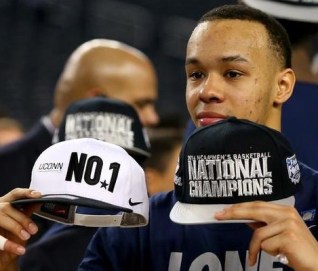 Those factors can make the difference between winning and losing, and as noted by many involved with the draft process, can do wonders for a player's status as a draft prospect. A prime example of this is former UConn point guard Shabazz Napier, who over the course of four years has improved greatly as a leader and won two national titles.
A number of factors, from his skill set to those improved leadership abilities, have combined to make Napier a respected prospect whose name is expected to be called during the first round of Thursday's draft.
"I think it's a combination of the whole package," Jonathan Givony of Draft Express told NBC Sports. "The fact that he's won as much as he did will certainly be taken into consideration. You're not going to see too many guys drafted in the first round who played for bad college programs. It just doesn't bode well for them, because everyone in the NBA's trying to win, too.
"Every year you see guys who were in the tournament and played well rise in the draft, because people value winning."
RELATED: Elfrid Payton, the Draft's biggest sleeper | Balancing potential, running a program
Team success can be one of the biggest selling points for a point guard prospect and it only makes sense, as one of the main responsibilities of the position is to put his teammates in the best possible position for success. Napier had four years to play the position and hone his craft, making significant strides throughout the course of his career in regards to his stats and his maturity. Most importantly he learned how to lead, a valuable lesson that resulted in his school winning its fourth national title in April.
That particular lesson can be invaluable to a prospect, and it can be argued that LaVine didn't have the opportunity of making similar progress due to the amount of time spent in college and the role he played while there. But with LaVine being projected to be a first-round selection, who can blame him for leaving school after just one season?
The draft process will be a difficult one regardless of the experience level of the player in question, meaning that the debate of "potential vs. production" will continue to rage on. Is there a right answer? Probably not, even with the argument being made by some pundits that more time in college automatically results in a better player. If anything more time in college gives NBA franchises more opportunities to observe the player in question, and that can prove beneficial to the decision-makers entrusted with the task of building a championship contender.
But the question of "potential vs. production" is one best answered on a case-by-case basis. The only difference is that in the instance of a player being valued more for what he could do than what he has, there's more of the "unknown" to deal with.