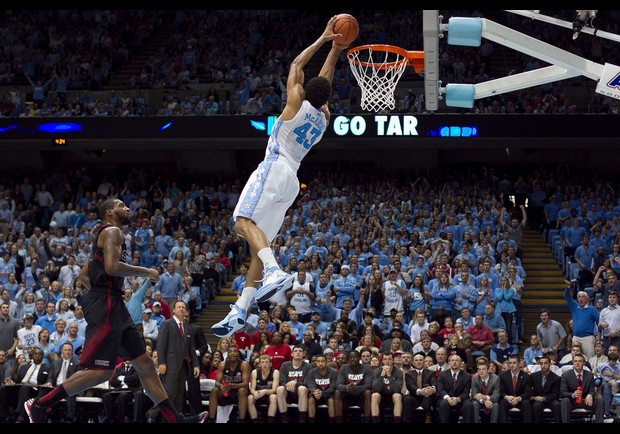 James Michael McAdoo will find himself in an awkward position during Thursday night's NBA Draft.
He'll spend the night waiting for his phone to ring, hoping that he did enough over the course of his three years at North Carolina to convince an NBA team to use a second round pick on him.
That's no guarantee, however. McAdoo is currently projected as the No. 50 pick in Chad Ford's most recent mock draft. Draft Express has McAdoo going undrafted.
Two years ago, it would have been inconceivable to think that McAdoo could eventually end up as an undrafted free agent. As a freshman with the Tar Heels, McAdoo spent much of the season buried on the bench before an injury to John Henson late in the year opened up playing time for him. And while he wasn't overly dominant — he averaged 10.6 points and 4.6 boards in seven postseason games as the Tar Heels were one Kendall Marshall injury away from being a real threat to win the 2012 national title — his athleticism and promising performance was enough to vault him into the lottery consideration.
Two years ago, had McAdoo gone pro, he very well could have spent the 2012 NBA Draft sitting in the Green Room.
That's a long way to fall.
MORE: Underrated Prospects | Overrated Prospects | Top Ten Players in Five Years | Busts?
"Not at all," McAdoo told NBCSports.com when asked whether or not he regrets his decision to return to school. "It's something that people ask me all the time. At the end of the day, I enjoyed my time at UNC."
A number of factors played a role in that decision: McAdoo wanted a chance to win a national title, and coming so close while having an injury to one player cost them that chance left a bitter taste in his mouth. He also wanted a chance to be a leader at the collegiate level, to play major minutes every night in front of a raucous Dean Dome crowd. He knew that his family wasn't in dire need of the money that he would make, he knew that he needed to grow as a person and, frankly, he liked being a college kid.
But that doesn't change the fact that the decision he made has already cost him millions. Let's say that McAdoo would have ended up being the 14th pick in the 2012 draft. He would have been guaranteed $3.107 million over the first two years of that contract, and if the team that picked him would have exercised their option for years three and four, and he accepted a qualifying option for year five, that contract would have been worth a total of $10.628 million. There are a lot of 'ifs' there, I know, but that's a lot of potential income that vanished.
"I'm not going to be able to change it," McAdoo said. "Obviously, I could have came out and got picked high, but I know God's got my back. I'm just going to do whatever it takes.
"I know the circumstances are a lot different than they would have been freshman year."
McAdoo isn't the only player that has cost themselves quite a bit of money in recent years by deciding to return to school. The most notable player in that group is probably Marcus Smart, the former Oklahoma State point guard. Smart could have ended up being the No. 1 pick in the 2013 NBA Draft had he left school as a freshman, but he opted to return to Stillwater for a sophomore season that saw him fail to show an improvement in his jumper, struggle to control his emotions on the court and get suspended for three games for pushing a fan during a game at Texas Tech.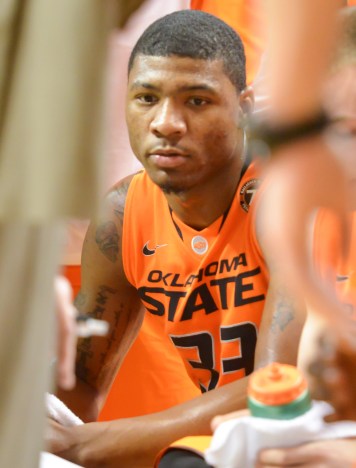 Most importantly, Smart's return made Oklahoma State a preseason top ten team and a favorite to win the Big 12. They lost seven straight leagues games and Smart left school without a single NCAA tournament win.
"Everything that happened this season, I wouldn't change it for a thing," Smart said in April at the NBA draft combine. "It helped me. It got me ready for the NBA and things that come in the NBA."
"I never regretted coming back," he said after the Pokes were eliminated from the NCAA tournament. "It was my decision, and it's what I really wanted. So I'm very happy with the decision I made."
Recent years have been littered with players who plummeted in the draft after returning to school. Michigan's Mitch McGary was projected as a lottery pick as tearing up the 2013 NCAA tournament and leading the Wolverines to a national title game. A back injury ended his sophomore season and a positive test for marijuana forced him to turn pro this year, where he's a borderline first round pick. Perry Jones III and Jared Sullinger were all projected top five picks in the 2011 NBA Draft and returned to school. Sullinger went 21st in 2012. Jones went 28th.
But does that mean it was the wrong decision?
It depends on what that player values.
Returning to school will provide NBA front office types with more time to refine their scouting reports on a prospect. Instead of harping on potential, embracing the positives of what a player is able to do, they can nitpick at what he can't do, what he wasn't able to actually improve on in his extra year on campus. It creates the opportunity for injuries to ruin a season or for an off-the-court incident to tarnish an image, a brand. That extra year can expose a player's faults, provide proof that he's not as good as his reputation.
RELATED: Elfrid Payton, the Draft's biggest sleeper | Balancing potential, running a program
All of that is a risk to the amount of guaranteed money that can be made from a first contract, saying nothing about the fact that it's one less year that a player will be able to receive a salary beyond a scholarship.
If money is your motivation, returning to school is rarely your best bet.
But not every athlete is simply motivated by the number of zeroes on his paycheck.
Some guys need that extra year in school to mature, to learn how to handle media criticism or manage their money or simply grow out of the mindset of being a college kid and into one of being a professional basketball player.
That's why Smart returned to school. He wanted another year before basketball became his job. He wanted another year to spend time with his friends on the Oklahoma State team. He even admitted to knowing the financial implications of his decision, saying at the time "I am aware of how much money I am giving up."
And that's why McAdoo says he would never counsel a player to go pro simply because of the paycheck that he would stand to cash.
"I think that at the end of the day it just comes down to what your personal goals are," he said. "There's a lot of guys kill to get into the spot I'm in right. It's not stressful for me.
"But it's tough going up against other guys that are in a similar predicament where they are not guaranteed come June 26th that their name called."