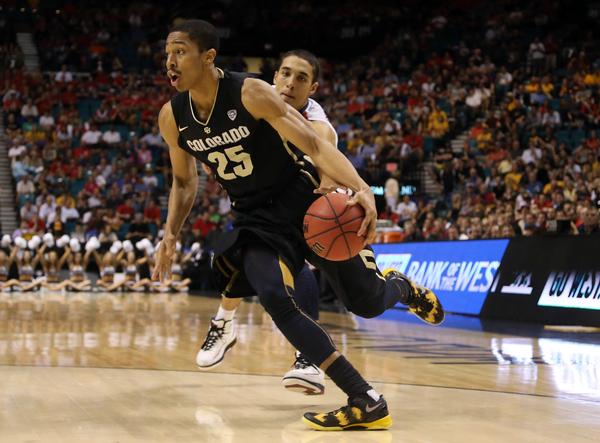 Colorado's hot start was one of the best storylines of the early college basketball regular season. The Buffaloes had lost the Pac-12's leading rebounder in forward Andre Roberson to the 2013 NBA Draft, but Tad Boyle's bunch still started the season 14-2, including a statement win against Kansas.
But much of that momentum was derailed on January 12th, as star junior guard Spencer Dinwiddie was diagnosed with a torn ACL and was ruled out for the rest of the season. The Buffaloes still limped into the 2014 NCAA Tournament, but they slowed down to a 9-9 finish without Dinwiddie, as Colorado was blown out in the Round of 64 by Pitt.
MORE: Underrated Prospects | Overrated Prospects | Top Ten Players in Five Years | Busts?
With Dinwiddie going down with a season-ending injury, some expected the junior to come back for his senior season and try to help Colorado make one more run. But the 6-foot-6 guard made the decision to enter the 2014 NBA Draft despite not being able to fully work out for the NBA teams that would potentially draft him.
For Dinwiddie, the decision came down to the healing of his knee and the junior believed going pro allowed him the best chance to recover from his torn ACL.
"The deciding factor was that I get to pour all that I have into my knee," Dinwiddie said to NBCSports.com about his NBA Draft decision. "I get to have professional-level rehab and attack it as hard as I want. There's no summer school or anything else that's taking away from that. Professional-level rehab, pour everything I have into it and let's get ready [for the draft]."
Had Dinwiddie played the entire 2013-14 season, and remained healthy, there's a realistic chance he could have been a first-round draft pick in the 2014 NBA Draft. The California native can play both guard spots and had tremendous shooting splits (46% FG, 41% 3PT, 86% FT) during his junior year to go along with his strong natural leadership abilities.
Even though Colorado did everything Dinwiddie asked of them while he rehabbed his torn ACL, when speaking things over with his family, they came to the decision that rehabbing at the pro level would be more beneficial than staying in school. The Buffaloes helped Dinwiddie with new-age methods of attacking knee rehab like platelet-rich plasma injections and use of a hyperbaric chamber, but he still felt like professional rehab had more to offer.
"Within my family, my core unit, I [talked it over]," Dinwiddie said of his rehab. "I mean, it's no secret: college has limitations that professional doesn't. Just because of just the sheer dollars a pro team can spend. It's not any knock on Colorado. They did everything possible that they could for me. They got me PRP injections at my request, they helped me get to a hyperbaric chamber when I asked, so they did everything they could. It's just there's a different level you can go to [with rehab]."
RELATED: Elfrid Payton, the Draft's biggest sleeper | Balancing potential, running a program
The pro-level rehab has helped Dinwiddie get back on track from the knee injury as he looks to get drafted on Thursday. Dinwiddie was initially limited in his workouts for pro teams, but he's still confident about making a full comeback as he begins his professional career.
"I started running at 11 weeks. I started shooting shortly thereafter. I've been doing a lot. I've been in the gym working hard," Dinwiddie said. "So I hit the agility drills, the ladder. Everything is controlled. Jumping up on boxes, controlling the landing, making sure everything is safe. Whatever the [physical trainer] asks me to do. The bounce is going to be real when I get back. I'm talking about 40 [inches]."
The rehabilitation was a crucial component of Dinwiddie's decision, but he also had a very tough choice in leaving behind a Colorado team that still has a lot of talented pieces in place for next season. The Buffaloes currently sit at No. 5 in College Basketball Talk's preseason Pac-12 rankings.
"That was the biggest consideration and this decision is always tough because part of the reason my school loves me is because I played an unselfish brand of basketball. And a lot of times [entering the draft] is considered a selfish decision," Dinwiddie said. "But it is my life and I have to do what is best for me. And I understand that if I go back and I raise my stock a little bit, I can make a million dollars on the front-end but at the same time, if my career goes longer on the back-end I can make that million dollars back. So give-or-take that million or two million dollars — or whatever it is — I felt like this was best for the longevity of my career and really being able to focus on my body and knee and pour everything I have into it."
Based on that response, it's clear that Dinwiddie is focused on the long-term aspirations of his professional basketball career. After a solid sophomore season, he also toyed with entering the NBA Draft early, but he was dissuaded in part by his parents, who didn't believe he was mature enough to make the leap to the pros.
"I felt like I was ready — and I got the co-sign from my parents — which is something I didn't have last year," Dinwiddie said. "My parents felt that I had more growth to do as a man. So when my parents say, 'do whatever makes you happy,' and [our communication is] really kind of open, and they said [in the past], 'we feel like you need another year of maturation,' then that kind of opened it up for me to go. And seeing that confidence in my knee and knowing I was going to be back before the season opened it up for me to go."
Although Dinwiddie is leaving Colorado a year early, he was still very positive about Boyle's guidance throughout his career and the guard had nothing but positive things to say about the Buffaloes.
"I think the biggest thing Coach Boyle instilled in me was how to be a more complete leader. Not just on the court but off the court — and that's my biggest takeaway from Coach," Dinwiddie said. "Other than that, they just gave me guidance on what I should improve. After my freshman year, they told me to work on my body; I did that. After my sophomore year, my shooting numbers dipped. They told me that wanted me to continue to push them back up to where they were my freshman year and I did that. They were great for guidance and it takes hard work but that's the biggest thing that Coach Boyle did for me."