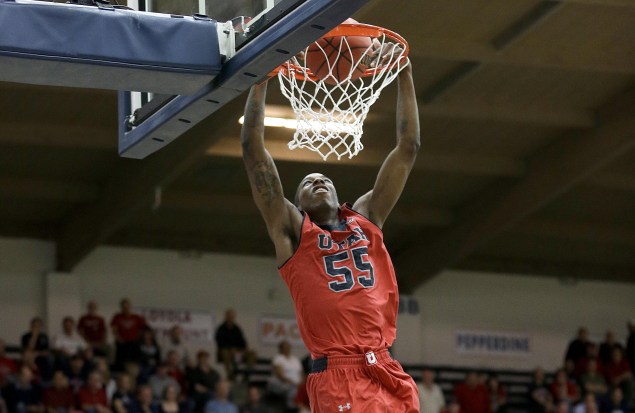 In the aftermath of a team's final game of the season, one of the most important tasks for a head coach is to figure out what his players entertaining thoughts of leaving school early to enter the NBA Draft will do. There's the solicitation of information from the NBA's Undergraduate Advisory Committee, conversations with family members and the player himself as he debates what will, to this point, be the most important decision of his life. In the best situation no stone is left unturned, thus ensuring that the player will have all the accurate information he needs to make a sound decision.
For those who return to school there are a number of possible reasons, from deciding that they aren't ready for the professional ranks to the desire to help their program win a national title. That was the case for the Arizona's Brandon Ashley, Rondae Hollis-Jefferson and Kaleb Tarczewski, who announced their decisions to return to Tucson on the same day teammates Aaron Gordon and Nick Johnson declared their intentions to leave school early.
RELATED: Elfrid Payton, the NBA Draft's biggest sleeper
"The one reason we're all coming back here is we have sort of unfinished business here at U of A," Tarczewski said during their press conference, and it should be noted that none of the three sought feedback from the Advisory Committee before making their decisions. "There's no question that all three of us could say we've had a great career no matter how long it's been.
"When we signed on here our goal was to make it to a Final Four, to be able to play for a national championship and next year that's our goal. We're all grateful to say we have another year and hopefully we'll get it done."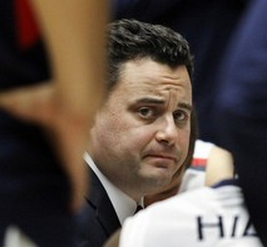 One aspect of the return to school that some players may struggle with is the balance between doing what would best enhance their prospects of making the move to the next level and doing what their college team needs in order to be successful. While the feedback received from professional scouts and executives can certainly be beneficial as a player looks to become the best pro possible, it's the college coach who has the spent the greatest amount of time working with the player.
"We do, but nobody knows the player better than the college coach," Arizona head coach Sean Miller told NBC Sports when asked how much professional feedback he and his staff utilizes when working with their players. "Because not only are we around them on a daily basis working with them on all types of different scenarios, for the most part we've recruited them. I think we have a great barometer and feel for our own players.
"And no question, if we can get some additional feedback to help us better coach [our players] then certainly we'll use that. But for the most part, our barometer is our staff."
The best situation for the coach and the returning player is when the area (or areas) where a player needs to improve to become a more attractive professional prospect falls in line with what the team will need in order to put forth a better effort the following season. That's the case for Utah rising senior guard Delon Wright, who enjoyed a very productive debut season in Salt Lake City. Wright was one of the Pac-12's most versatile players in 2013-14, leading the Utes in scoring, assists and steals and ranking second on the team in rebounds.
MORE: Underrated Prospects | Overrated Prospects | Top Ten Players in Five Years
But there was also the need to improve his perimeter shot, with Wright making just 22.2% of his shots from beyond the arc. Improvement in that aspect of his game would not only make Wright a tougher player to defend, thus improving his individual standing as a pro prospect, but it also stands to make Utah a better team offensively. And it helps Wright that he can receive assessments of his game from multiple people with experience at the NBA level, including Utah head coach Larry Krystkowiak and his older brother Dorell who just completed his tenth season in the NBA.
"I do think it's an aid over the course of a season, just to know that I've been there and understand the way things work," Krystkowiak told NBC Sports. "So I think it adds some validity when discussing what it takes to play at the next level."
Having coaches and former players — and in the case of Wright, a family member — who have gone through the NBA evaluation process as either a player or coach can prove beneficial for prospects facing the task of sifting through the many sources of information. Because while the goal is to gather as much information as possible before making an educated decision, not all available information is accurate or honest.
And if the player and coach aren't on the same page, that could result in the process becoming more complicated than it needs to be.
"Everybody at Arizona is treated the same way with that in mind," noted Miller. "We try to give [the player] and their family the best and the most feedback that we can, so that when they make their decision they have the best and most accurate information possible. That may seem simple but there's a lot going on, and once in a while the information that they receive isn't accurate."
RELATED: 2014 NBA Draft Preview
Certainly there can be concerns about how players will handle a return to school after flirting with the idea of entering the NBA Draft. But the task of handling those issues is a lengthy process, something that isn't taken care of in a single conversation. There will be ups and downs, and for some there will be moments in which they wonder "what could have been."
The combination of managing those thoughts and making sure the quest to improve one's standing in the eyes of NBA types doesn't come at the expense of team goals ultimately determines how successful the return to school will be. While the statistics and measurements are certainly important to professional franchises, the ability to help your team achieve success is as well.
"Anytime you have success as a team, that's going to enhance your chances of potentially going on to play at the next level," noted Krystkowiak.