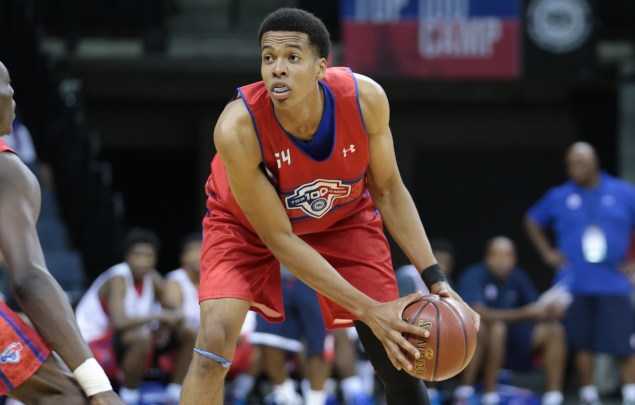 CHARLOTTESVILLE, Va. — Skal Labissiere's junior season at Evangelical Christian School (TN) did not quite go as planned.
The 6-foot-10 Haitian center left the second game of his high school season with a back injury that turned out to be a stress fracture in the L5 vertebrae in his spine. He didn't return to the court until an AAU tournament in April and still isn't back to being in the kind of shape that he wants to me in.
"I feel good, but I'm still out of shape," Labissiere said at the NBPA Top 100 camp last week. "My [knee] tendonitis was gone but now it's back because I was sitting out for four months. But I'm getting back in the flow."
""My timing is still off a little bit, explosiveness is gone. I'm working on getting it back."
Labissiere says he learned a hard lesson from the injury: proper rest is just as important as a tenacious work ethic.
RELATED: Rayjon Tucker excelling on the hardwood | Jawun Evans shines at NBPA camp
"I didn't take care of myself," he said. "I worked too hard and I failed to rest. I just had all that weight up here, it wasn't good for my back. Over time, from running, lifting weights, jumping around."
Labissiere is currently the No. 6 prospect in the Class of 2015, according to Rivals.com, but he clearly wasn't himself during the camp, finishing with averaged of just 8.4 points, 1.8 boards and 1.2 blocks in five games. He blocked a couple of shots and showed off the range that makes him such an intriguing prospect, but it was clear that Labissiere was not playing his best basketball.
But that's understandable. Remember, Labissiere is still just a rising high school senior that was already a work in progress before he had to sit out for four months. That's a big stretch of time during one of the most important development periods for a young athlete.
The good news for Labissiere is that he realizes there is a lot of work to be done before the July live periods kick off in two weeks.
"I have to strengthen my core, get back into shape, get back to full health, and get back into my rhythm," he said. "I'm ready for it. I sat out for four months."
As of now, Labissiere is taking the recruiting process slowly. Memphis, the city he currently calls home after fleeing Haiti when the earthquake struck in 2010, and Mississippi are the only schools that he has visited, but Kentucky has shown as much interest as anyone, including the program in his hometown. Labissiere was the first player Kentucky offered in the Class of 2015. Kansas and Tennessee have also reportedly offered Labissiere, while he mentioned that North Carolina, UNLV and Florida have started to show some interest as well.
RELATED: Wednesday's NBPA Top 100 recap | Patience the plans for Tyler Dorsey
But the recruiting process is not what's on the forefront of Labissiere's mind right now. Recovering from his stress fracture is, and he says that the back injury suffered by former Kansas center Joel Embiid back in February has actually motivated him.
"It kind of encouraged me, to be honest,"Labissiere said. (Full disclosure: this interview took place before the news broke that Embiid had fractured his foot.) "Because I saw what he did and how he got back. I saw his workouts and he looked good."
"When I was sitting out, I just had to get rest. When I came back, I worked out for a pretty long time. I gained some weight, but that actually helped out. At first I was disappointed, but it actually turned out kind of well. Resting my body for playing so many games during the summer."