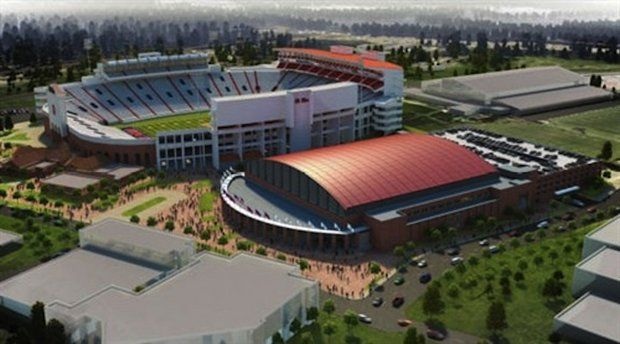 Ole Miss and BL Harbert International announced the construction of a new $68.9 million basketball arena on Monday. Coming in at approximately 230,000 square feet, construction is scheduled to begin immediately and be completed by late 2015, with a target opening for the 2016 Ole Miss basketball season.
The 9,600-seat arena will include the basketball court, locker room suites for players and coaches, training facilities, a Courtside Club, All-American Suites and an Arena Club.
Kansas City-based architect AECOM will be the architect for the new Ole Miss arena.
The new arena will be right next to Vaught-Hemingway Stadium on the southeast side of the school's campus. Ole Miss basketball has played in the 9,065-seat Tad Smith Coliseum since 1965.
"We are honored to build a marquee project for Ole Miss that will have a lasting impact on a college campus and its students for the next 50 years. BL Harbert looks forward to working with AECOM and the University in providing the students with another great SEC Arena," BL Harbert President of U.S. Operations Gary W. Savage said in the release.
BL Harbert recently constructed the Auburn University Arena, which was completed in 2010. AECOM designed the Memphis FedEx Forum and the Seattle Seahawks' CenturyLink Field.
A new stadium is always a tremendous recruiting tool and with the arena coming right next to the Ole Miss football stadium, it makes for a nice area on campus where fans can always go to attend marquee sporting events.