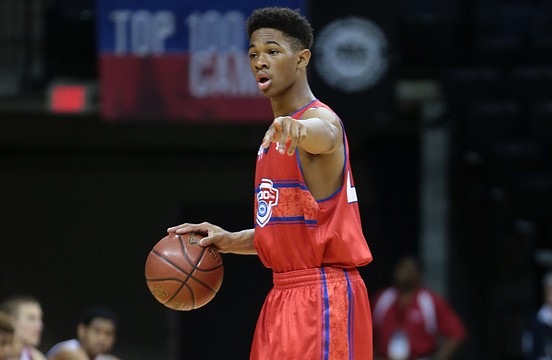 CHARLOTTESVILLE, Va. — Rayjon Tucker spent the spring making a name for himself in recruiting circles. The biggest reason why is his athleticism. A 6-foot-5 wing, Tucker has the kind of strength and explosiveness that allows him to finish above the rim, over defenders, through contact and … well, all of the above, which also has made Tucker a favorite of the mixtape cameramen.
Earlier this spring, before his play in the UA Association AAU tournaments, Tucker was listing offers from schools like Abilene Christian and Presbyterian. This week? He had to postpone an unofficial visit to UNC because he was making a trip to the NBPA Top 100 Camp.
So would you believe that Tucker, a member of the Class of 2015, has only been playing basketball seriously for two years?
RELATED: Wednesday's NBPA Top 100 recap | Patience the plans for Tyler Dorsey
"I didn't start concentrating on basketball until my sophomore year," said Tucker, a former wide receiver and free safety whose father played football at Western Carolina. "I played, but I was more focused on football than basketball so if I wasn't doing something right, I wasn't worried."
That changed after his freshman season, however, as Tucker got tired of the physicality on the gridiron.
"I just got tired of all the pounding on my body," he said. "I just really love basketball in my heart more than I love football. My dad was a football player, so it would have just fit. I just like the hardwood."
"My dad was fine with it, he always told me he supported me in whatever I do, it's my life and my decision. He didn't want to live his dreams through me."
That meant Rayjon would be chasing his hardwood dreams, and after a successful spring, he's gone from a relative unknown prospect from Charlotte, N.C., to a guy that is going to have a chance to play in the ACC. Boston College has offered him a scholarship, as has Virginia Tech; Tucker said that Buzz Williams has been recruiting him the hardest of late. He's visited Clemson but doesn't yet have an offer on the table from the Tigers, and in addition to trying to set up a visit with UNC he is also talking with N.C. State to get over to Raleigh and see their campus. Tucker also said that VCU has been showing him quite a bit of interest.
RELATED: Rayjon Tucker is a name to remember
"It's exciting," he said, and while no one would blame a high school junior for being excited about getting phone calls from coaches at the biggest schools in his home state, Tucker is self-aware enough to understand that he still has strengths and weaknesses on the court. He realizes that his strengths like in his natural athletic ability. He can jump, he can defend, he plays hard, he's a terror around the rim.
But he's not satisfied simply being a guy that is featured in highlight videos on youtube.
"I'm always looking improvement in my game, dribbling and shooting. I'm just looking to get better," he said. "MY parents and my coach just tell me to stay humble. Stay hungry, because I haven't arrived yet."
"I just gotta keep working."