Less than a month after the departure of assistant coach Glynn Cyprien from the Texas A&M program earlier this spring, junior guard Jamal Jones announced his intentions to leave the SEC program. Jones, who began his college career at Ole Miss, averaged 13.4 points and 4.1 rebounds per game in his lone season as an Aggie.
For a team to lose its most productive offensive option would lead for questions from outside of the program, and as Jones looks to find a school where he can complete his college career it seems (according to him) as if he's run into some difficulties. Saturday, Jones took to Twitter to voice his frustrations on the matter.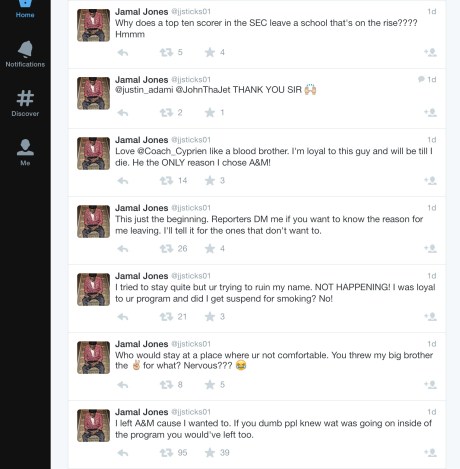 Eventually cooler heads seemed to prevail, with Cyprien telling to Jones via Twitter to take the high road regarding the matter. Jones averaged 16.0 points per game in SEC play, with forward Kourtney Roberson (8.7 ppg) being the team's second-leading scorer in conference games.
It remains to be seen if anything more comes of Jones' tweets regarding his decision to leave College Station. A Texas A&M spokesperson told NBC Sports that at present time there was no comment regarding Jones' tweets, but they are aware of the situation.