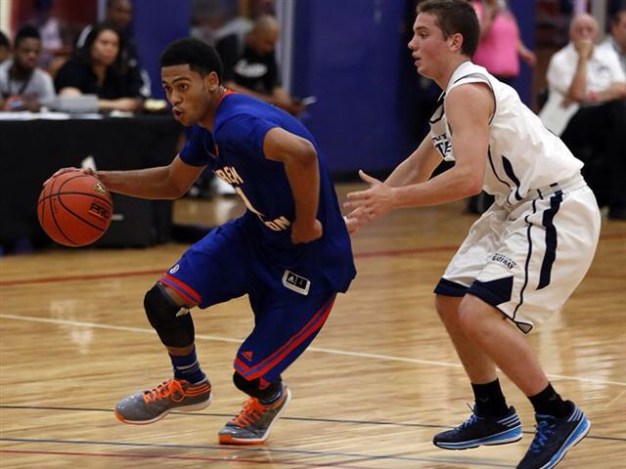 There have been rumors for weeks that Arizona and five-star guard commitment Tyler Dorsey would be heading their separate ways, and on Saturday, the class of 2015 6-foot-4 guard released a statement, via email, that he was opening up his recruitment.
"As much as I love the Arizona basketball program as well as the awesome Wildcat fans and highly respect head coach Sean Miller and the entire Arizona staff, I realize that, in hindsight, I rushed my college choice and did not provide myself with the greatest opportunity to explore and thoroughly investigate all possible college options," Dorsey said in the statement.
Since the commitment of class of 2015 guard Justin Simon to Arizona in May, there have been murmurs that Dorsey would part ways with the Wildcats and both guards played for Arizona head coach Sean Miller this past week at the USA Basketball U18 national team tryouts in Colorado Springs. The rumors about Dorsey leaving Arizona further heightened when the Wildcats offered high-scoring 2015 guard Allonzo Trier a scholarship this spring.
It's worth noting that Dorsey or Simon missed the first cut of the U18 tryouts, despite Miller being the assistant coach to the team's head coach, Billy Donovan. Trier, also trying out for the U18 national team in Colorado Springs, did make the cut as one of 15 finalists for the team.
Dorsey committed to Arizona on January 11th of this year and the No. 7 overall player in Rivals.com's 2015 national rankings ran with Dream Vision this spring on the adidas Gauntlet. Dorsey averaged 17.4 points and 4.5 rebounds per game in 13 games with Dream Vision this spring while shooting 45 percent from the field and 38 percent from three-point range.
With talented guards being highly in-demand in the 2015 class, Dorsey opening up his recruitment is big news as schools from all over the country will likely inquire about Dorsey and watch him play this July.