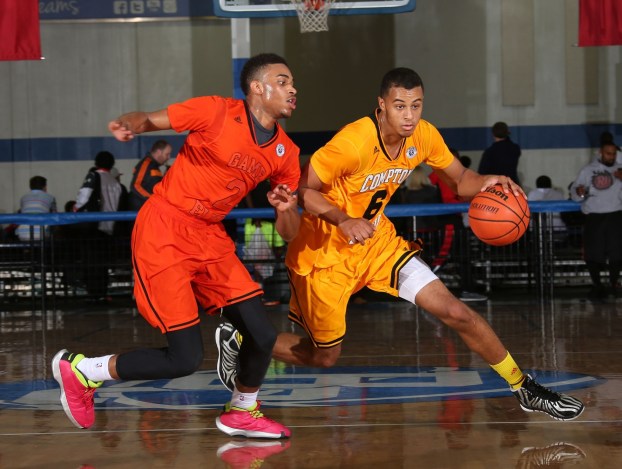 INDIANAPOLIS — One player who has really improved this spring is California wing Cameron Walker. The 6-foot-7 Walker showed some promise last summer with the Compton Magic in helping the team win the 16U title at the Super 64 and now Walker is handling even more responsibilities this spring on the adidas Gauntlet.
The No. 50 player in the 2015 class according to Rivals.com, Walker has shown off a lot of versatile qualities this spring in playing multiple spots for the Magic. Walker averaged 12.6 points and 4.8 rebounds per game on 48 percent shooting from the field and 33 percent shooting from three-point range in 16 games this spring.
"I think I'm playing alright. As a team we're not doing too well but hopefully we pick it up. I just take a "next game" approach and try to stay focused on the next game we have," Walker said to NBCSports.com
In the Indianapolis event, Walker even ran point for the Magic, as starting lead guard and SMU commit Sedrick Barefield was out of action for the weekend. Walker looked good running the point and showed an ability to at least be a secondary ball handler in college.
"We didn't have Sedrick today so they kind of asked me to step in at point guard. That's fine with me. I play it with my high school team, so I just stepped in and tried to do my job," Walker said.
Although Walker looked strong handling the ball and distributing to teammates, he acknowledged that he's probably more of a wing at the college level.
"I see myself as a two or a three. When you get to the college level a lot of guys are stronger and taller so probably a two or a three," Walker said.
Walker's improvement this spring is great news for his top eight. Walker narrowed his list recently and gave his top eight to NBCSports.com
"I just narrowed my list down to a top eight," Walker said. "UCLA, Florida, Harvard, San Diego State, Stanford, Cal, Arizona State and Colorado are my top eight so those are the main schools coming after me right now."
The process for Walker is still in the early stages when it comes to his top eight.
"I don't have any visits yet. As July comes, I'll narrow down my list and start taking visits in August," Walker said. "I think by the end of July when I take my five official visits that will be my top five. And then hopefully then I'll know or maybe I'll commit. I'm going to sign in November so that's the decision I'm (aiming) to make."
One of the interesting storylines involving Walker's recruitment is Cal recruiting him with new head coach Cuonzo Martin. Martin recently made a Sweet Sixteen with Tennessee but hasn't been known as a major force in recruiting the West Coast.
"I have spoken to him a lot. Coach Martin calls me or texts me every day. When he was at Tennessee he never recruited me at all but since he's been at Cal he's been recruiting me," Walker said. "He's asked me how I'm doing, how's school, how's basketball and just to be aggressive and look to score more."
Martin is one of many successful coaches recruiting Walker and he said that he has a few factors in mind when looking for a future college program.
"It's going to come down to my relationship with all of the coaches. I have to have a great relationship with the head coach so it's going to come down to that. Also a school that has a good academics and my overall fit with the school," Walker said.