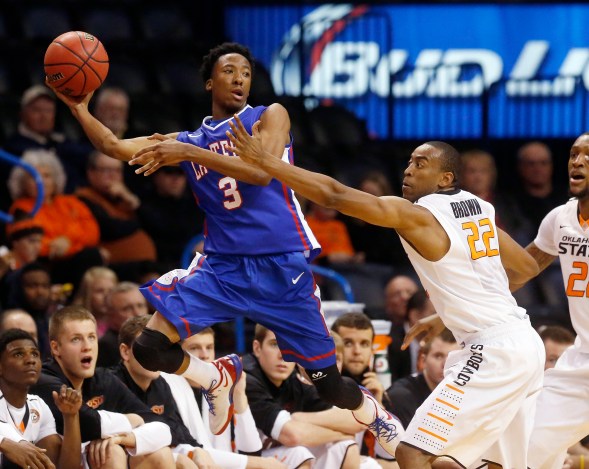 With more realignment shake-ups in 2014-15, Conference USA is once again a shifting landscape.
Conference USA has had so many members at this point in their history that the USA part of the name seems rather appropriate.
Gone from the league in 2014-15 are East Carolina, Tulane and Tulsa — as those three schools move on to the American Athletic Conference — and joining the league from the Sun Belt is Western Kentucky.
So C-USA now stands at 14 members and the top teams look similar to last season.
NCAA Tournament representative Tulsa is out of the picture but Louisiana Tech, UTEP, and Southern Miss — with new head coach Doc Sadler — are looking like the top three teams in the league.
UAB has some talent in place and Middle Tennessee loses a lot from last season's strong effort. The middle of the pack of Old Dominion, new face Western Kentucky, Charlotte, North Texas and FIU could go a number of different ways while Rice, Marshall, UTSA and Florida Atlantic round out the league.
THREE UP
Louisiana Tech: Head coach Mike White opted to stay with the Bulldogs after flirting with the Tennessee job and he gets back two of his top three scorers (Alex Hamilton and Raheem Appleby) and one of the nation's top assist men in point guard Kenneth Smith. White's teams at Louisiana Tech have been very deep and balanced and this group should be similar.
UTEP: Tim Floyd did a fantastic job of keeping the Miners together in the wake of the FBI scandal last season and with Julian Washburn and Vince Hunter returning — and two new Rivals top 150 recruits — this UTEP team should have plenty of firepower to compete for the top spot in the league.
Charlotte: The 49ers were young last season and went through some growing pains in February. But now that many talented pieces return, Charlotte could be poised for a run up the standings. As long as head coach Alan Major returns from his leave this season, the 49ers should be in good shape.
THREE DOWN
Middle Tennessee: The Blue Raiders lost an all-league player in senior forward Sean Jones and there were plenty of other losses to a senior-laden team as well. It will be tough for them to stay with the league's elite teams this season.
Southern Miss: The loss of Donnie Tyndall certainly hurts but Michael Craig, Neil Watson, Daveon Boardingham and Jerrold Brooks were four of the Golden Eagles top five players and they were seniors. That leaves new coach Doc Sadler with a lot of questions entering his first season on the job, but he's won in the league before at UTEP.
Marshall: After back-to-back losing seasons, head coach Tom Herrion was bought out of his contract and the program brought in former player Dan D'Antoni. The 66-year-old D'Antoni is a former NBA assistant under his younger brother Mike but he's never coached at the Division I level and hasn't been a head coach above the varsity level in high school. With the team also losing Kareem Canty, the Herd could be in trouble.
FIVE NEW FACES
Doc Sadler, Southern Miss:The former head coach at Nebraska, Sadler gives Southern Miss good name recognition and an experienced head coach after the Golden Eagles lost Donnie Tyndall to Tennessee. Sadler is 149-107 in a head coaching career that includes two years at UTEP and Nebraska for six seasons. Sadler has also coached in Conference USA before as the Miners' head coach in 2005-06.
Chris Sandifer and Omega Harris, UTEP: Sandifer is the No. 102 prospect in the country according to Rivals.com and the 6-foot-6 wing could give an immediate scoring punch to UTEP next season thanks to his deep range and athleticism. Harris checks in at No. 149 in the Rivals rankings and the 6-foot-2 guard from Oklahoma was a highly productive guard throughout his high school career.
William Lee, UAB:Lee is a big-time athlete at 6-foot-8 and UAB did a nice job to keep this in-state three-star prospect home. Lee threw down a number of highlight-reel dunks in the EYBL with the Alabama Challenge and also rebounded at rim level thanks to his explosive burst off the floor.
Derrick Clayton, Western Kentucky: A native of California, Clayton was one of the breakout performers of the high school season in the National Prep Showcase and he could give the Hilltoppers some immediate scoring punch.
Dan D'Antoni, Marshall: The 66-year-old Marshall alum is a first-time head coach at the college level after working under his younger brother Mike in the NBA for the better part of the last decade. D'Antoni has only been a head coach at the high school level, but it will be intriguing to see if he incorporates some of his brother's "seven seconds or less" offensive approach to the college game.
Way Too Early Power Rankings
Louisiana Tech
UTEP
Southern Miss
UAB
Middle Tennessee
Old Dominion
Western Kentucky
Charlotte
North Texas
FIU
Florida Atlantic
UTSA
Rice
Marshall