At the start of every college basketball season fans pay attention to what Las Vegas has to say with regards to who will win the national title. While the favorites from an odds standpoint immediately jump out, there's also the search for value picks that would result in a financial windfall of sorts should that team win.
Twelve friends who graduated from the University of Connecticut in the spring of 2013 placed their faith in Kevin Ollie's Huskies in November during a trip to Las Vegas, and they were rewarded as UConn cut down the nets last month in Arlington, Texas.
How much did they win? Each of the 12 friends placed $100 on the Huskies, who were given odds of 50:1 by the sports book at the Hard Rock Hotel and Casino in Las Vegas, which works out to a nice $5,000 payday for each. Ten of the 12 cashed in their tickets this weekend, and Paul DelVecchio provided the visual.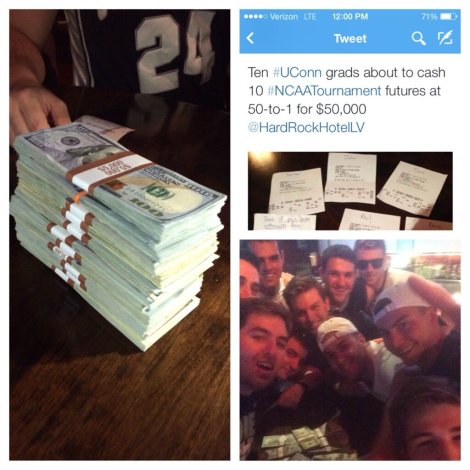 "We watched the season opener here and placed the bet immediately after. 50 to 1 odds at $100 a piece. 12 of us in total placed it," DelVecchio told NBC Sports via Twitter.
"Was more of a hopeful bet than anything else but they pulled it out."
When Ollie was named head coach in October 2012 there was no lack of skepticism, with athletic director Warde Manuel taking a "wait and see" approach at first and some wondering if the former UConn point guard could build on what Jim Calhoun had accomplished during his time at the school. But there were also those who believed Ollie was the right man for the job, including the group of friends who are now $5,000 (apiece) richer.
"Honestly, we thought it was very possible," said DelVecchio, who along with his friends was at Gampel Pavilion for Ollie's introductory press conference. "His passion was incredible, and we all knew that would translate to the players on the court. We sat in Gampel when the official announcement was made, and were very excited for the future."
While the amount of money won by the DelVecchio and his friends in notable, it's also about the story that they'll be able to share for the rest of their lives. And according to DelVecchio, they all placed $100 bets on UConn to win it all next season, with the odds being 65 to 1 at present time.