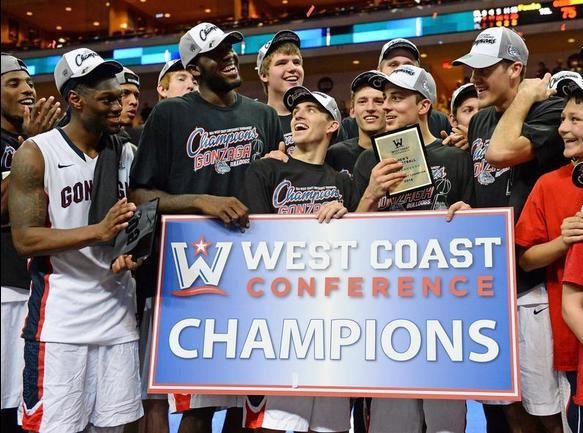 Half of the West Coast Conference qualified for a postseason play this past season with Gonzaga and BYU returning to the NCAA tournament field. Heading into next year, the focus will once again be on Gonzaga. The Bulldogs were one-victory shy of a 30-win season, though, a blowout loss in the Round of 32 and a lack of marquee wins gave critics more than enough ammunition to label the 2013-2014 season as a disappointment.
However, the Zags could find themselves in the top 10 when the preseason is poll is released. Kevin Pangos and Gary Bell Jr. anchor a back court joined by USC graduate transfer Byron Wesley. Przemek Karnowski had a breakout sophomore season with newcomers such as Kentucky transfer Kyle Wiltjer and Arvydas Sabonis' son, Domantas, filling out the frontline.
RELATED: Read through all of our Conference Catchups here
Gonzaga has also beefed up its non-conference schedule with matchups on the road against Arizona and UCLA to go along with a highly-anticipated non-conference tilt with SMU, as part of the 24-hour marathon.
While Gonzaga is the clear-cut favorite, the rest of the conference is far less certain. BYU has questions to address, as the Cougars look to make a fourth tournament appearance in five seasons. San Francisco has plenty of returners, but will the loss of several top scorers keep the Dons from surpassing BYU in the standings? Saint Mary's adds new pieces around its all-conference forward, Pepperdine has some talent and Portland could be the darkhorse with a long list of players coming back.
THREE UP
Gonzaga: The conference's powerhouse is in for a big 2014-2015 season. Gonzaga has returning talent, adds two impact transfers and welcomes in a recruiting class that includes a pair of four-star commits. Even before Mark Few landed Wesley late last week, his team was projected as a top 20 team.
Portland: The Pilots lost five straight games to end this past season, but did pick up a huge conference win over Gonzaga a month prior to the losing skid. Portland is bringing back most of its rotation, including leading scorer Kevin Bailey and 6-foot-11 big man Thomas van der Mars.
San Francisco: Cole Dickerson, the team's top scorer, exhausted his eligibility, and last month lost second leading scorer Avry Holmes to transfer. On paper that looks bad, but Rex Walters can combat those losses with core pieces left at his disposal. Kruize Pinkins, Mark Tollefson, Tim Derksen and Matt Glover all logged an average of more than 25 minutes per game last season. In the case of Derksen and Glover, they'll have the opportunity to step up and fill a void as Holmes did when Cody Doolin left the program after four games.
THREE DOWN
BYU: Tyler Haws is back on campus, giving the Cougars one of the nation's top scorers. However, guard Matt Carlino transferred to Marquette for his final season, center Eric Mika has left for his LDS mission and Kyle Collingsworth is recovering from an ACL tear he suffered in March. BYU brings in several transfers and adds Jordan Chatman, who has returned from his mission.
Saint Mary's: The Gaels could very well take a step back this upcoming season. Stephen Holt is gone, leaving the back court in the hands of Kerry Carter and two eligible transfers. Brad Waldow does return on the frontline for the Saint Mary's.
Loyola Marymount: The Lions are coming off a last place finish, and despite the return of Evan Payne it likely won't get much better in the first year under Mike Dunlap. Anthony Ireland has graduated, and Gabe Levin, who along with Payne made was named to All-WCC freshmen team, transferred out after the season. Also, four-star commit Elijah Stewart was released from his National Letter of Intent. Long-term, LMU is on the upswing, you just might not see it this season.
FIVE NEW FACES
Kyle Wiltjer and Byron Wesley, Gonzaga: The former Kentucky Wildcat joins Przemek Karnowski in the front court while the ex-USC Trojan gives the Zags a scoring option on the wing. Wiltjer is a former McDonald's All American and a member of Kentucky's National Title team. Wesley averaged 17.8 points per game as a junior.
Mike Dunlap, Loyola Marymount: Not a new face to LMU, as the alum is returning to the school he played at and served as assistant for five years. He last coached the Charlotte Bobcats during the 2012-2013 season, and was let go after one year . His previous stops as an assistant include Arizona, Oregon, Iowa and St. John's.
Chase Fischer, BYU: During his sophomore season with Wake Forest in 2012-2013, he shot 42 percent from behind the arc. The transfer guard resumes his career this season in the back court with Tyler Haws. Jamal Aytes can be another impact transfer when he becomes eligible after the fall semester.
Aaron Bright, Saint Mary's: The graduate transfer rule will allow the former Stanford guard to finish his career without interruption at Saint Mary's. Bright was the 2012 postseason NIT MVP. He and former Golden Gopher Joe Coleman will be additions to the Gaels back court.
Domantas Sabonis and Josh Perkins, Gonzaga: The two four-star recruits headline a strong recruiting class to add to the returning talent Gonzaga has next season. Sabonis, son of the Hall of Famer Arvydas, is 6-foot-10 power forward who should make an impact on the offensive end. Perkins will add depth to a senior-laden perimeter.
Way-Too-Early Power Rankings
1. Gonzaga
2. San Francisco
3. BYU
4. Portland
5. Saint Mary's
6. Pepperdine
7. Santa Clara
8. San Diego
9. Loyola Marymount
10. Pacific